April 1, 2010
A rather large
oops
took place at the Cape Fear Valley Medical Center in November of 2008. A cesarean section was performed on a patient after several days of attempting to induce labor on her. The problem? She wasn't pregnant. Several days in the hospital, multiple attempts to induce labor, an epidural and the beginning of a c-section and there was no baby. Upon seeing a 'non-pregnant' uterus they closed her up. The woman was suffering from pseudocyesis or false pregnancy. This can be caused by psychological or hormonal problems. You'd think it would be simple to discover the fact that there was no baby by physical exam or an ultra sound. Since it took such an invasive procedure to come to the proper conclusion the State Medical Board launched an investigation. A year later the board took action, they fired off letters of concern to the doctors involved. Wow, glad to hear they took care of that!
March 31, 2010
Here's a slide show of some awsome beer can
sculptures
for your enjoyment. Also check out pictures of some
more sculptures
here. There are some really creative alcoholics out there!
Sometimes random YouTube surfing turns up some great moments. Here's Rowan Atkinson (aka Mr. Bean) finding invisible drumsticks, drums, cymbals and a cat (at 4:50). Yes, a cat.
Weird Universe does not endorse the abuse of cats, even if they are invisible.
Now, why would an editor assign not one but two reporters to this assignment? Sure, the Large Hadron Collider is important science, and even sexy for the layman, in its quest for the Higgs Boson--
Oh, now I get it! You want a byline of "Higgins-Borenstein" so it sounds just like the elusive particle!
"Higg-Bo" might never be another Woodward and Bernstein, but they made my day!
Every so often you come across an article in the news that leaves you shaking your head and wondering what the world is coming to.
This is one of those stories.
Joan Higgens, aged 66, a pet shop owner in northern England has been fined, given a curfew and electronically tagged, because she sold a goldfish to a fourteen year old. Apparently it is illegal to sell pets to anyone under the age of sixteen, as minors are deemed incapable of taking care of the animals.
March 30, 2010
A sexy female cartoon characters
top 10
. Lets hear from the WU fellas, do you agree or disagree with the list? Who are your CCILF guys?
picture from yahoo images
I used to think working for home would be a good idea, until I saw this commercial.
My favorite part is at 33 seconds, where everyone tilts. Well, really my second favorite part.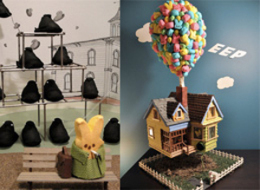 Here's
a slide show of this years peeps diorama contest, Peep Show IV. The picture is from the
Huffington Post
Are you as grossed out as I am by the thought of rivers of
cow's milk
running through the countryside? What if you fell into one?!? Yuck! And what's at the source of these streams? A giant cow being perpetually milked? Double yuck!