" />
If you downloaded a clip of yourself and five friends
skateboarding
on a highway south of Auckland the NZ police would like a word with you. Apparently passing a truck while doing 60 mph on a skateboard is frowned upon there.
Longtime WU-vies will certainly recall the legendary ugliness of the Chatanooga Hookers. Well, Chuck Shepherd's home state of Florida now puts in a rival bid.
See article and larger photos here.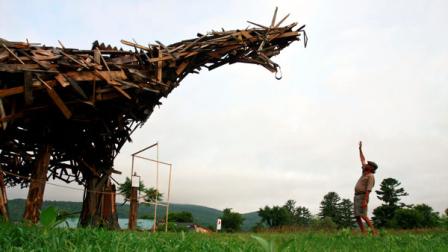 Vermontasaurus
, that is what people are calling the huge scrap wood sculpture Brian Boland built on a whim. At least those who like it anyway. Others want it torn down and state and local government entities want him to pay for a bunch of permits. Don't know how long it'll be there so enjoy this glimpse of the oddity brought to us by danny53. Thanks Dan.
Build a better mousetrap, it is said, and the world will beat a path to your door. The implication being that there are some problems which are just crying out for a solution. And then there are the solutions crying out for a problem - those inventions that, while inspired, are just a tad "out there". It is this later category I shall be celebrating today.
First up, how clean is your cow? This age old problem has nagged at the minds of farmers down the ages, are their cows clean enough? And why isn't there an easier way to clean cows? Well these merchants of the soil need worry no more thanks to a Swedish company that has developed the fully automated "cow wash". Supposedly improving the health and yield of cows that use it, the cow wash uses a free swinging revolving brush to groom the cows while simultaneously stimulating their circulation. Apparently the cows enjoy using it and the makers DeLaval have sold over 30,000 in Sweden alone (
Daily Mail
).
Bigwigs in the US military will also soon be able to sleep sounder in the knowledge that the men under their command are safely in their underpants. We're not just talking about
any
undies though, these have been specially designed by University of California professor Joseph Wang. Not only will his techno-trunks monitor the vitals of the personnel wearing them, they can even administer painkillers or antibiotics as the situation demands (
Post Chronicle
).
And if your pants don't save you, at least your modesty will be preserved when you are taken to hospital, all thanks to the University of Montreal. For it is from that fine establishment's School of Industrial Design that our next invention hails, a hospital gown that isn't quite so revealing. The DUO gown is the brainchild of Noemie Marquis and Denyse Roy and consists of two overlapping panels, front and back, that is easy to put on and requires no fasteners making life simpler for both patients and staff (
Medical News Today
).
Meanwhile British scientists have been working on an altogether sterner cover. Nicknamed "bullet-proof custard" by its inventors, Bristol based BAE systems have developed a liquid armour consisting of layers of Kevlar combined with a secret "
shear-thickening
" liquid that hardens as force is applied. The company's eventual aim is to produce lighter, more-flexible body armour for the military (
BBC News
).
More in extended >>
" />
Greyhound
are taught to chase a mechanical rabbit to get them to race. So what happens if a real bunny crosses the track? All bettors get their money back, that's what.
A boat sailing off the coast of
South Africa
was all but destroyed when a 30ft long whale jumped on the deck. Read the story and see some amazing pictures at the link.
Update: Many thanks to Nethie for the smaller version of the whale picture she made for me to post. Thanks also to Dumbfounded for the one he posted in comments.
Did you ever know that America's most famous soldier was also such a talented musician?
This little bit of stop-motion magic was created by my very gifted cousin,
Peter St. Amant
.
The year is 1482. The Vatican has just released a statement that reads, "ordaining women into the priesthood was a sin on par with pedophilia." Nobody blinks and life goes on... oh, gosh, I'm sorry! It wasn't 1482 after all. That statement was issued this year. Just a few days ago, in fact. You can see how I might have gotten the dates wrong, though, since that kind of misogynous declaration couldn't possibly hold true today. Unfortunately, they really said it. But why?
Author Tim Padgett, in Time magazine
, explains it "When any institution is as convinced of its own moral infallibility as the Catholic Church is, it tends to lash out at criticism - especially charges as serious as the priestly rape of children - with Dostoyevskian paranoia. And the church then fortifies its less popular stances, like an all-male priesthood or the condemnation of gays, in the process becoming even more uncompromising." And don't start thinking that Mr. Padgett is against the Church, or Christianity, in any way. He was sitting in mass, watching his daughter serve as an altar girl, on Sunday, when he got the idea for his article.