Little Richard to return to performing
reads the headline at the BBC. Do we need another 76-year-old rocker? Here he is in 1992. But that was eighteen years ago!
Your opinions, please.
I think this is someone experimenting with Chrome and what it can do, but I think it's just cool to watch. I especially like the collapse at the end -- very soothing.
This might make a fun screensaver if it wouldn't burn squares into your screen!! Or does that still happen?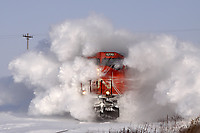 We have a winner for the Unluckiest Lucky Guy Award! Boro Mandic of Croatia was in a high speed car crash which he came out of virtually unscathed. After being checked at the hospital he was released and began walking home. He never made it there because he wandered in front of a train, was hit and killed.
http://www.croatiantimes.com/news/General_News/2009-12-01/7504/Car_crash_survivor_killed_by_train_on_way_home
Picture attribution- RailPictures.Net
A Vietnamese man recently got a little publicity for sleeping with his wife. Normally that would not be all that notable, but seeing as how she died in 2003 it caused some concern. After his wife died he began sleeping on her grave, which he continued to do for some 20 months. Then the man decided to dig a tunnel to the grave so as to sleep there and avoid the weather. At this point his children found out and stopped him from going there every night. Well then, apparently deciding, if you can't bring Mohamed to the mountain then bring the mountain to Mohamed he dug her up and took her home. Using clay to hold the remains in the form of a woman he then spent the next 5 years sleeping with her every night. In fact, she's still there.
http://cnews.canoe.ca/CNEWS/WeirdNews/2009/11/27/11953631-reuters.html
Because of the U.S. holiday, last week was slow, at least for U.S. news, and I had to stretch my standards to produce a regular-length
Pro Edition
. After staring for two days at the "Extra" stories I had for follow-up release today, I have concluded that they're too lame to go out under my banner. See ya next Monday morning.
After about 11 minutes of surreal domestic sitcom stuff, the true reason for this video appears: prescription drugs to soothe you. Take some "Atarax" today!
Will it blend has produced some interesting combinations, but this is one combination you shouldn't mix.
Thanks to Discovery Time Warp for the nice fireball!!
News of the Weird/Pro Edition
November 30, 2009
(mystifying and/or derisory news from November 21-28)
Weekly Gold
A news leak from the Vatican's file nominating Pope John Paul II for sainthood had a high-ranking nun saying she had heard him in the next room a few times self-flagellating
[No snickering!]
, i.e., lashing himself in remorse as bodily penance. She said he mainly did it just before ordaining bishops and priests.
Daily Telegraph
(London) ///
BBC News
[background on Catholic self-flagellation]
Pregnant Sara Foss, 39, keeps a spotless house because she doesn't want people to think she's a mooching slob, since she takes £50,000 per year ($82,000) in assistance from the government for raising her 13 kids. Nonetheless, she's adamant. If her current pregnancy does not yield twins, she'll try, try again, and again. (Bonus: Her story caused quite a stir in the British press, for the names of the first 13, which are mostly tributes to her favorite film and literary characters, such as Frodo, Morpheus, Echo, Malachai, Rogue, and Voorhes.)
Daily Mail
The high-end fashion store Valentina announced that it had reached a settlement on an out-of-control tab run up by Oprah Winfrey . . 's mother (Vernita Lee of Milwaukee), who owed $155,000 as of July 2008. Their dispute came because Valentina had taken Lee to court in 2002 over a separate, $174,000 tab, but then once again extended her credit. Lee refused to pay, accusing Valentina of exploiting her absence-of-willpower disability.
Journal Sentinel
People With Worse Sex Lives Than You
Kevin Derks, 53, Kenosha, Wis., looks like a regular guy but is actually highly irregular. He swears up and down that he has never touched, or even approached, an underage girl. It's just that his apartment is arranged as, according to one detective, a "shrine" to little girls: pictures and posters of famous girls, snapshots of clothed little girls, a bed full of stuffed toys, adolescent-sized mannequins in provocative positions, and traditional child pornography. "This was my own world," he told detectives. "I knew what I was doing. I took a gamble. It's like going to Vegas, except I lost everything. [N]ow my ass is gonna fry."
Associated Press via Post Crescent
(Appleton, Wis.)
More in extended >>
Wow, she's a tall drink of water, huh? There are some more pics at the link-
http://thechive.com/2009/11/26/new-photos-of-the-worlds-tallest-model-arrive-10-photos-1-video/
But I thought this one would pique your interest. As a 5'2" female I find her to be really cool!
A 68-year-old Swedish man, Ingemar Westlund, was cleared of murder charges when elk hair and saliva were found on his wife's clothing. It all happened back in September of 2008, when his wife took their dog for a walk in the woods and never returned. When she didn't come back, Mr. Westlund went looking for her and found her body next to a lake near Loftahammer. Even though elk normally steer clear of humans, apparently "the animals can become aggressive after eating fermented fallen apples in gardens."
BBC