Okay, so your establishment is NOT the Bates Motel. But do you even want to remind your customers of the horrible things that can happen in anonymous hotel rooms?
Every time somebody comes up with a great idea to combat idiots on the road, along comes the police with cuffs and an arrest warrant!
Darn it!
This sounds like a recipe for drowning to me, but this guy has developed a technique for swiming even when his arms and legs are tied -- and put in a bag.
Please don't try this at home.
Have you ever wondered what Czech rappers sound like? Me neither. But just in case....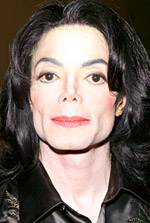 There are plans for a Michael Jackson
video game
in the works. So, I wonder what the game will be about, perhaps 10 and 12 year old boys being chased by zombies (reference picture above) through an abandoned amusement park. Or maybe just M.J. Guitar Hero.
picture from 8notes.com
British comic book artist Neill Cameron has been posting one letter a day of sheer awesomeness, based on suggestions from fans. Now the alphabet is complete everyone can view such wonders as "Aztecs in Atomic Armour Attacking Anomalous Amphibians" and "Doctor Who Defeating Doctor Doom in a Deadly Disco Dance-off" for themselves.
So if you've ever longed to see Lois Lane, Lana Lang and Lori Lemaris lasciviously licking lollipops at a London landmark, why not have a look-see at
Neill's A to Z of Awesomeness
. You'll love it!
Were the entire 1960's totally weird? You be the judge.
More on Reparata here.
Christian Domestic Discipline
sounds like the bondage and D/d's lifestyle plus religion minus the fun. But you be the judge.
The
top
picture is a recreation of the
bottom
one. The work, by Edvard Munch, is called The Scream and is worth 50 million pounds (UK). The top rendition is by artist Mark Langan his medium is cardboard. It took Langan 30 sq. ft. of the stuff and 90 hours to complete the project.