A race of intelligent Christian Martian cars come to Earth to teach us driver safety-- Nah, nothing weird here!
A school crossing guard is contacted by aliens and given a magic ring and wand in order to save children. Shades of Green Lantern!
In the future, all people will smell this way! Well maybe not, but design house
Genki Wear
has launched three
Star Trek
themed scents for the trekkie who has everything, including B.O.
For the men there's a choice of
Tiberius
or
Red Shirt
. The former refers to the "T" of James T. Kirk, and presumably makes you smell like a womanising maverick. The latter an allusion to the numerous expendable extras from the original series; though why smelling like someone with a life expectancy of minutes is supposed to be a turn on is not explained. For the women there's
Pon Farr
, named for the stage of a Vulcan's life where their emotions come to the surface and they become both aggressive and sexually receptive. Fortunately for Earthwomen (and their partners) the pointy ears and domestic violence are optional, and staging
fights to the death with gardening implements
is not advised.
All three fragrances are available to buy from Genki Wear at $29.99 each.
(Images from social shopping network
Kaboodle
.)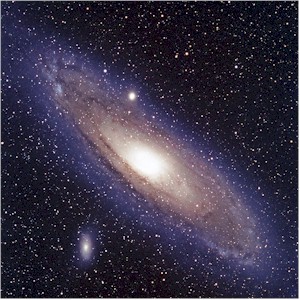 It is surprising to think that less than fifteen years ago we knew of no planets but those in our own solar system. Now astronomers discover them with such frequency that it takes finding a potentially habitable one like
Gliese-581d
to stir the public's interest. But a British team at the Isaac Newton Telescope on the Canary Islands may have done something much more amazing than finding another planet in the Milky Way, they believe they may have just detected one in another galaxy. The object orbits a star in the Andromeda galaxy, more than 2.5 million light-years away from Earth, causing that star to wobble. Normally any motion would be invisible at such a distance, but by chance the distant solar system is acting like a lens in front of even more distant stars, and every wobble of the lens is magnified enough to be discernable (
Scientific American
).
Closer to home, relatively, is the planet is known only as WASP-18b, but if it were ever to be given a proper name it would be "Icarus", for this is a planet that has flown too close to its sun. WASP-18b is the 375th extrasolar planet discovered by astronomers, and is possibly the most extreme one yet. It is another gas giant like Jupiter, but ten times the size of our neighbourhood giant, yet it orbits its star in less than a day. This 22.5 hour long "year" would mean the planet is so close to its sun, and moving so fast, that tidal forces are almost certainly dragging the planet inwards to its doom. The team from Keele University that discovered WASP-18b, led by Coel Hellier, calculate that realistically the planet probably has less than a million years left (
Nature
).
More >>
For those of you who are not already aware, May 25 is
Towel Day
, a celebration of the life and literature of Douglas Adams, author of
The Hitchhiker's Guide to the Galaxy
If you want to see some pictures of froods in the know, they have their own group on
Flickr
For some reason, the video below reminded me of the under-appreciated song by Walter Becker, "Hat Too Flat." You can hear a sample of that track at the Amazon page for the Becker album, via the link at right.
This scary graphic of noseless and mouthless aliens conducting an intergalactic diplomatic mission comes from Ray Charles's 1961 album,
Do the Twist!
, Atlantic 8054.