Bruce Clayton's survivalist masterpiece,
Life After Doomsday
, certainly belongs in any collection of weird non-fiction. It comes from a time, not so long ago, when the general consensus was that we were all going to be blown to smithereens in a nuclear war, and Clayton offered detailed instructions on how to stay alive should you survive the actual bombs. Below is the 1981
Newsweek
review of the book, as well as Clayton's diagram of how to turn your home into a fortified bunker. And hey, why not read it together with Paul's
After the Collapse
to get a real apocalypse vibe going!


His point is, you must do something: "The question of which assault rifle you should buy isn't nearly as important as the fact that you must get one" — to mow down ghetto refugees or your neighbors in search of your food supply. In fact, refugees won't be much of a threat because the roads will be blown up along with the cities, but as for your friend next door — well, the Heckler and Koch HK91 heavy-assault rifle firing a 7.62 NATO cartridge works very well. If you're on your roof hosing down the fallout, a Colt Commander .45 autopistol modified for combat is easier to carry. He shows us, too, how to convert our houses into efficient fire zones, and suggests we store away five years' supply of wheat, milk, sugar and salt. A wheat stew in every pot and an Armalite AR-180 in every loophole will see us through, as long as we've ordered our gas masks (Clayton tells us where).
If H. P. Lovecraft were alive today, sixteen years old and a Goth, this is the song he would have written. The only things missing are the word "eldritch" and some tentacles.
More on the band here.
Reach the ancient heart of the stygian obscurity
Wherein all the names of mine are written
In pits profound,where festered dreams sigh
And longings scorched seek reason to return.
Admire the flame flowered mansions arcane
The sulfurous secrets gowned in rapture profane
Fear not the fire of all-knowing wisdom
Furiously burning with such ravishing splendour.
On the wings of my most fervent passion
Which the fools dare name blasfemia
To thee I have returned from the heart-dead sunworms domain
A coffin-shaped lair they have woven around me
For I've pledged no allegiance
To their fabulous sacred theories
Those spurious servants of a crownless king
Who holds their cross in vain.
No Phoenix phenomenon shall their fall contain!
Leave their carcasses scattered and slain!
And now I'm visualised
To blind-faithed eyes
Lofty and proud, to be recognized.
As the mourning-scented bloodstorm winds
Of their final downfall blow
Like a nightclad werewolf upon the moonlit glade
I shall hunt them down in the snow.
...and the frostbitten ground
now consumes their wretched gore
My victorious hiss fulfills the oceans ethereal
And the stars gleam nameless above
As shadows call forth the seas of Cthulhu
Be wide awake my dearest
Of my fiery necromantic kiss!
Thine arms soothing around me enfold
To cease my yearning cursed
The sweetest witchcraft thy lips do hold
Can only quench my thirst.
'Neath the enchantingly blazing corona of night
drown thy desire into mine!
With all the senses cast to a feverous grandeur
In the sins of the flesh we entwine.
Eternally...We entwine...
Talk about a mammoth appetite, when most of the world's large mammals went extinct
roughly 10,000 years ago
, the vast majority of the vanished species were herbivores. This of course meant that they were no longer around to eat the plants they otherwise would have, and - according to Christophers Doughty and Field from Oxford and Stanford Universities respectively – this freed up an extra 1.4 trillion kilos of food, roughly 2.5% of the net product of all Earth's dry land. However, the researchers add, this excess had been 'used up' by burgeoning human numbers by around 1700 and today we consume six times as much as the Pleistocene critters ever did while simultaneously driving down land productivity by 10% (
Nature
)(
PDF
).
That's not to say that our massive consumption doesn't have it's upside, As Vangelis Kapatos of Manhattan discovered when he attempted suicide by jumping from his ninth floor flat, only to survive when his fall was broken by a pile of uncollected garbage. Mr. Kapatos' timing, from his perspective, couldn't have been worse, the unusually large garbage pile was due to collections being suspended because of snow. They were due to resume the day after his impromptu dumpster dive (
Today Online
).
Mind you, we're not the only animals prone to excess. After finding the bodies of dozens of starlings near the city of Constanta in Romania, locals were concerned that the cause might be bird flu, instead post-mortems of the birds have revealed that they in fact died of alcohol poisoning, having 'drunk' themselves to death on the discarded leftovers of the local winemaking industry. A least they died happy (
BBC News
).
Better than dying happy, though, is living happy, and the secret of that, says the UK's Office for National Statistics, is having a job. But it's not the pay but the job security that counts, say the government statisticians, which
ironically are facing staff cuts themselves
due to the economic downturn. Other key happiness factors, according to the preliminary report, are good personal health and a decent family life. What will we do without these people (
Telegraph
)?
More in extended >>
First up, apologies if this post contains more typos than usual, I'm sending it from my new ultra-small netbook and I'm still getting used to its itty-bitty keyboard. Which brings me nicely to my first story. That according to a survey for satellite channel SKY-HD, British consumers waste £52 billion a year on hi-tech features they don't use. For example, half of the people polled did not know their high definition television also required a hi-def signal source such as a blu-ray player or HD satellite receiver – like the ones sold by SKY-HD perhaps (
Telegraph
).
And it's not just the the British, military officials in Russia recently discovered 100 front-line battletanks parked and forgotten by the side of the road near Yekaterinburg in the Urals. Locals say the tanks, which were unguarded and unlocked, have been there for several months and lack only ammunition and the all important starter keys (
Reuters
).
Someone who might have had a use for those tanks were guests at a wedding in New Delhi in India recently. The Hindu ceremony was somewhat marred when an elephant hired for the event went on a rampage after becoming aroused by the smell of a nearby female in heat. The amorous pachyderm then proceeded to crush 20 limousines, smash through a nearby mall and mount a truck before it could be tranquilised (
Orange
).
Also losing it this week was the man on the RyanAir flight who found he had won 10,000 euros on a scratchcard he bought on the budget flight from Poland to the UK. Furious that the airline had not seen fit to equip all their planes with the requisite amount of cash onboard, hence he could not be given his prize there and then as he demanded, the unnamed passenger ate the winning card rather than wait to claim it at his destination (
BBC News
).
More in extended >>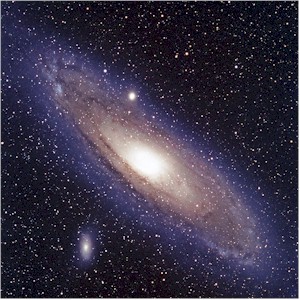 It is surprising to think that less than fifteen years ago we knew of no planets but those in our own solar system. Now astronomers discover them with such frequency that it takes finding a potentially habitable one like
Gliese-581d
to stir the public's interest. But a British team at the Isaac Newton Telescope on the Canary Islands may have done something much more amazing than finding another planet in the Milky Way, they believe they may have just detected one in another galaxy. The object orbits a star in the Andromeda galaxy, more than 2.5 million light-years away from Earth, causing that star to wobble. Normally any motion would be invisible at such a distance, but by chance the distant solar system is acting like a lens in front of even more distant stars, and every wobble of the lens is magnified enough to be discernable (
Scientific American
).
Closer to home, relatively, is the planet is known only as WASP-18b, but if it were ever to be given a proper name it would be "Icarus", for this is a planet that has flown too close to its sun. WASP-18b is the 375th extrasolar planet discovered by astronomers, and is possibly the most extreme one yet. It is another gas giant like Jupiter, but ten times the size of our neighbourhood giant, yet it orbits its star in less than a day. This 22.5 hour long "year" would mean the planet is so close to its sun, and moving so fast, that tidal forces are almost certainly dragging the planet inwards to its doom. The team from Keele University that discovered WASP-18b, led by Coel Hellier, calculate that realistically the planet probably has less than a million years left (
Nature
).
More in extended >>