After Wayne Anthony Evans was pulled over for speeding by a Seattle police officer, a paring knife was found in his pocket, and he was arrested for possession of a fixed-blade knife. In his defense, Evans argued that the Seattle municipal code banning fixed-blade knifes violated his constitutional right to bear arms.
Not so,
the Washington Supreme Court recently decided
. It didn't consider the constitutionality of the municipal code itself, but (looking narrowly at the facts of this specific case) decided that there was no historical evidence that paring knives are "arms." Therefore, they can be banned.
we hold that not all knives are constitutionally protected arms and that Evans does not demonstrate that his paring knife is an "arm" as defined under our state or federal constitution.
If Evans had been carrying a bayonet, perhaps the outcome of the case would have been different.
via
Wash Post
So, as it turns out, its illegal to shoot down a
drone
even if its spying on you. Same penalty as shooting at an airplane.
Source.
Beginning July 1st we can own
one
as long as it is manufacture made. Mine is already ordered.
Oregon is running a voluntary per mile travel
tax
instead of the current per gallon standard. The volunteers do not have to pay the gas tax while participating in the study.
Does anyone really believe the gas tax will go away if the per mile tax is enacted? Does any tax ever go away once it is put in place? So if this goes through we may as well expect both.
What a great way to control travel, especially for the poor. This idea is a greater threat to personal liberty than the Patriot Act. It is much easier to control a non-moving populace.
Via a chain of transmission that extends through our own Chuck Shepherd and longtime WU-vie Professor Music, we get the astonishing picture above, the kind of advert favored by
Attorney Larry L. Archie.
The joy of neighbors! Police gave 91-year-old Yvette Vachon of Quebec a ticket for $148 after her neighbors downstairs complained she was making too much noise. Apparently her la-z-boy style rocking chair was too loud.
However, after reviewing the complaint (and possibly swayed by all the media attention the case was getting in Canada) the city cancelled the fine. [
National Post
]
Turns out there are no laws in the U.S. specifically outlawing cannibalism,
except in Idaho
, which has
this statute
on the books:
TITLE 18
CRIMES AND PUNISHMENTS
CHAPTER 50
MAYHEM
18-5003.  CANNIBALISM DEFINED -- PUNISHMENT. (1) Any person who wilfully ingests the flesh or blood of a human being is guilty of cannibalism.
(2)  It shall be an affirmative defense to a violation of the provisions of this section that the action was taken under extreme life-threatening conditions as the only apparent means of survival.
(3)  Cannibalism is punishable by imprisonment in the state prison not exceeding fourteen (14) years.
What's going on in Idaho that inspired this law? A
2011 article
in the
Journal of Law and Social Deviance
explains:
In Idaho, anthropophagy (called cannibalism by statute) is illegal. The statute makes it an offense to drink human blood or consume human flesh, punishable by up to fourteen years in prison. The law was conceived in 1990 as a response to fears that ritualized practices involving sexual abuse and torture of minors would include anthropophagy. The legislators criminalized the consumption of human blood and flesh out of a concern that children would be sacrificed, eaten, or forced to consume the tissue of murdered or necrotic bodies during ritual practices.
But what about placenta-eating (a practice that's been discussed a
number
of
times
here on WU)? Wouldn't the Idaho statute make this practice illegal? Yes, technically it would. But the same article argues that if Idaho ever tried to send anyone to prison for placenta eating (or any other non-harmful, consensual form of cannibalism — ingesting blood, etc.), their statute would probably be ruled unconstitutional as it violates a fundamental "right to privacy."
The 1947 case of DeWaal vs. DeWaal established nagging as legitimate grounds for divorce (in Nebraska). I assume this was before the availability of no-fault divorce. (A quick google search reveals that Nebraska only adopted a no-fault divorce law in 1972.)
Note that Mrs. DeWaal argued that her husband was at fault (and not herself) because he went to motion picture theaters and read "sensational magazines."
(left) The Harrisburg Evening News - Oct 28, 1947; (right) The Lincoln Star - Oct 24, 1947
A follow-up to my
Ouija board post of last week
. This may be the only case of a Ouija board involved in an inheritance dispute.
When Mrs. Helen Dow Peck died in 1955, she left almost her entire estate to "John Gale Forbes," whom she met via Ouija board. Which is to say that John Gale Forbes was not a corporeal entity. Mrs. Peck's surviving (flesh-and-blood) relatives sued, arguing, in essence, that Mrs. Peck was clearly nuts. The court eventually agreed and voided her will. This has established the legal precedent that ghosts can't inherit money.
Read more about the case here
.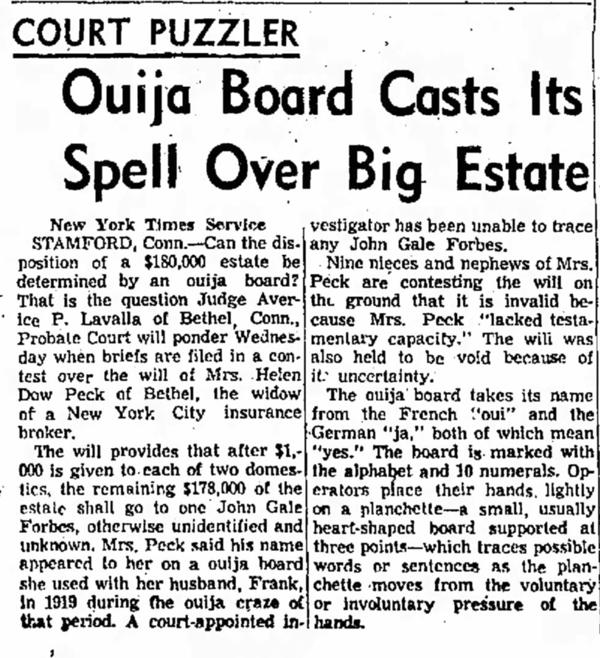 Corpus Christi Caller-Times
- Mar 13, 1956