Gee, I wonder why they quit adding new presidents after LBJ?

More info here.
Original ad here.
ADDENDUM: WU-vie GES seems to have found a Nixon figure from the final incarnations of this set.
In Culver City, California, artist Illma Gore is painting a canvas with human blood to protest the upcoming inauguration of Donald Trump. She's working with 20 pints of blood donated by artists, musicians, and activists.
I'm sensing that weird stuff people do to protest Trump will be a prolific theme in weird news during the next four years.
More info:
abc7.com
July 1930:
Charles G. Wood, author of
Reds and Lost Wages
, when speaking before Hamilton Fish's
Special Committee to Investigate Communist Activities in the United States
revealed the corruption of morals that followed the adoption of communism, illustrated by the fact that children in the Soviet Union had no table manners and were being taught to say, "Damn it, pass the bread."
In 1967, artist
Robert Cenedella
came out with the "Anti-Hero Hostility Dart Board," featuring "photographic images of some of your favorite anti-heroes." Consumers could choose between an "LBJ, Lady Bird, Humphrey, Castro, Hochi Minn, De Gaulle, Nasser, Nixon, Bobby Kennedy, Reagan, or Sigmund Freud" dart board.
In a later interview
, Cenedella said that, "For a few dollars extra, you could put a relative or an ex-wife there." He added, "I had more success in doing these gimmicks than I did at my art."
The following year, Cenedella discontinued the dart boards, citing his concern that the nation had become too violent.
As far as I know, Cenedella's Hostility Dart Board was the first commercially sold, political-themed dart board. But nowadays they're fairly common.
Zazzle.com
, for instance, has a bunch of them.
In 2004, Donald Trump lent his name to a perfume — DONALD TRUMP: THE FRAGRANCE. Now that he's going to be President, that means he's the first U.S. President to have a perfume named after him. The stuff is no longer for sale, but if you really want some, there's plenty of it to be
found on eBay
.
The marketing literature that came with it promoted it as, " Luxurious. Confident. Persuasive. The compelling new scent for men. Power attracts."
Wendy Donahue,
Chicago Tribune
reporter, reviewed it and wrote:
The scent that emerges is floral and fruity and green — as in plant matter — not money-money-money, as the opening to "The Apprentice" theme song goes.

Even Trump describes it as such: "It's a rose flavor; it's an orange flavor; it's lemony... What I did was I really relied on the great people of Estee Lauder. You know, so many companies wanted to do it. They gave me 30 different scents, all of which they felt were good, and I chose the one I liked."
In a case of satirical prophecy, back in 1992
MAD
magazine had imagined a Trump fragrance line. They called it "The Smell of The Donald."
We tend to think we have some eccentric politicians today, like the UK's Boris Johnson or, ahem, a certain President-elect. But really, the past had the present beat hollow, and we are proved to be relatively colorless today by comparison.
Gabriel Green
campaigned to be President of the United States in 1960, promoting himself as "your write-in space-age candidate."
His main qualification was that he had "seen at least 75 flying saucers and has chatted with space people." Also, he was founder of the Amalgamated Flying Saucer Clubs of America. He promised that his presidency would usher in "The World of Tomorrow, and UTOPIA now."
However, he didn't attract a lot of support from voters. He attributed this to the fact that "not enough Americans have yet seen flying saucers or talked to outer space people." So he dropped out of the race and endorsed John F. Kennedy. The space people told him that they approved his decision.
He ran again in 1972, with similar results.
More info (and photos) at
Gabriel Green for President
.
March 1954:
George V. Fried of Oklahoma City announced his candidacy for the U.S. Senate. His platform was, "If it's right, I'm for it."
But when asked what ticket he planned to file on for the race, he replied, "It's none of your ________ business."
Two months later he was arrested, charged with passing an insufficient funds check for slightly over five dollars at a liquor store.
Sounds to me like he would have made a fine member of the U.S. Senate.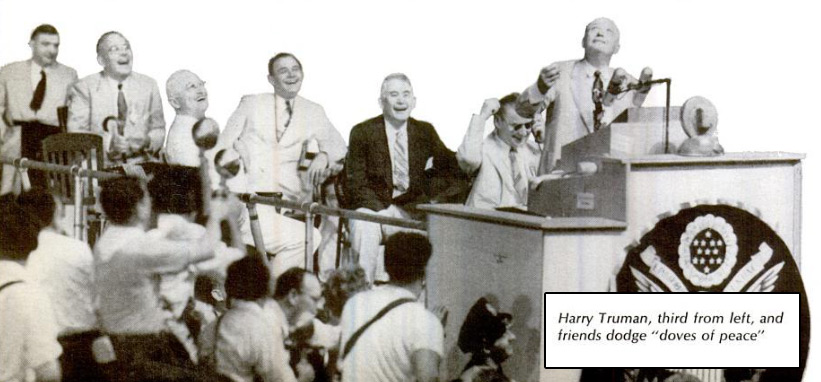 The Democratic National Convention is currently underway in Philadelphia. The last time the Democrats held their convention in that city was back in 1948, when they nominated Harry S. Truman as the Democratic candidate.
It was a memorable convention in a number of ways (the first televised one, for instance), but among weird-news types it's remembered as the Convention where they decided to release 48 doves inside the convention hall. Zachary Karabell described the stunt in his book
The Last Campaign: How Harry Truman Won the 1948 Election
(2000) (via
Presidential History Geeks
):
"Even when Truman was actually nominated, the evening was marred by mishaps. It was sweltering and the voting had taken far longer than expected. A national committeewoman from Pennsylvania, Emma Guffey Miller, sister of the former Senator Joseph Guffey, planned a surprise tribute for Truman. She had the Pennsylvania Florists Association create a Liberty Bell made of flowers. They had given one to Dewey and naturally Miller wanted to make Truman's bouquet even more impressive. She had the florists place a cage of several dozen pigeons inside the bell, and at the appointed time, she intended to release the pigeons into the hall as symbolic 'doves of peace.'

"The problem was that the pigeons had been placed inside the bell hours before. By the time Miller brought the bell to the podium, two of the birds had died and the rest were desperate for relief from the heat. The minute she opened the cage, they darted out as fast as they could and flew directly toward the thirty-six inch pedestal fans that surrounded the stage. Sam Rayburn, the former Speaker of the House and chairman of the convention proceedings, started swatting at the low flying pigeons. His craggy voice carried to the radio and television microphones, and he could be heard shouting 'get those goddamned pigeons out of here!'

"But they could not be contained. One of them briefly came to rest on Rayburn's head, while another landed on the fan right next to Bess Truman. Other pigeons were flying toward the ceiling and, in their nervousness, started to splatter the delegates with droppings. Watching the absurd scene, Jack Redding turned to Congressman Mike Kirwan and said 'what damned fool could have thought of a thing like this? In this heat they all could be dead. It's bad enough having the Zionists, the Dixiecrats and the Wallace-ites after us, now we got to have somebody to arrange for the SPCA to have at us." By the time Truman came onstage, the surviving birds had retreated to the balconies and the overhead lights, where they watched as the president addressed the recently strafed delegates."
A more contemporary account comes from the
Kokomo Tribune
(July 28, 1948):
forty and eight white doves [were] released from a huge floral Liberty Bell by Mrs. Emma Guffey Miller at the closing session of the Democratic Convention in Philadelphia...

Weighing a neat 140 by Republican (conservative) scales, Mrs. Miller had stood on the platform, the personification of a buxom fairy queen, though without wand or wings. When she waved her lily white hand — Bingo! — a trap door in the bell opened and out flew four dozen of the scaredest pigeons you ever saw. They had been cooped up in that bell for several hours. Their bloodshot eyes popped out and their feathers were bedraggled by the humid 100-degree heat of the convention hall.

Some of the sturdier birds made for the high roof, but the feebler birds fluttered to the first perch they could light on — chairman Sam Rayburn's rostrum and the big electric fans that blew breezes over the speakers' platform. Everybody laughed. Then everybody ducked or threw their arms over their heads. Then everybody hollered or screamed.

The event caused one bard to dash off a quatrain:

Sing a song of Democrats, listen to them yell!
Eight and forty pigeons, parboiled in a bell.
When the bell was opened, the birds began to fly.
Wasn't that an awful thing to hit you in the eye?
Finally, it proved difficult to recapture all the doves.
Four years ago
I posted about the comparative prices on eBay of baseballs signed by presidential candidates. I didn't make any predictions back then. However, Obama-signed baseballs were fetching higher prices than Romney-signed baseballs, and Obama won. Make of that what you will.
So what does the political baseball market on eBay look like in this election year?
If you want a baseball signed by Donald Trump, they go for as low as
$10.50
(above left) or as high as
$2499.99
(above right). (There's one baseball signed by
The Donald, Melania, and Ivanka
for which the seller is asking $5000, but since that's 3 signatures it doesn't seem relevant for this data set.)
Gotta say, The Donald sure has a crazy signature! How do those zigzag lines spell out Donald Trump?
Hillary Clinton-signed baseballs can be bought for anywhere between
$100.99
(left) and
$2499
(right). Again, there are more expensive ones signed by both
Hillary and Bill
, but I'm only looking at individually signed baseballs here.
What conclusions can we draw from this? Well, the prices are much closer for Hillary vs. Donald than they were for Obama vs. Romney. Perhaps this indicates a closer race. However, Hillary baseballs aren't going for the very low prices that some Donald baseballs are going for. So maybe this indicates that Hillary has a slight advantage. Who knows! We'll find out in November.