Released in 1974,
The Rite of Exorcism
was an album performed by three Catholic priests calling themselves the Contemporary Mission. It included a rock-and-roll version of "Dies Irae (Day of Wrath)." The trio described the album as an attempt to communicate with young people in their own media. So, it was part of the ongoing effort to help Catholicism shed its stuffy image.
Except, in this case there's some debate over whether the three really were bonafide Catholic priests. By 1980 they were under investigation for using tax-exempt religious status to run a sketchy mail-order business that sold snake-oil of various kinds such as "a bath oil described as weight-reducing... and a 'Living Cross' that, when coupled with a special prayer, was guaranteed to change your life 'in just five days.'"
More info:
WFMU
(which has the whole album available as a free download),
discogs.com
,
law.justia.com
.
Holy cats! What did I just watch?
Her Wikipedia page.
"The name of the game is ball buster. It's a family game, fun for children... and for adults it's exciting. You make strategic offensive and defensive moves. Then try to bust your opponent's balls."
Maybe the name of the game was a little too edgy for its own good. The game debuted in 1975, and as far as I can tell was discontinued after a year.
But the TV ad for the game is a classic, especially the final scene where the husband tells his wife, "You're a ball buster."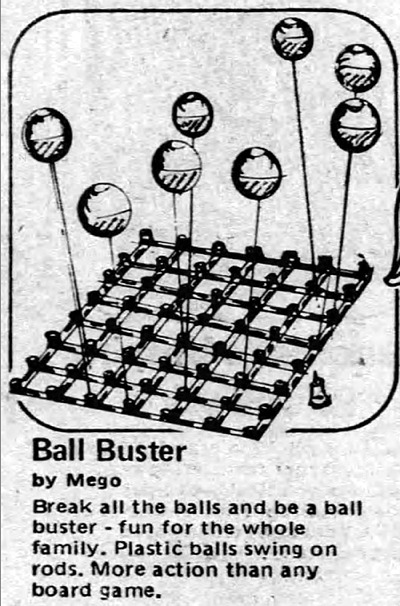 May 1968:
two-year-old Brad Haines somehow managed to swallow a turtle, apparently because it belonged to his sister, whom he was mad at. But then the turtle remained alive in his stomach for quite a while, which worried doctors. Thankfully it did eventually die, and Brad then managed to get rid of it the natural way. So no surgery was required.
Makes one savor the genius of TOY STORY and sequels even more.
Back in 1975, eleven-year-old Mark Harman of England made headlines by becoming a practitioner of the art of lying on a bed of nails. He was reported to have been taught by an "expert" and practiced by lying on the bed for half an hour each day.
I guess it's definitely not a typical hobby for a boy his age. I can't find any follow-up stories about him, so don't know if he continued the hobby later in life.
This seems to have been a game at the famous 1939 World's Fair. I find this partial description: "Termed 'De-Bunk-Her,' it consists of two beds, on each of which a lovely lady lies, with a target between. For a quarter the participant gets ten throws at the target..."
Stimorol
was a Danish brand of chewing gum. When its maker brought it to the U.S. in 1982, they decided to go for snob appeal and marketed it as the "chewing gum for the rich." Even though, as far as I know, in Denmark it was just a chewing gum for regular folks.
I agree with the columnist below. Chewing gum just doesn't work as a status symbol.
Woman with memory issues ensures she will be regarded as insane.

Original ad here.