Here's what's really weird
about this show
: a poet,
Ogden Nash
, and an author,
Ilka Chase
, were not considered too highbrow for a game show, and were recognized by the mass audience. Try that today!
Of course, having
Dagmar on the show
did not hurt.
The other parts of this episode also on YouTube.
A doping scandal has rocked the world of competitive bridge. The World Bridge Federation announced that top-ranked player Geir Helgemo has been suspended after he tested positive for synthetic testosterone and the female fertility drug clomifene while playing in the World Bridge Series in Orlando, Florida.
Of course, these drugs don't enhance or otherwise affect one's ability to play bridge. But apparently the World Bridge Federation is recognized by the International Olympic Committee, which means the bridge players need to follow the same anti-doping rules as Olympic athletes.
More details:
globalnews.ca
Recently created by the Russian company Igroland and on sale in Moscow. Players retrace the route of Russian assassins to the nerve agent attack in Salisbury. Seems worthy of inclusion in the odd board games category.
More details.
The first game ever that requires the player to swallow a sensor. The game is then played by doing things to change your gut temperature over the next 24 hours, until the sensor is excreted. The game isn't yet available for sale.
From Forbes.com:
"Guts Game" requires two players to each swallow a 20mm-long, FDA-cleared, single-use HQInc CorTemp sensor (originally developed to monitor people in extreme environments, like firefighters and soldiers). Participants can then rack up points by changing their body's core temperature via hot or cold showers, ingesting liquids of varying temperatures, eating spicy food, and exercising. The sensor ideally transmits information every 10 seconds to a CorTemp receiver as it travels through the players' digestive tracks, though there can be time lags in the reporting. The game ends when the sensor is excreted from one player's body - after about 24-36 hours - and the points they earned while the sensor was inside them are tallied up.
More info:
Exertion Games Lab [pdf]
Briefly experimented with in 1969 as a way to motivate U.S. troops in Vietnam to stay alert, fight better, and avoid casualties. The idea was that combat would be turned into a game. Each platoon was awarded points for enemy troops killed, weapons captured, and rice caches discovered. But they lost points if they suffered any battle casualties. The winning platoon would receive two or three days off at a rest center.
Troops hated the stay-alert game, so it was quickly mothballed.
"The name of the game is ball buster. It's a family game, fun for children... and for adults it's exciting. You make strategic offensive and defensive moves. Then try to bust your opponent's balls."
Maybe the name of the game was a little too edgy for its own good. The game debuted in 1975, and as far as I can tell was discontinued after a year.
But the TV ad for the game is a classic, especially the final scene where the husband tells his wife, "You're a ball buster."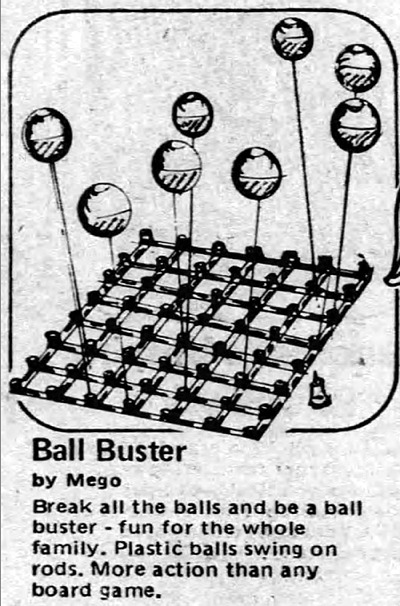 This seems to have been a game at the famous 1939 World's Fair. I find this partial description: "Termed 'De-Bunk-Her,' it consists of two beds, on each of which a lovely lady lies, with a target between. For a quarter the participant gets ten throws at the target..."