The Jecklin Float electrostatic headphones. They were non-adjustable. So they either fit, or they didn't. But apparently the sound quality was pretty good.
Created in 1969 by Bob Woodford, for when longhairs temporarily needed to blend in with the collective, corporate establishment.
But I think those sideburns are still a giveaway.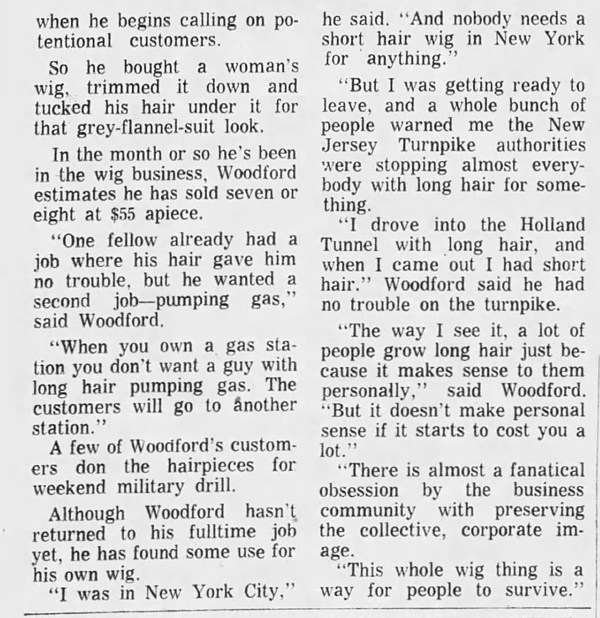 Created in 1977 by Mr. X, and his partner Mr. Y, both of whom wanted to stay anonymous because they had "straight jobs in large corporations."
Concha-Consciousness consisted of genuine conch sells worn as a headset. "Slipped onto the head, the C-C is supposed to shut out nagging spouses, yelping dogs, screaming kids, the TV, and traffic noises. It's supposed to give you 'time out for a little serenity.'"
The first ad for Concha-Consciousness appeared in the
New Yorker
on Sept. 26, 1977. The headsets were subsequently featured on The Today Show.
Another example of the danger of reading comic books. From July 1954:
a man suffocated by a plastic raincoat round his head was trying to copy a space-helmet he saw illustrated in a "comic." He appeared to be trying to imagine the sensation of travelling through space.
See here
for a previous example.
Perhaps the space helmet that inspired him looked something like this:
1960's fashion. Wear it down to cover up. Wear it up for the
au naturel
look.
I'm guessing that if this actually worked to cure headaches it was because of the placebo effect. Although radium does, of course, produce heat, which might help a headache. But if there was enough radium in the cap to feel noticeably warm, it must have been incredibly dangerous.
In 1948, the existentialist Parisian milliner Jean Barthet debuted the "existentialist hat" which was topped by a pair of floppy hands that were supposed to symbolize the hovering "hands of fate."
For some reason, Barthet's hat didn't capture the popular imagination as a symbol of existentialist angst in the same way as, for instance, Edvard Munch's
The Scream
did.
However, Barthet did go on to have an extremely successful career.
Wikipedia notes
that he was a favorite hatmaker of Sophia Loren and Michael Jackson.
"A wig for one head and many ears." Available at
songwig.com
.
Finally there's an easy way for many people to listen to music at the same time!
via
Dave Barry