Years ago Johnson, who is married and has two children, had an idea that he could float vertically if he tried hard enough. "It became an obsession," he said…
For 12 years, Johnson said, he practiced, risking his life time and again trying to "force my body into harmony with the water."
Johnson had a dream... to achieve something entirely useless.
A couple of years back,
I posted about another guy, Norris Kellam, who called himself the 'human cork'.
Though Kellam simply floated. He didn't float vertically.
Many of you might already know about the McGuire Twins, since they appeared on both
Family Guy
and
The Simpsons
. But when I realized they hadn't yet been mentioned anywhere on WU, I thought I should correct that.
The two claimed to be the world's heaviest twins. And they probably were. They both weighed well over 700 lbs at their heaviest.
They were born Billy and Benny McCrary. The McGuire Twins was a stage name they adopted later during their professional wrestling career.
Apparently they were of normal weight until age 10, when a case of measles left both of them with malfunctioning pituitary glands, and their weight started to balloon.
They're best known for riding around on their Honda mini-bikes.
More info:
goodsparkgarage.com
and
wikipedia
.
The winner of the 1925 Miss Plump of Coney Island contest was Jolly Irene, which was the stage name of sideshow performer Amanda Siebert. According to
Marc Hartzman's American Sideshow
:
Amanda Siebert wasn't always the jiggly Jolly Irene. Born in Jersey City, New Jersey, she was quite normal for the first twenty-one years of her life. In 1901 she weighed a respectable 120 pounds and gave birth to a child. Not only was a baby born, but because of a few glands gone awry, so was Jolly Irene.

The pounds piled up and the flesh got fleshier. Diets were ineffective, leaving her helpless against her newly acquired mass. One reporter later described her as having "biceps three times as large as Jack Dempsey." But at 620 pounds, rather than box the heavyweight champion, she turned her tragedy into profit by joining Ringling Bros.
Siebert died in 1940, at the age of 65.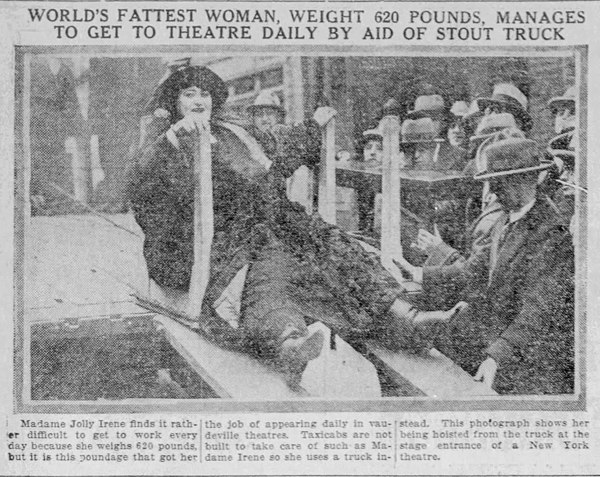 An unjustly forgotten trio of acrobats.
Full film below.
Ray Myers was known as the 'armless musician.' He was born in 1911 without arms, but he taught himself to play the guitar with his feet, and he became quite accomplished. Good enough that he was considered to be talented in his own right, not just as a curiosity.
Myers also taught himself how to drive a car using only his feet. Not a specially outfitted car. Just a normal one. (Though I'm assuming it was an automatic.) But in 1965, after driving without incident for 29 years, he lost his license. The reason: the state's new computer flagged his license to be revoked when it came across the notation in his file that he had been "born without arms."
Myers appealed the decision, and (probably thanks to all the media attention the case got) was allowed to take a special exam. Two weeks later he was driving again.
Myers died in 1987 at the age of 75. More info about him at
missioncreep.com
and
Arcane Radio Trivia
.
Combine
The Mod Squad
with
The X-Men
and you have
The Tomorrow People
.
Wikipedia page here.
Young Leonard Hanstein, aka Big-Mouthed Boy, had a talent for stuffing things in his mouth.
Drew Friedman included a caricature of Hanstein in his book
Sideshow Freaks
(2011), and claimed that Hanstein made a living for a while by displaying his talent.
I came across a columnist (below) musing in 1969 about what might have happened to Hanstein, but the question went unanswered. The only other biographical info I can find about Hanstein is that
he died in 1994 at the age of 70
, still living in Oklahoma.
Very proud to have a resident of my native Rhode Island exhibit this uncanny power.
Although not everyone was so positive, as the NYT coverage from April 23, 193, shows.
Original article here.
Further coverage here.
Plenty more of her on YouTube. But hardly any biographical info. What little there is seems to indicate that despite all cultural signifiers, she was Australian, not American.
Jump to 3:12 for this feature. I hope I move as good at that age as Charles Thurston did.