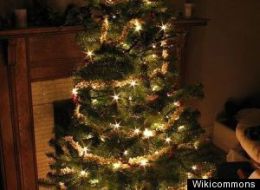 Police in Germany busted a man for possession of drugs. The illegal drugs found in his home included a six foot tall
marijuana plant
decorated as a Christmas tree. Wonder what's hanging up as mistletoe.
Don't Touch My Cookies - Tidewaterdeadfish from Jay Sharp on Vimeo.
Do we try to make amends for creating occasional incidents of reader dissatisfaction here at Weird Universe? Of course we do! For all those unamused and/or bored by the "Happy Hunter" post, here's your supplemental dose of excitement for today.
If you were willing to pay
$745.00 for a toy boat
, would you risk it by giving your drunken buddy a ride in his inflatable?
Use J&D's Bacon Lube and you may not need plastic ties after all!
I may have discovered our very own
Mecca!
A Memphis Tennessee middle school
principal
came up with a genius plan to get rid of sagging pants in his school. Anyone caught with the saggy pants is "Urkeled", made to pull their pants up as far as possible and then the teacher who caught them puts zip ties on the pants so they can not be easily undone. The school even has a board displaying pictures of the Urkeled offenders. The teacher with the highest percentage of students Urkeled started out at about 80 kids a week and is now down to 18 a week. Hurray for an effective discipline method.
Sorry for posting another video from the same people so soon, but I couldn't resist. I can understand how a bird in a bird in a bird in a bird in a bird in a pig might not be appetizing to many people, but I think everyone can enjoy this video. It answers the age old question, "What if I made Sushi with bacon instead of seaweed?" Enjoy.
As the saying goes, just because one is paranoid it doesn't mean no one is out to get them. The next generation convenience in credit cards, passports, driver's licences and the like is enabling pickpockets. Radio Frequency Identification technology or
RFID
involves the card emitting a low level radio signal which is easily picked up by credit card readers and pay pass stations. Unfortunately e-pickpockets can pick up these signals just by loitering and scanning passer-bys with the proper equipment. Interestingly, a thin layer of metal, like, say, tin foil disrupts the signal.
These machines pick up special jersey barriers and reposition them automatically. Pretty strange effect, like a giant block-eating, block-pooping monster.
News of the Weird/Pro Edition
You're Still Not Cynical Enough
Prime Cuts of Underreported News from Last Week, Hand-Picked and Lightly Seasoned by Chuck Shepherd
December 6, 2010
(datelines November 27-December 4) (links correct as of December 6)
The Duke Bedeviler Won't Go Away, Plus Dachshund-Cracking and Art You Only Think You See
★ ★ ★ ★!
Free Crystal Mangum!
: She is the dancer who thrilled the Duke lacrosse team in 2006. On the plus side: She has since graduated from North Carolina Central University and is raising three kids. Minus: Police say she beat up her boyfriend and set a fire in her bathroom while her kids were home. Two groups of pro-Crystal, she-was-raped locals remain active on her case and drive officials nuts with their rantings (It's a "lynching!" It's just "white power!"). Crystal's case was scheduled for court last week, and the friends think that, like the earlier outcome, this is all a set-up. (Bonus: Do you have a "publicist"? Crystal has.)
Raleigh News & Observer
Inexplicable
: The science blog Respectful Insolence turned up a call for volunteers issued by veterinary chiropractors, who are looking for 400 Dachshunds because they want to do some sort of exam and back-snapping and neck-straightening, or whatever it is that chiropractors do. Dachshunds! 400!
Scienceblogs.com
Disabled-Thinking Zone
: Can it be regarded as a smoking-gun catch to prove that Medicare ludicrously wastes money on a particular item, if Medicare officials already know they ludicrously waste money on it (and are about to fix several other, sorta-related items but admit that they're not fixing
that
item, meaning they're fully aware that they'll continue to ludicrously waste money on it)? The item is ordinary ol' wheelchairs, which retail for $100-$350 but which Medicare won't reimburse you for if you
buy
. It
will
pay 80 percent of the cost of
rental
, though, up to 13 months, at somewhere around $40-$125 a month.
South Florida Sun-Sentinel
No Longer Weird Naaa, It's Still Way-Weird
"Adhl" is the practice by which women cannot marry in Saudi Arabia unless they have the blessing of their parent/guardian, and for some otherwise-independent women, that permission is not forthcoming (for example, here, with a 42-year-old female surgeon, licensed in Canada, Britain, and Saudi Arabia, whose father keeps finding excuses to keep her eggs idle). In fact, she can't even buy a phone without her father's permission. (Bonus: Page 212 of the Prophet Sayings textbook for 11th graders gives this advice for boys-2-men: "Be jealous, beat her hands, protect her, and achieve superiority over her.")
Associated Press via San Francisco Chronicle
Update
: At a hearing scheduled to start today, a state court judge in Houston may declare Texas's death penalty unconstitutional for the reasons chronicled in News of the Weird over the years (no, not the one that says small-town Texas jurors are barely distinguishable intellectually from amoeba). Just say: The risk of wrongful executions is alarmingly high, which could not have been within the spirit of the U.S. Supreme Court's go-ahead of capital punishment in 1976. (Bonus: The judge, Kevin Fine, is a seriously-tattooed, recovering alcoholic/coke-head.)
Huffington Post
More in extended >>