In 1951, Jim Gernhart, having recently retired, decided to hold a rehearsal of his own funeral. He kept rehearsing it each subsequent year for 25 years, until finally (still alive) he gave up. Because of this annual ritual he became known as Colorado's "living corpse".
He eventually died in 1980 at the age of 103.
Read the piece here.
There should be a separate article on mechanical horses in literature. My favorite one occurs in these two novels by
Roger Zelazny
.
Skunk Guard was a solution of skunk spray packaged in small glass vials. Ray Hanson and Jack Scaff started selling this stuff in the 1980s with the idea that it could be used as anti-rape perfume. If a woman feared she was about to be raped, she could break open a vial and smear herself with skunk scent, making herself smell so bad that the rapist, hopefully, would go away. As Scaff explained, "The idea is to make the woman so repulsive the attacker runs away."
If the attacker didn't run away he would end up smelling awful also, making it easier for the police to identify him.
Skunk Guard never sold well. I'm guessing most women wanted a form of defense that was more proactive than just making themselves stink.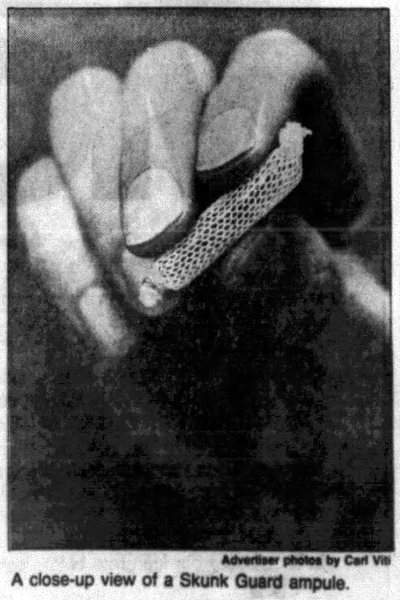 What better way to start the week than with a short six-song album of exotica with a most unlikely title?
Webs in the Wind
, published in 1949, is an odd, obscure book. The author, Winifred Duncan, decided that she wanted to learn more about spiders — creatures about which she previously had almost no knowledge.
To do so, she caught spiders outside, released them in her house, and then patiently observed their behavior as they went about building webs in her curtains, between pieces of furniture, behind her toilet, etc. Her book is full of illustrations of the spider webs throughout her house.
Only after observing the spiders for months did she start reading any of the existing scientific literature about spiders.
Used copies of her book are quite expensive, starting at around $35. But you can read the entire book for free at the
Hathitrust archive
.
Which world-famous actress, still living but at the height of her career in the 70s and 80s, is seen here in these three childhood shots?
The answer is here
and
also here.
Also after the jump.
More in extended >>
I wish the contest had continued with the mermaid theme.
Things you can wrap in Du Pont cellophane: fresh fruits, vegetables, babies...
Source:
Saturday Evening Post
, 1955 - via
Hagley Digital Archives
Besides sounding slightly naughty, "Forest Mensuration" proves epically boring.
"Trees get skinnier from bottom to top" is one thing you will learn.