Because he disliked "gnawing on stringy chicken wings," Peter Baumann bred wingless chickens. This was back in the 1940s. Evidently his wingless chickens failed to interest the chicken industry. I haven't been able to find out what became of his flock.
To illustrate the helpless quality of these wingless birds, photographer Francis Miller
dropped one from six feet
to show how it failed to fly, as opposed to a winged chicken that glided downwards.
Images from Life - July 18, 1949:
A beauty contest inspired by a song! It started in 1947, but I'm not sure when it ended. But it was still active at least till 1983, as you can see below.
Source of text.
After World War II, some Parisians embraced existentialism. Others took to climbing trees in their underwear.
Images and text from
Life (July 18, 1949)
.
Unlike their pallid compatriots, the cellar-dwelling Existentialists, the Parisians pictured here have found a healthy way to escape the world's woes. They simply take off their clothes and climb trees. This pleasant diversion was invented by a musician named Jean Wetzel and an actor named Jacques Gall, who explains, "We are searching for happiness in the contemplation of trees. . . . We try to become a part of nature and assimilate ourselves to it by climbing." Members of the society prefer climbing the plane trees of Chatou island in the Seine for their activities. In hot weather Paris their antics seem high fun indeed.
Source:
Chicago Tribune
(Chicago, Illinois) 17 Feb 1949, Thu Page 21
I like the image, but it seems like it belonged on the cover of a science-fiction magazine, not in an ad for Revere kitchen ware. After all, a woman marrying a robot raises a few intriguing questions.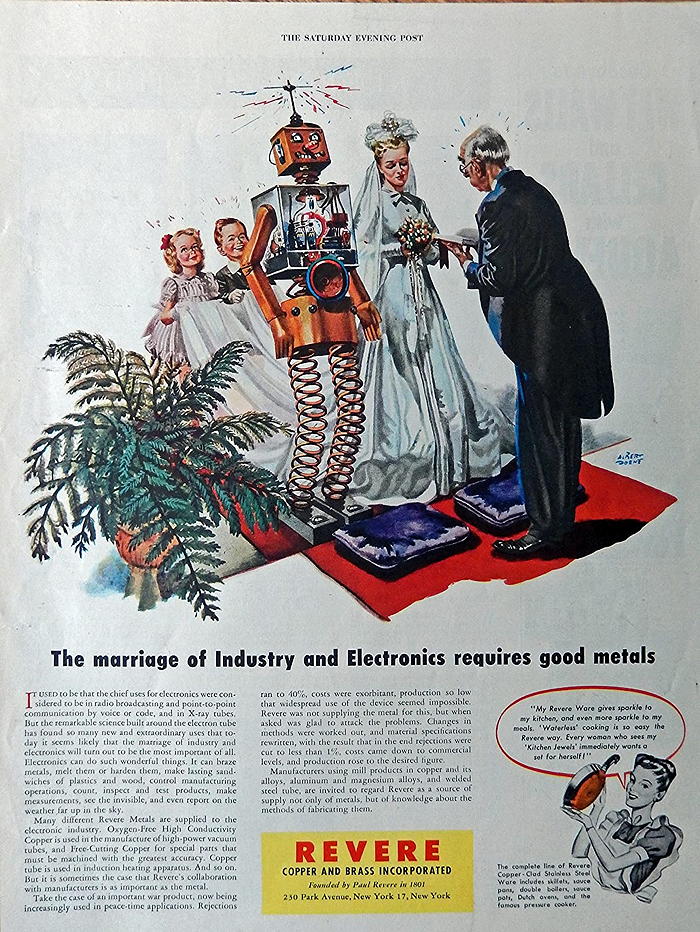 A 1943 AP story about a jeep that traveled around the Pacific tied to a submarine became the centerpiece of an ad for ice cream the following year. The somewhat tenuous connection between the two was that the submarine crew eventually sold the jeep to a warship in exchange for three gallons of ice cream.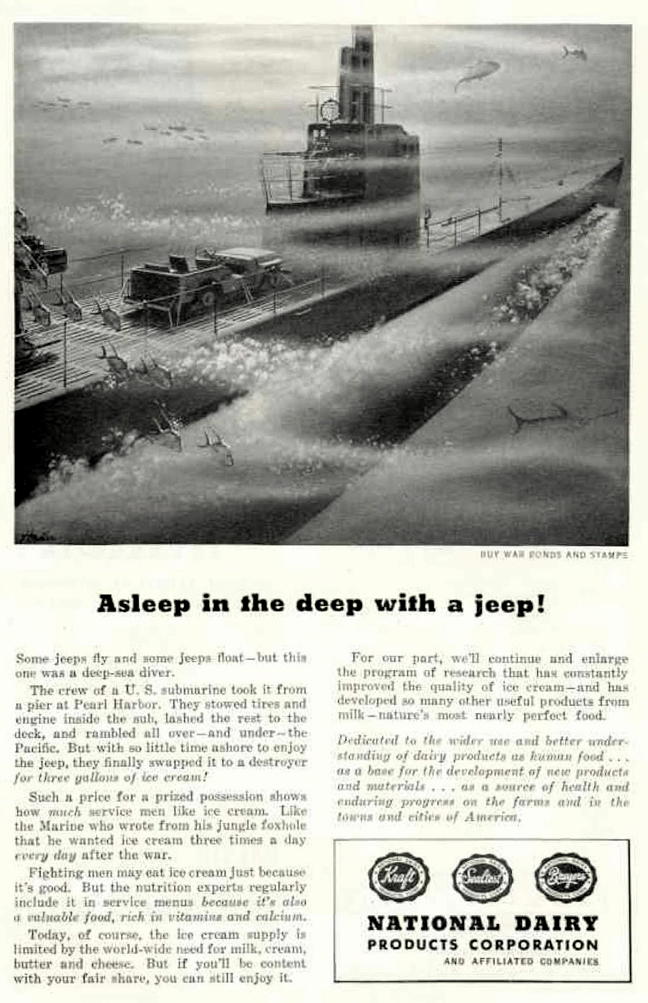 In addition to winning the non-glamorous title of Miss Stainless Steel Wire, Claire Dennis was named Miss Photoflash of 1949. She managed to leverage the publicity from that award into a small role in the 1950 film
The Petty Girl
. After that, her career as a model/actress seems to have ended.
Frederick N. Goldsmith published a successful stock-market newsletter from 1916 to 1948, when he came under investigation by the New York Attorney General for telling his subscribers that his market advice was based on "inside information."
Goldsmith, however, had an unusual defense. He revealed that the primary source of his inside information was the comic strip "Bringing Up Father." Goldsmith believed that the comic strip provided clues, in code, about the direction of the market. The clues had been placed there by "big insiders." This was apparently their way of communicating with each other. But Goldsmith believed he had cracked the code.
Details from The Manipulators (1966) by Leslie Gould:
Goldsmith got the "word" as to what the market and individual stocks would do from following the antics of Jiggs in the "Bringing Up Father" comic strip, which for years was drawn by George McManus. If Jiggs was pictured with his right hand in his pocket, the market was a buy. If there were two puffs rising from Jiggs' cigar, it meant the second hour would be strong.

In one episode, explained Goldsmith, Jiggs was at the theater and remarked: "The intermissions are the only good thing about this show." Goldsmith interpreted that as a sure-fire tip to buy Mission Oil, which he passed on to his market letter subscribers. It went up fifteen points the next day.
When questioned, McManus (author of the comic-strip) insisted he knew nothing about the stock market and pointed out that he prepared his strip nine weeks ahead of publication. He also noted, "What would I be doing with cartoons if I were so hot on the stock market?"
Having learned the truth, the AG could have dropped the case, but he decided to shut down Goldsmith anyway for misleading his subscribers.
The problem that the AG faced at the trial, however, was that Goldsmith's predictions had actually been pretty good and had served his subscribers well. In fact, many of his subscribers came to his defense during the trial. Nevertheless, the judge shut down Goldsmith's business. More details from
The Manipulators
:
Despite Goldsmith's record of accurate predictions, New York County Supreme Court Justice Benjamin F. Schreiber signed an injunction putting him out of business for keeps in these words:

The defendant. . . was engaged in the business of writing and distributing a market letter to the public which attempted to forecast and predict future prices of securities and commodities.

Subscribers were led to believe that the defendant used statistics, financial reports and charts in preparing. . . prognostications of future price movements. The letter was also so worded as to imply that the defendant had sources of special and secret information concerning stock movements. . .

The subscribers to the defendant's daily market letter had the right to assume that the defendant possessed a superior knowledge of the stock market, that whatever information he had came from living persons and recognized sources and not as a result of interpretations of comic strips. When he failed to inform his subscribers of the alleged sources of information he was concealing a material fact.