Category:
Smells and Odors
Was this really ever a problem?
Source.
The article dates from 1997 (
The Daily Herald
Chicago, Illinois 21 Aug 1997, Thu Page 97), but
an actual scientific paper from the same people was posted in 2014.
If any WU-vie can cite more recent reasearch, please do so!
Throughout the 1930s and 40s, the marketing team for Lux soap repeatedly warned consumers that if they didn't wash their clothes everyday, they risked having "undie odor". Some details from Suellen Hoy in her book
Chasing Dirt: The American Pursuit of Cleanliness
:
Lever Brothers, the makers of Rinso, Lifebuoy, and Lux soap, revised its advertising copy over the years to reflect the changing cultural meanings of soap itself... In 1916, Lux was "a wonderful new product" for "laundering fine fabrics:; by the mid-twenties it could also preserve "soft, youthful, lovely feminine hands" and, by the early thirties, prevent "undie odor" as well—"She never omits her Daily Bath, yet she wears underthings a SECOND DAY."

Francis Countway, the president of Lever Brothers and the individual most responsible for the "discovery" of body odors and the "stop smelling" ad pitch, was inspired by Listerine's successful advertising campaign against the previously unknown halitosis. Countway and his associates admitted, while Lever Brothers' business boomed, that they cared little "about the opinions of softies who think that the Body and Undie Odor copy is disgusting." They were simply doing their job, "bringing cleanliness into a dirty world."
Lux soap was also responsible for the
"undies are gossips"
campaign.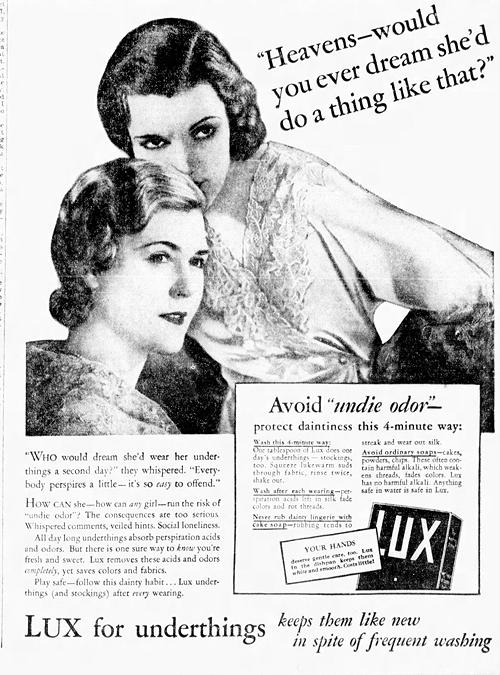 In case your bed partner has bad breath.
Patented in 1922
by Darwin Comings of Scranton, Pennsylvania.
The
East German Stasi
did a number of strange things, but perhaps the strangest was its attempt to create a scent library of its population. It was analogous to a fingerprint library, and was based on the premise that everyone had a unique scent which could be used to track them, if need be.
From Dog Law Reporter
:
The most interesting use of police dogs concerned scent identification, a method analyzed by Dutch and other researchers, but adapted by the unique paranoia of the Stasi. As early as 1973, the Stasi began collecting smell samples of a large number of citizens. Sometimes this was done with a special chair that the subject was asked to sit on during a visit to the police station. The chair had a dust cloth on top of the seat that was clamped into place by a removable frame. The subject had to sit in the chair for ten minutes, but after the interrogation was over, the dust cloth was removed and stored in a glass jar.

Sometimes Stasi officials did not bother with being subtle and merely told subjects to put a cloth under their armpits or even under their pants in the groin area. The cloth was carefully handled by tweezers in an effort not to allow contamination by other human scents.
Odd job:
the FDA employs people to smell fish in order to determine if it's decomposed. They refer to this as "organoleptic analysis".
There are four categories with fish. "The first is fresh. That's the way fish are right after they are caught. Then there is number one. That's the commercial grade. Most seafood should be number one. It may not smell fresh, but it's not decomposed.
"The next is number two. That means slight decomposition. Whether the fish is all right depends on the product. The criteria are based on percentages. And last is number three, the really bad ones. Definitely decomposed. Number three is so putrid and stinky you wouldn't want to eat it."
The article I'm getting the info from was published in 1978, but I'm assuming the FDA must still employ people to smell fish. Unless they've got a fancy gadget to do it now.
Swiss Air Deluxe is Swiss air in a can. The makers promise that it offers a variety of health benefits. For instance, "airways and lungs will recover," "improves your blood values," "gives you energy for excercises, studies and work," and "much better potency and virility."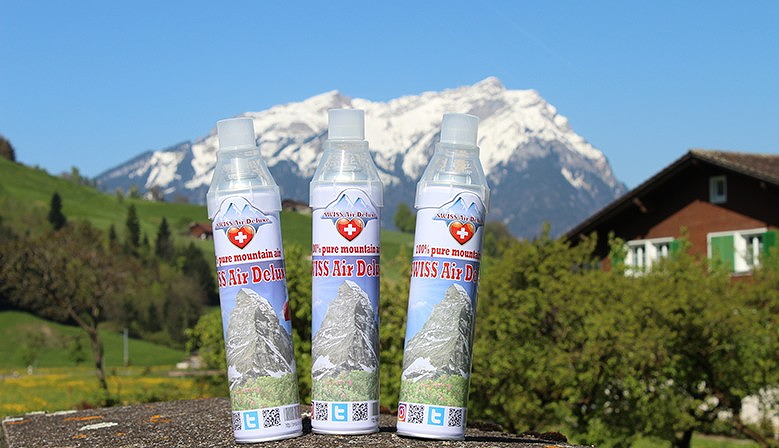 Recently, the makers of this stuff added a new product: Swiss Virgin. This is Alpine air "enriched with the lovely smell of real Swiss virgins who are living on the mountains." They add, "The sexy underwear is inside the can !"
Apparently, Swiss Air Deluxe is mostly sold in Asia. For which reason, a few months ago
it was awarded the "Devil's Stone" Award
, which is a satirical prize given annually to the most absurd freight-shipped product.
A representative from the company actually showed up to accept the prize, but defended the product, arguing, "We take advantage of unused spaces on transport boats when they return to Asia, so our ecological footprint is close to zero."
For some reason,
Swiss Air Deluxe's website
is currently down. But you can check out the
cached version
. And their product video below.
Alex's recent run of Weird Patents reminded me of the attempts to base an alarm device on smells.
Here's one that seems to have gone nowhere.
And another.