See the whole story here, with many more pictures.
1974:
Seabee Leon L. Louie explained that the reason he hit his commanding officer in the face with a chocolate cream pie was to boost the morale of his battalion. However, the Navy failed to see the humor in what he had done and court-martialed him.
Comedian Soupy Sales testified in Louie's defense, arguing that hitting someone in the face with a cream pie is comedy, not assault. Nevertheless, a jury of five officers found Louie guilty, though they gave him the lighter sentence of demotion, restriction to base, and a fine — rather than a dishonorable discharge.
A new book explores the obscure poetic tradition of sailors in the U.S. Navy writing the first deck log of the new year in verse.
As explained by the NW Arkansas Democrat-Gazette:
For the average person, the deck logs of the U.S. Navy are what Dave Johnson would call mind-numbing and indecipherable.
The records, quasi-legal documents, were a requirement of each ship to note various bits of technical information -- ship speed and direction, even the number of propeller rotations and other things that would only be useful or make sense if you were in the Navy.
But one time of year, sailors were allowed to deviate from the benign record keeping and exhibit creativity with brief storytelling. During the first watch of the New Year, from midnight to 4 a.m., the Officer of the Deck could record in verse.
No one is sure when, or why this tradition began. The
earliest known example
(reproduced below) dates back to 1926, but the tradition was apparently already well established by then.
More info:
midwatch-in-verse.com
I stand on the deck at midnight
As the clocks are striking the hour
And I'll keep the watch until morning
To the best of my humble power.
We are anchored in Pedro harbor
Tho there isn't much of a lee
And why they call it a harbor
Is something I never could see
But our hook is in hole A seven
And our center anchor chain
Has forty-five in the hawse pipe
And a very gentle strain.
When we anchored our trusty leadsman
Made a very careful cast
Finding eight and a half good fathoms
As the bugler blew the blast.
And down below in the fire rooms
Which the black gang ought to man
The steam is blowing bubbles
In number seven can.
All the battleship divisions
Swing nearby on the blue
Except the West Virginia
And the Mississippi too.
The Senior Officer Present
Floats peacefully in his sleep
On the good ship California
The guardian of the deep.
At one fifteen Roskelly
A pill rolling pharmacist's mate
Returned from his leave on schedule
He's lucky he wasn't late.
That's all the dope this morning
Except, just between us two
If the Captain ever sees this log
My gawd what will he do?

E.V. Dockweiler,
Ensign, U. S. Navy
For prices starting at around $400 (converted from £330), you can get an oil painting of your dog in uniform.
No mention of cats in uniform, but I'm guessing that if you're willing to pay for it, they'd be willing to paint it.
More info:
Fabulous Masterpieces
Have you ever considered commissioning a dog portrait in uniform? Take a look at Deef the dog above. His owners really wanted an oil painting of their dog painted as the Count of Monte Cristo. And personally, I think it's come out really well. In fact our paintings of dogs in uniform or having your dogs in costume have become extremely popular, more so than our dog artists ever thought.
The video is a hoot, what with a deranged bird and the famous "Kung Fu Grip." But I am also intrigued by the descriptions of the control panel buttons. Did the set come with labels so you could change the button names? I suspect not. So..."Washington" is a given. Stay in touch with HQ. "Code X7" is suitably mysterious. But "Jungle" and "Arctic" are ultra-generic, whereas "Burma" and "Tibet" are ultra-specific. Why those two countries anyhow? Commie (Cobra) hotspots?
A page devoted to the toy.
According to info on quora.com
, there's been a long, ongoing effort to develop armored shorts. However, soldiers inevitably find them uncomfortable, even though they appreciate the effort to protect their private parts.
Such shorts are sometimes referred to as 'tactical diapers' or 'battle nappies'.
I like the detail that the armored shorts (below) developed during the Korean War were "capable of deflecting about 65 per cent of all missiles."
A 1943 AP story about a jeep that traveled around the Pacific tied to a submarine became the centerpiece of an ad for ice cream the following year. The somewhat tenuous connection between the two was that the submarine crew eventually sold the jeep to a warship in exchange for three gallons of ice cream.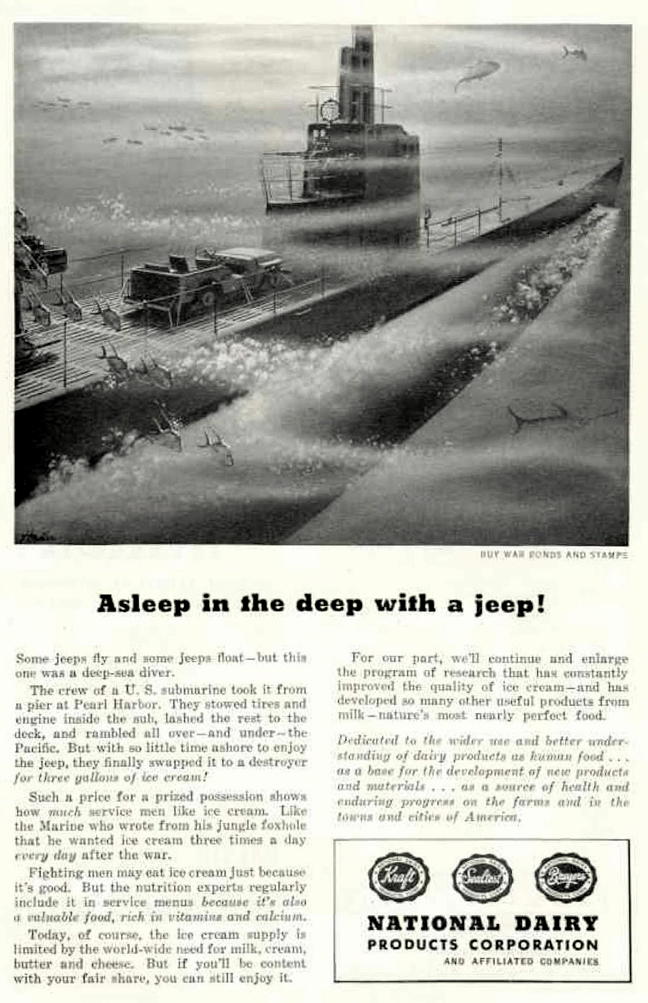 NOTE: stereotypical African cannibal imagery at end of film.
1978:
Hannelore Nelson was fired from her job as a translator with the U.S. Army in Germany for not wearing a bra while attending an asparagus banquet in Mainz, where she was translating for Gen. David Martin. At least, the General thought she wasn't wearing a bra. Nelson protested that she definitely had been wearing one, and she got the Mayor and Police Chief of Mainz to back her up ("Both said they saw nothing"). She eventually received $20,000 in compensation for wrongful termination.
And in other Army brassiere news,
the U.S. Army has recently developed a "tactical brassiere"
which will be the first official uniform bra the Army has offered its female soldiers.
The U.S. Defense Advanced Research Projects Agency (DARPA) launched the "Odortype Detection Program" in 2002. It had two goals:
The goal of Phase 1 will be to determine whether an exploitable, robust signature corresponding to individual human odortype exists...

The goal of Phase 2 will be to build a detector that can reliably detect the signature identified in phase 1 with high sensitivity and specificity.
By 2007, DARPA had changed the name of the program to the "Unique Signature Detection Program,"
but its goals remained essentially the same
:
to determine, by means of a well-developed scientific methodology, whether there are unique signatures in emanations that can be used to identify and distinguish specific high-level-of-interest individuals within groups of enemy troops or combatants, and if so, to develop enabling technology for detecting and identifying those specific signatures. The program consists of an interdisciplinary team of performers using state-of-the-art techniques to evaluate the statistical, biological and chemical nature of individual emanations. Once the nature of the chemosignal has been characterized, performers will determine the impact of non-genetic factors (e.g., diet, stress, health, age) on the signal in order to determine whether the signal can be robustly extracted from a complex and varied chemical background. If an exploitable robust signature is identified, the program will then pursue detector development.
I haven't been able to find out what's become of the program since 2007. Though I'd wager that the U.S. government hasn't completely abandoned the idea since being able to identify people by their smell would be a hard-to-defeat surveillance technology. (Assuming that we all really do have a unique 'odortype' that can't be camouflaged with fragrance or by eating stinky food).
However, I did find
a report on the program from 2005
that included the interesting detail that they field-tested the technology on seven sets of twins at Williamsburg, VA and Research Triangle Park, NC:
a field study was planned and conducted by RTI. In this study, identical twins and a family member (sibling or parent) were recruited. Each group went to either Williamsburg, VA, or Research Triangle Park, NC, for a four-day stay at a hotel. During this stay, daily sweat samples were collected onto polydimethylsiloxane membranes, as described in earlier reports to DARPA/ARO. A total of seven sets of twins were recruited. The goal was 30 twin pairs. Given the relatively poor response rate and the need for project resources to adequately address the data processing and statistical analysis needs of the overall USD program, the field study was terminated.