The video is a hoot, what with a deranged bird and the famous "Kung Fu Grip." But I am also intrigued by the descriptions of the control panel buttons. Did the set come with labels so you could change the button names? I suspect not. So..."Washington" is a given. Stay in touch with HQ. "Code X7" is suitably mysterious. But "Jungle" and "Arctic" are ultra-generic, whereas "Burma" and "Tibet" are ultra-specific. Why those two countries anyhow? Commie (Cobra) hotspots?
A page devoted to the toy.
According to info on quora.com
, there's been a long, ongoing effort to develop armored shorts. However, soldiers inevitably find them uncomfortable, even though they appreciate the effort to protect their private parts.
Such shorts are sometimes referred to as 'tactical diapers' or 'battle nappies'.
I like the detail that the armored shorts (below) developed during the Korean War were "capable of deflecting about 65 per cent of all missiles."
A 1943 AP story about a jeep that traveled around the Pacific tied to a submarine became the centerpiece of an ad for ice cream the following year. The somewhat tenuous connection between the two was that the submarine crew eventually sold the jeep to a warship in exchange for three gallons of ice cream.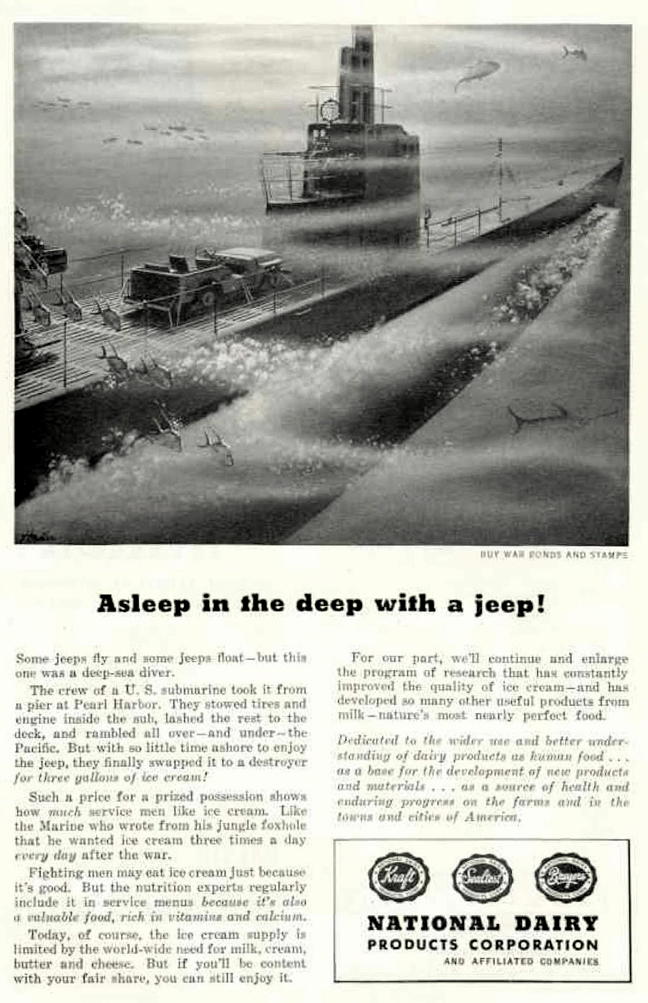 NOTE: stereotypical African cannibal imagery at end of film.
1978:
Hannelore Nelson was fired from her job as a translator with the U.S. Army in Germany for not wearing a bra while attending an asparagus banquet in Mainz, where she was translating for Gen. David Martin. At least, the General thought she wasn't wearing a bra. Nelson protested that she definitely had been wearing one, and she got the Mayor and Police Chief of Mainz to back her up ("Both said they saw nothing"). She eventually received $20,000 in compensation for wrongful termination.
And in other Army brassiere news,
the U.S. Army has recently developed a "tactical brassiere"
which will be the first official uniform bra the Army has offered its female soldiers.
The U.S. Defense Advanced Research Projects Agency (DARPA) launched the "Odortype Detection Program" in 2002. It had two goals:
The goal of Phase 1 will be to determine whether an exploitable, robust signature corresponding to individual human odortype exists...

The goal of Phase 2 will be to build a detector that can reliably detect the signature identified in phase 1 with high sensitivity and specificity.
By 2007, DARPA had changed the name of the program to the "Unique Signature Detection Program,"
but its goals remained essentially the same
:
to determine, by means of a well-developed scientific methodology, whether there are unique signatures in emanations that can be used to identify and distinguish specific high-level-of-interest individuals within groups of enemy troops or combatants, and if so, to develop enabling technology for detecting and identifying those specific signatures. The program consists of an interdisciplinary team of performers using state-of-the-art techniques to evaluate the statistical, biological and chemical nature of individual emanations. Once the nature of the chemosignal has been characterized, performers will determine the impact of non-genetic factors (e.g., diet, stress, health, age) on the signal in order to determine whether the signal can be robustly extracted from a complex and varied chemical background. If an exploitable robust signature is identified, the program will then pursue detector development.
I haven't been able to find out what's become of the program since 2007. Though I'd wager that the U.S. government hasn't completely abandoned the idea since being able to identify people by their smell would be a hard-to-defeat surveillance technology. (Assuming that we all really do have a unique 'odortype' that can't be camouflaged with fragrance or by eating stinky food).
However, I did find
a report on the program from 2005
that included the interesting detail that they field-tested the technology on seven sets of twins at Williamsburg, VA and Research Triangle Park, NC:
a field study was planned and conducted by RTI. In this study, identical twins and a family member (sibling or parent) were recruited. Each group went to either Williamsburg, VA, or Research Triangle Park, NC, for a four-day stay at a hotel. During this stay, daily sweat samples were collected onto polydimethylsiloxane membranes, as described in earlier reports to DARPA/ARO. A total of seven sets of twins were recruited. The goal was 30 twin pairs. Given the relatively poor response rate and the need for project resources to adequately address the data processing and statistical analysis needs of the overall USD program, the field study was terminated.
Want to pretend at home that you've been drafted? Here you go!
Tanks were first used in combat during World War I, but they often relied on a very old-fashioned form of communication: pigeons.
From military-history.org:
Where cumbersome, insecure, and unreliable wireless sets, along with telephones, signal lights, and flares failed, pigeons succeeded. When human runners could not pass through walls of barrage fire, pigeons rose above the explosions and the gas and flew swiftly to their lofts, bearing dispatches in tiny cylinders attached to their legs.
During World War I the British Navy attempted to train seagulls to reveal the presence of German submarines. The idea was to use a dummy periscope "from which at intervals food would be discharged like sausage-meat from a machine." The birds would, hopefully, learn to associate periscopes with food and would then fly around approaching German submarines, revealing where they were.
Initial tests were conducted by Admiral Sir Frederick Inglefield in Poole harbour in Dorset. Inglefield tried to train the birds not only to fly around periscopes, but also to poop on them.
Subsequent tests were briefly conducted in 1917, but then the Navy abandoned the idea.
One private inventor, Thomas Mills, refused to give up on the idea. In 1918 he patented what he called an "apparatus for use in connection with the location of submarines" (
Patent GB116,976
). It was basically a dummy periscope that disgorged ribbons of food.
Unfortunately for Mills, the development of sonar then made submarine-detecting seagulls unnecessary.
More info:
"Avian Anti-Submarine Warfare Proposals In Britain, 1915-18: The Admiralty And Thomas Mills,"
by David A.H. Wilson in the
International Journal of Naval History
- Apr 2006, 5(1).
Although not the writer of the tune, Scott Walker really sells this tale of soldiers and hookers.
His Wikipedia page.