Throughout the 1930s and 40s, the marketing team for Lux soap repeatedly warned consumers that if they didn't wash their clothes everyday, they risked having "undie odor". Some details from Suellen Hoy in her book
Chasing Dirt: The American Pursuit of Cleanliness
:
Lever Brothers, the makers of Rinso, Lifebuoy, and Lux soap, revised its advertising copy over the years to reflect the changing cultural meanings of soap itself... In 1916, Lux was "a wonderful new product" for "laundering fine fabrics:; by the mid-twenties it could also preserve "soft, youthful, lovely feminine hands" and, by the early thirties, prevent "undie odor" as well—"She never omits her Daily Bath, yet she wears underthings a SECOND DAY."

Francis Countway, the president of Lever Brothers and the individual most responsible for the "discovery" of body odors and the "stop smelling" ad pitch, was inspired by Listerine's successful advertising campaign against the previously unknown halitosis. Countway and his associates admitted, while Lever Brothers' business boomed, that they cared little "about the opinions of softies who think that the Body and Undie Odor copy is disgusting." They were simply doing their job, "bringing cleanliness into a dirty world."
Lux soap was also responsible for the
"undies are gossips"
campaign.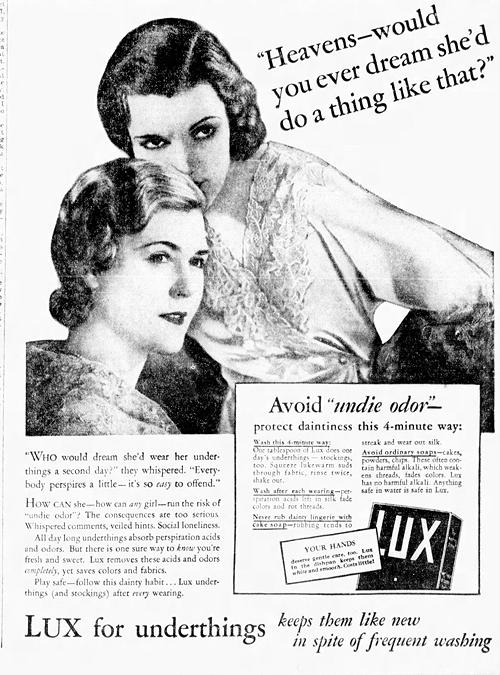 Maybe nearly 500 of these ads is a little excessive for one playlist? See what you think! Here's the first, below, and
the rest are here.
The bathing poncho, invented by Timothy and Brenda Reardon, allows someone to shower while clothed.
From the patent:
The present invention generally relates to wearing apparel. More specifically, the present invention is drawn to a disposable poncho adapted for wear while bathing or showering...

In institutions such as hospitals, nursing homes, college dormitories, gyms, and the like, the bathing or showering facilities often lack the privacy to which one is accustomed to at home. Thus, becoming unclad to take a shower or a bath can be somewhat of an unpleasant and embarrassing experience. A covering that would preserve one's dignity by minimizing exposure while also insuring a thorough cleansing would certainly be a welcome addition in the marketplace.
I can appreciate the problem this addresses, but I wouldn't want to be the kid who shows up in the locker room shower wearing one of these.
Is Miss Fixit a nurse or a child--or both? I'm confused....
Source.
If all these products had been properly employed, Americans would have had perfect lives!
"unless we watch out, the mouth glands slow up and decay sets in. The formula to correct this was worked out in Pebeco Tooth Paste."
One of the ongoing weird themes of this pandemic has been oddball devices for social distancing. For instance, we've previously reported on
social-distancing shoes
.
In this vein, beer brand Dos Equis recently unveiled a social-distancing cooler. The company described it as "part beer cooler, part social distancing measurement device."
From what I can gather, it seems like the cooler was actually two small coolers joined together. So you didn't need to fill the entire thing with ice.
Unfortunately, the promo in which they were giving these things away is already over.
More info:
seisfootcooler.com
,
travelandleisure.com