A few observations.
* Nowadays, to our shortened attention spans, sixty seconds feels like WAR AND PEACE.
* Is that the voice of Orson Welles for American gasoline?
* Why is the narration for the Coke stewardess ad a hybrid of THE TWILIGHT ZONE and DRAGNET?
* This was surely the apex of pop surrealism in advertising.
Sold by the Electric Exercising Machine Company, circa 1890. It seemed to be like a nineteenth-century version of one of those
Tonal machines
that are always being advertised on TV, but electrified.
Although I'm curious about how it produced electricity, given that the advertisement claimed it used "no chemicals," that "its electricity is permanent," and that "it has no battery."
My guess is that it contained a dynamo which would have been spun when a user pulled on the cords, producing an electric current.
Not sure how a cigar-smoking toddler promotes coffee...
Wash away radioactive particles with Flobar!
This ad later made its way into a 1982 piece by artist Winston Smith.
All scholars of oddball advertising are familiar with the Maidenform Bra campaign that used the tagline "I dreamed I...in my Maidenform Bra." But I don't believe I've ever seen the campaign translated from print to 3-D.
"This is an original vintage photograph from the 1950s. It shows a surreal Maidenform Bra window display at Parsons Souders store in downtown Clarksburg, West Virginia."
Source.
Throughout the 1930s and 40s, the marketing team for Lux soap repeatedly warned consumers that if they didn't wash their clothes everyday, they risked having "undie odor". Some details from Suellen Hoy in her book
Chasing Dirt: The American Pursuit of Cleanliness
:
Lever Brothers, the makers of Rinso, Lifebuoy, and Lux soap, revised its advertising copy over the years to reflect the changing cultural meanings of soap itself... In 1916, Lux was "a wonderful new product" for "laundering fine fabrics:; by the mid-twenties it could also preserve "soft, youthful, lovely feminine hands" and, by the early thirties, prevent "undie odor" as well—"She never omits her Daily Bath, yet she wears underthings a SECOND DAY."

Francis Countway, the president of Lever Brothers and the individual most responsible for the "discovery" of body odors and the "stop smelling" ad pitch, was inspired by Listerine's successful advertising campaign against the previously unknown halitosis. Countway and his associates admitted, while Lever Brothers' business boomed, that they cared little "about the opinions of softies who think that the Body and Undie Odor copy is disgusting." They were simply doing their job, "bringing cleanliness into a dirty world."
Lux soap was also responsible for the
"undies are gossips"
campaign.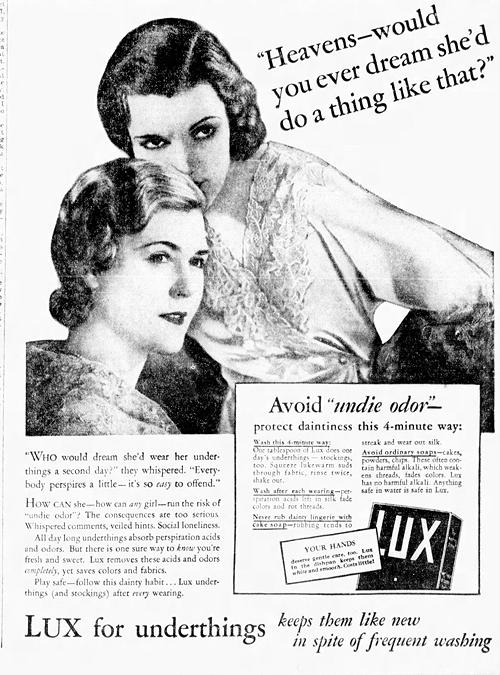 Children in cages!
Source.
The fact that
Bock Beer
allowed in the German language for a pun with "goat" (
bock
) meant that the drink had a handy visual icon as symbol. But since goats had an alliance with Pan and Satan, many of these ads seem in my eyes to have lewd and devilish connotations. Also fitting for drunkenness, I guess.
See more ads here.
Candy is a food! That's the first thing to know about it. Candy supplies definite needs of the body, just like milk, fruit, vegetables, cereals. Candy, in fact, furnishes several vital elements of the diet, without which you couldn't keep well!

... Caroline Hunt, noted specialist in Home Economics, has therefore recommended that candy be made a part of the "sweets" ration, which consists of about five pounds a week for the family of five. Candy may constitute whatever part of this is desired.
So they were recommending that everyone eat a pound of candy a week!
I have never seen laxatives touted as a daily dose, rather than just as needed.