The BBC reports
that, after a two-year absence due to Covid, the World Gravy Wrestling Championship has returned.
competitors wrestle in a pool of gravy for two minutes, with points being scored for fancy dress, entertainment value and wrestling ability.
More info:
World Gravy Wrestling
I'm not sure when exactly Atomic Balm was first sold. I believe it was sometime in the 1950s. But it very quickly became widely used by football teams as a pain-relieving ointment.
It also became a favorite of pranksters. The prank involved surreptitiously placing Atomic Balm in a player's jockstrap.
Since the ointment contains Capsaicin
, the results were painful.
The Atomic Balm prank was a perennial favorite on high school football teams, but the most famous instance of the prank occurred on the Miami Dolphins, recounted below.
In 1926, Philip S. Kane of Pennsylvania received a patent for his "fuse ball" (
Patent No. 1,583,721
). It was a golf ball with a fuse. Before teeing off, you'd light the fuse, which would then start emitting smoke. That way, you could find the ball wherever you hit it, even if it landed in tall grass.
According to various media reports, while testing his ball Kane accidentally set a wheat field on fire, but I haven't seen any proof to back up that story.
I wasn't aware that there was such a thing as cat boxing. Cats fight all the time, of course. But to box each other at a set time in front of a crowd — I didn't think they would cooperate with such an indignity.
Update:
Paul revealed to me the existence of this old video produced by Thomas Edison, circa 1894, showing cats boxing. So I guess cat boxing is a long-established thing.
Or as we call it today, "Spread the Covid."
This game went through several editions since its 1910 origin.
See pictures at Board Game Geek.
The boxing career of featherweight Curtis Schoon would be entirely forgotten by now if he hadn't, one time, forgotten to wear his boxing trunks into the ring. He opened his robe and... he had nothing on beneath it.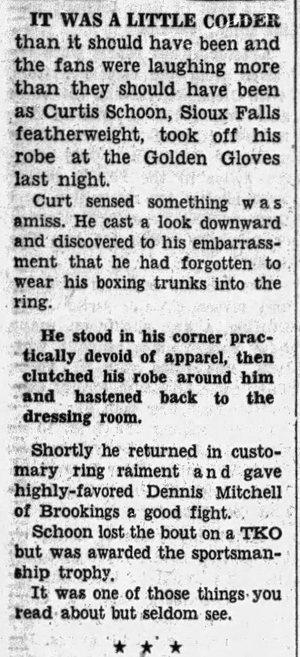 The game, referenced in the news clipping below, was evidently an early example of blind soccer.
The game has now developed into an established Paralympic sport.
From wikipedia:
All players, except for the goalkeeper, are blindfolded.
The ball has been modified to make a jingling or rattling sound.
Players are required to say "voy", "go", or something similar when going for the ball; this alerts the other players about their position.
A guide, positioned outside the field of play, provides instructions to the players.
Some hand techniques remain unchanged.
This 1974 sporting goods catalog
decided to feature many nude models. I guess you had to live thru the 1970s to understand how this seemed a good idea.
The company is still up and running.