Sheila Stiltner sure seemed fascinated by the turtle-tater.
Jemima Packington divines the future by interpreting asparagus. She calls this the art of Asparamancer. She throws the asparagus in the air, and where they land tells her the future. Using this method, she claims to have correctly foreseen Brexit, Prince Philip's death, Theresa May's resignation, and the Queen's death.
The latest thing that the asparagus have told her: "King Charles will take a step back, due to his age, and make William Prince Regent."
More info:
express.co.uk
There's a type of cabbage that grows thick, woody stalks, and in the Channel Islands there's a tradition of making walking sticks out of it.
Instructions from Countryside Publications:
To get good straight stalks of the proper diameter for walking sticks you must strip off the lower leaves at regular intervals. If you get much wind, stake them. The plants are shallow-rooted, like corn, and are easily blown over. Purposely bending the young plants over and then later staking them straight will cause a natural crook in the stalk. This crook then becomes the handle to the walking stick. This type of stick is much prized in England, and fetches a better price than straight sticks.

If the leaves are left on too long the stalk becomes too thick for a proper walking stick and it will often branch out, trying to form limbs. Ideally, you need to remove the lower leaves when the stalk is slightly larger than walking stick size--about 1-1/4 to 1-1/2 inches in diameter. You can expect about 20 pecent shrinkage when dry. I think a diameter of about an inch is ideal for a walking stick...
The specific type of cabbage you need goes by a variety of names: 'cow cabbage,' 'Jersey cabbage,' or 'walking stick cabbage.' And yes, you can eat the leaves of this cabbage.
More info:
wikipedia
,
Adding this to the 'vegetables' category, despite the controversy over whether tomatoes are fruits or vegetables.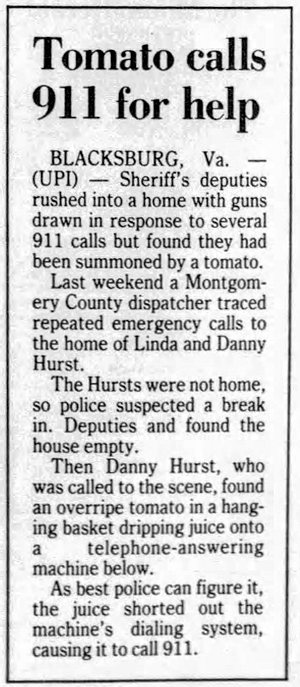 In 1927, the Canadian patent office granted an unusual patent (
CA 259317
) to George L. Kavanagh. It was unusual because, while most patents describe some new type of gadget or gizmo, Kavanagh's invention simply consisted of a method of using a carrot.
The problem Kavanagh had set out to solve was that of constipation in the elderly. The way he saw it, our rectums tend to grow more inelastic and shrunken as we age, and this leads to constipation. The solution, he concluded, was "gently dilating the anus and rectum until the organs are restored to their youthful size."
But what could be used as a dilator? Preferably something inexpensive and readily obtainable. That made him think of carrots.
A summary from his patent:
An added benefit of carrots, he noted, was that they come in a variety of different sizes. This would allow one to start with small carrots and work up to larger ones "until the desired result is obtained."
Unfortunately, Kavanagh submitted no drawings with his patent. But I did find a chart that provides a size comparison of different types of carrots, which could be potentially useful for anyone who wants to try out Kavanagh's method at home on an elderly relative.
Update:
Kavanagh also got a US Patent (
No. 1,525,505
) for his invention.
Undated. I'm guessing it's late 19th Century.
From OddBook.ca:
A small well-produced agricultural sales brochure for the Acme Potato Digging Attachment of the Potato Implement Co. of Traverse Mich.
Maybe I should give up this blogging gig and start digging potatoes!
It was probably the enormous quantities of Vitamin A pills that Basil Brown was taking which actually killed him. Though the daily gallon of carrot juice certainly contributed.
More info:
NY Times
We all know of the "animal cannibal" motif in ads. A chicken or cow or pig dressed as a chef invites the viewer to snack on his relatives. But I have never seen veggie cannibalism till this ad.
Can WU-vies find other examples?
Artist Alex Stenzel not only invented a cucumber sandwich, but in 2006
he managed to obtain a patent for it
. It's a design patent, but a patent nonetheless.
His idea was to hollow out a cucumber and stuff it with ingredients. He then used one end of the cucumber to plug up the other stuffed side. He called this a 'gorilla sandwich'.
The site
dailytitan.com
offers some details about how Stenzel came up with his idea:
artist and philosopher, Alex Stenzel, 44, of Pacific Palisades, Calif., has developed a new kind of breadless sandwich that has taken the raw food community by storm. Stenzel's invention, known as the 'Gorilla Sandwich,' substitutes traditional sliced bread for a hollowed-out cucumber filled with kale, olives, mustard greens, walnuts and avocado - among other healthy ingredients.

The name 'Gorilla Sandwich,' according to Stenzel, was chosen after researching gorillas and discovering their diet consists of many greens that are high in protein.

"I'm very much into health," Stenzel said. "I've always been playing around with different types of herbs and different kinds of vegetables."

Stenzel, who is originally from an industrial area in Germany, came across this idea when confronted with a choice: eat his salad at home or store it inside a hollowed-out cucumber to make it portable enough to take to the beach with him. For Stenzel, who is a surfing enthusiast, the answer was obvious, and he was soon off to the beach to 'kiss the waves,' as he calls it, with his new edible invention. Stenzel also has had a world ranking for three different sports: tennis, mountain biking and the Iron Man World Championships in Hawaii in 1986.

"To reach the highest performance level possible, I experimented with different healthy diets," he said.
Stenzel has posted a series of videos on YouTube that provide complete instructions on how you can make your own gorilla sandwich.
In 1979, researcher Sandra Lenington of the University of Santa Clara set out to answer this question. Her curiosity had been sparked by learning that Canon William V. Rauscher had reported that "canna plants given holy water left over from use in religious services grew more than three times higher than canna plants which were not given holy water." She decided to try to duplicate his observations under more rigorous conditions.
She watered one group of radishes with regular water, and a second group with holy water. After three weeks, she concluded that there was "no significant difference in the growth rates of these radish plants given holy water versus radish plants given tap water." She published her results in the journal
Psychological Reports (1979, 45, 381-382)
.
However, she noted that Canon Rauscher believed in the power of holy water, whereas she didn't, and this may have affected the outcome of her study: "There are numerous documented studies showing that positive or negative belief will either benefit or adversely affect plant growth." She suggested that future studies might try to better control for this variable.