I'm sure the product tasted fine, but the name would give me pause.
The World Championship Sardine Packing Contest was launched in 1970 in Rockland, Maine. But
by 1990 the contest had fizzled out
, due largely to an inability to find anyone willing to compete in it. This reflected the decline of the sardine packing industry in the region, as well a shift to mechanization.
Five-time champion Rita Willey became known as "the Mahammad Ali of all sardine packers." There's an exhibit honoring her in the
Maine Coast Sardine History Museum
. According to the museum:
when Rita was the reigning champion, she could pack 400 cans per hour. That means cutting and packing five fish per can. Her fame landed her on "The Tonight Show" with Johnny Carson, "What's My Line?", "To Tell The Truth", and "Real People".
Evidently there must still be sardine packing contests held on occasion, though no longer in Rockland. The video below shows a 2005 contest sponsored by the Canadian firm Connors.
Worms wiggle. This can make it hard for fishermen to impale them on a hook. But in 1989, Loren Lukehart of Boise, Idaho offered a solution. He received a patent (
No. 4,800,666
) for a method of "dewiggling" earthworms.
His invention was essentially a rectangular box full of sand. From his patent:
To dewiggle a worm, the fisherman has to simply set the worm in the rectangular container on top of the sharp grained sand. During the worm's natural locomotion process, the sand becomes partially imbedded in the earthworm and causes an immediate reaction wherein the earthworm completely relaxes. The earthworm is then effectively dewiggled and ready to be impaled onto the fishing hook.

Once the sand coated earthworm is immersed in water, the sand rinses free and the earthworm resume its normal wiggly character.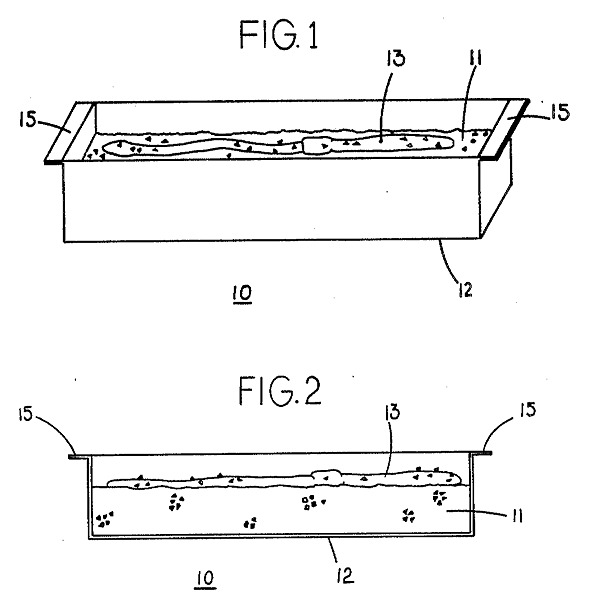 An absolutely fascinating time capsule of absurdity, sincerity and mendacity in a vanished era.
Note how much pop culture had infiltrated advertising, such as the YELLOW SUBMARINE-style animation in several cases.
The physics of falling cats. Narrated by Australian physicist Karl Kruszelnicki.
To trepan means to perforate the skull with a drill. Which makes the title of this old folk song from Norwich extremely odd.
However, the song itself isn't actually about parents drilling a hole in the skull of their child, despite the title. Turns out, 'trepan' has another, archaic meaning, which is to trap or ensnare, and that's how it's used here.
But even though it isn't about pediatric brain surgery, it's still quite a dark and violent song.
It's performed below by
Jon Wilks
. He starts singing the song about halfway through the clip.
Oh, it was my cruel parents that first did me trepan;
They married me to an old man for the sake of money and land.
If they'd married me to a young man without a penny at all,
He'd have took me in his arms and have loved me all the more.

Oh, it's, "Hush, my dearest Nancy, oh, wait 'til we go to town,
I'll buy you a lady's bonney, likewise a mus-e-lin gown;
There is no lady in the land your beauty can compare,
And I'll buy you a little lapdog to follow you everywhere."

"I want none of your little lapdogs nor none of your gentle care;
It's a pity that such an old man my beauty you should snare.
I am not sixteen years of age and scarcely in my bloom;
Oh, you are my cruel torment, both morning, night and noon."

When he comes to bed at night he's as cold as any clay:
His feet are as cold at midnight as corpse, I've heard them say;
His pipes are out of order and his old flute's never in tune:
Oh, I wish that he was dead and a young man in the room.

[Now some they do persuade me to drown him in a well,
And others do persuade me to grind him in a mill.
I'd rather take my own advice and tie him to a stake,]
Oh I'll get a big stick and labour him well, until his bones I break.
Source of lyrics
Isn't it the offending husband who is usually the spouse assigned to sleep in the tub?
Source.