Pedro, "The Narco-Beast of Sinaloa," is ready to kill Gabbigale for ratting on his secret greed.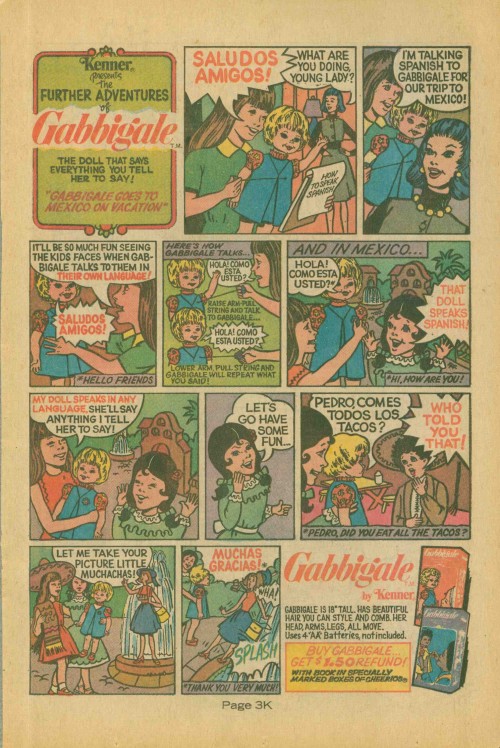 Tell me what I'm missing here, please.
Cheap stuffed puppet: $10.00
Fake dentures from gag shop: $5.00
Toothbrush: $1.00
Total cost of teaching device: $16.00, max. And that's paying retail!
So why does
Freddy Flossisaurus
cost $316.00 at this medical-supply site!?!
[edit: checking back in 2012, it appears that Freddy is sadly no longer for sale. So I removed the link. -Alex]
News of the Weird Daily
Wednesday, December 31, 2008
"There was nothing sinister" about wrapping her in duct-tape and taking her across state lines
A 72-yr-old woman and her 76-yr-old boyfriend simply got tired of trying to convince her 86-yr-old sister to leave Pittsburgh and move in with them in Cleveland. (She was getting to need caretaking.) So they taped her up tight and drove her there. "Nothing sinister about it," said the kidnaptress's daughter.
Pittsburgh Tribune-Review
Comments
'ducttape_kidnap'
Upgrades to our knowledge, courtesy of higher-education
After a study of 1,500 kids, the Japanese Family Planning Ass'n said it's pretty confident now that it knows . . that kids' skipping breakfast is highly correlated with losing their virginity early. And British historian Richard Ender said he's got evidence that goes against conventional wisdom about the sinking of a warship in 1685, i.e., a candle caused an explosion from all the below-deck methane (from caca which 17th-century greens convinced them to stockpile rather than dump?).
Reuters
///
Daily Telegraph
Comments
'breakfast_virginity'
The art of coffee
To have the privilege of being employed by the Ladybug Organic Coffee Company of Portland, Ore., ya have to complete an extensive application, including answering 10 essay questions. The company over the years has hired 25 of 150 applicants. The competing Coffeehouse Northwest has no essay questions but does require a three-month training period to make sure, among other things, that the milk is steamed to perfection.
New York Times
Comments
'art_coffee'
More Things to Worry About Today
Guilty pleas start to come in from the, er,
older women's prostitution ring
(spread over 12 states, with13 defendants over age 50, 3 over 70).
State Journal-Register
(Springfield, Ill.)
Recurring Theme: This lawsuit says, if you OD on booze and drugs, and die, and you happen to be sitting in a company's car at the time,
it's the company's fault
that you're dead.
Daily Herald
(Arlington Heights, Ill.)
[LINK CORRECTED]
Recurring Theme: Arrested,
DUI, on a Zamboni
.
Maine Today
It's been No Longer Weird for years, but it still has a
je ne sais quoi
about it: He wrote his robbery note
on his pay stub
.
Daily Herald
(Arlington Heights, Ill.)
If your family name is Hunt, you have a higher duty to be decorous, to refrain from
naming your son Michael
("Hello, yes, I'd like to speak to— . . .).
Indianapolis Star
Comments on Things to Worry About?
Comments
'worry_081231'
Your Daily Loser
The would-be robber got away, but there's good video on this one. He confronted a carwash employee, pulled out a gun, dropped it on the floor, picked it up (or, rather, picked up what were then both pieces of the gun), still insisted he wanted money, and made a move for a cash drawer. That's when the employee grabbed a 2000 psi pressure hose and blasted away.
KGW-TV
(Portland, Ore.)
Comments
'carwash_robber'
People Whose Sex Lives Are Worse Than Yours
Jose Raul Moreno-Lopez, Tampa, charged with tearing off some of his clothes in an apartment house parking lot and humping a tree.
Tampa Tribune
Comments
'jose_morenolopez'
Your Daily Jury Duty I
["In America, a person is presumed innocent until the mug shot is released"]
F-Stater Carla Maldonado, 40, stands accused of having sex with a dog, but c'mon, are they saying she couldn't entice any man she took a liking to?
WOKV-TV
(Jacksonville)
Comments
'carla_maldonado'
Your Daily Jury Duty II
Stanley Carter, 21, was accused of stowing away for a few days in a family's attic near Wilkes-Barre, Pa., and descending from time to time to steal things before returning to his lair.
Times Leader
Comments
'stanley_carter'
Today's Newsrangers: Charles Thompson, Keith Yearman, Scott Schrier, Brent Thompson, Rick Zehr, Tom Barker, Bruce Bixby, Paul Music, Steve Dunn
Pay 'em $10, and they'll send you
something
.
"It may be something you need, something you want or something you desire." Or it may not be.
"Your something will most likely be brand new." Or maybe it'll be a used piece of junk.
Some of the things it definitely won't be: alcohol, body parts, cable descrambler, drugs, endangered species, miracle cure, pyrotechnic device, brass knuckles.
Hell, I'm going to undercut them. Pay me $9, and I'll send you something! It might be an empty box, or it might not be...
Popular Mechanics,
Jan 1911
, offers some tips on how to be a "hobo tourist":
Riding between cars -- dangerous
On the springs -- risky
The Blind Baggage Method -- a favorite
Under the Vestibule Door -- greatly in favor
On the pilot -- warm on a cold day.
Across a plank between the rods -- gritty and perilous
In medicine the "surprise question" has a specific meaning. It refers to when a doctor asks himself this question: "Would I be surprised if this patient died in the next year?"
A recent study published in the
Clinical Journal of the American Society of Nephrology
found that the surprise question has high predictive value. Doctors classified 147 dialysis patients into "yes" and "no" groups on the basis of the surprise question. (i.e. No, I wouldn't be surprised if they died.) Sure enough, the No group died within the next year at a rate 3.5 times higher than the Yes group.
Conclusion: "The 'surprise' question is effective in identifying sicker dialysis patients who have a high risk for early mortality and should receive priority for palliative care interventions."
For the next seventeen days, we'll be featuring a different page from this 1973 comics insert, a catalog of groovy, goofball Kenner toys, with utterly cheapjack illustrations and asinine text.
I hope lots of folks of the proper age get a flash of powerful nostalgia. Myself, I was already in college when this advert ran.
Two nights ago I watched the
Bollywood spectacular titled NAVRANG
. It's full of absolutely insanely over-the-top song-and-dance numbers, of which the following will serve as example.