"Vélocipède aérien," proposed by Jean Jacques Bourcart, Paris, August, 1866
Source.
Parachuting onto the whirling blades of a helicopter is both an unusual and a horrific way to die. It's definitely the worst kind of parachute accident I can imagine. It happened to one young woman —
her first time parachuting
— back in August 1987.
The Sport Parachutist magazine (Oct 1987)
offered some details into the subsequent investigation of the incident. The basic conclusion seems to have been that it was a colossal screw-up to have had students continue to parachute when a helicopter was in the area.
Miss Goodayle was despatched on the second pass, being the third parachutist to exit the aircraft, the parachute deployed normally, the descent was normal until just prior to landing when there was a collision between the parachutist and a helicopter approximately 430 yards from the target cross.

The conclusions of the Board of Inquiry were that Drop Zone Control or Air Traffic Control failed to suspend parachuting when the helicopter was in the area and that the helicopter pilot failed to take avoiding action or clear the area when parachiting was in progress. The Board could see no reason why parachuting was not suspended or why the helicopter was in the area whilst parachuting was taking place.

The recommendations of the Board were that whenever a student parachute programme is in operation, the Drop Zone Controller must have radio communication with parachuting aircraft for the purpose of suspending parachuting.
John Seney, an engineer at the Du Pont laboratory in Seaford, Delaware, had an ambitious plan (which he called 'Project Daedalus') to study buzzards and thereby figure out a way to allow a man to fly by flapping his arms — with the help of 36-foot wings strapped to them.
Seney's project received quite a bit of media attention for several years in the mid-1960s, but I can't find any report indicating that he ever got to the stage of a test flight.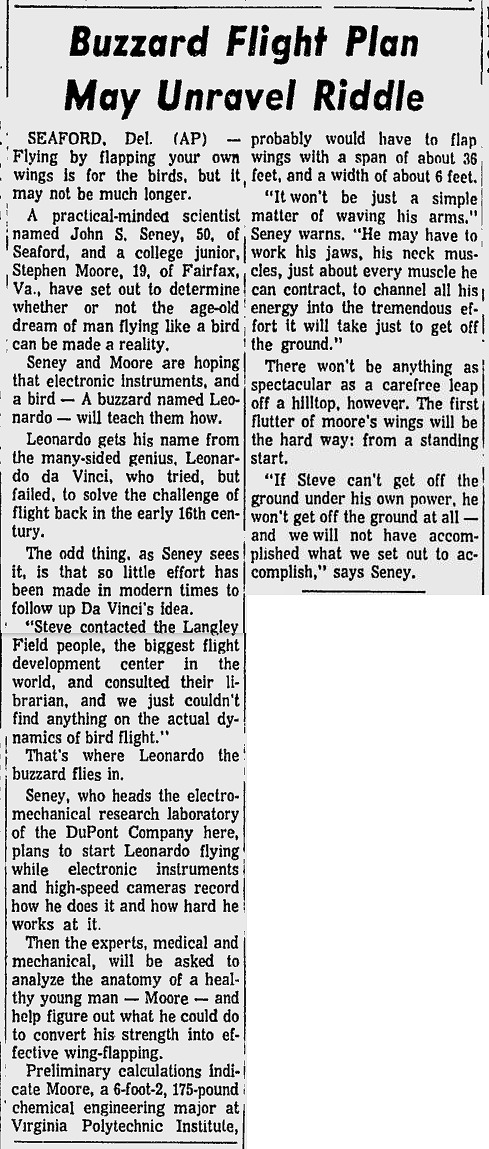 Pigeons with LED lights attached to them flying over the East River in New York, now that's art!
Original pic here.
Opel-RAK were a series of rocket vehicles produced by Fritz von Opel, of the Opel car company, in association with others, including Max Valier and Friedrich Wilhelm Sander largely as publicity stunts.

The Lippisch Ente a rocket-powered glider was produced on June 11, 1928, piloted by Fritz Stamer, but is not usually considered part of the series.

Opel RAK.1 - a rocket car that achieved 75 km/h (47 mph) on March 15, 1928[2]
Opel RAK.2 - rocket car May 23, 1928 reached a speed of 230 km/h (143 mph) driven by 24 solid-fuel rockets[2]
Opel RAK.3 rocket train (quoted speed is variously 254 or 290 km/h. See: [3], [4], [5], [6], [7]) On the second run the train jumps the track and is destroyed.
Opel Rak IV rocket train, destroyed when a solid rocket explodes on the track, exploding all the other rockets. Railway authorities prohibit further runs.[3]
Opel RAK.1 rocket glider September 30, 1929
Some stock footage of some of the rocket vehicles was incorporated into this early SF film.
You just can't trust anyone now a days!
Original article here.
Why are the skies of 2015 not filled with
coleopters?
How would you like one of these guys to land on your head? People walking through a particular field in the Netherlands get the chance to find out what its like. The friendly
owl
likes to spend a minute or so on his human perches before flying off.
These people really wanted to get
home
for the holiday!
You know how in cartoons and comedy movies, a person will accidentally employ an ejection seat and go for a thrill ride through the air, only to land safely...?
Not what really happens.
Original article here.