Category:
Perfume and Cologne and Other Scents
Created as a gimmick by the Idaho Potato Commission. Already out of stock.
Formulated from essential oils and distilled Idaho Potatoes, this fragrance embodies the irresistible essence of potatoes from Idaho.
More info:
Idaho Potato Commission
,
Instagram
,
upi.com
AdWeek named this as the
weirdest fragrance ad of 2021
. I'd have to agree.
From YouTube:
Burberry introduces Hero, Riccardo Tisci's first scent for Burberry starring Adam Driver.
A new masculine spirit exploring the house codes of duality and the power of the animal kingdom.
A man in search of transformation and metamorphosis as a new modern heroism.
Because Marilyn Meissler had always wondered if she was the only person who liked the smell of skunks, in 1989 she placed an ad in
USA Today
seeking out other skunk lovers:
Calling all Skunk Lovers. My family and friends think I am the only person in the world that likes the skunk scent. I would like to prove them wrong, so if you or anyone you know likes the scent, please reply.
She got such a positive response that a year later she founded "Whiffy's Club" — a club for people who like the odor of skunks. For $35 members got a t-shirt, button, membership card, and newsletter. And for an extra $11, they got a bottle of skunk aroma.
Skunk Guard was a solution of skunk spray packaged in small glass vials. Ray Hanson and Jack Scaff started selling this stuff in the 1980s with the idea that it could be used as anti-rape perfume. If a woman feared she was about to be raped, she could break open a vial and smear herself with skunk scent, making herself smell so bad that the rapist, hopefully, would go away. As Scaff explained, "The idea is to make the woman so repulsive the attacker runs away."
If the attacker didn't run away he would end up smelling awful also, making it easier for the police to identify him.
Skunk Guard never sold well. I'm guessing most women wanted a form of defense that was more proactive than just making themselves stink.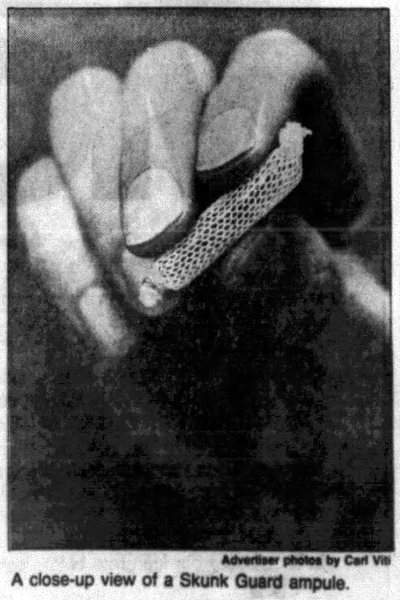 A fragrance for muppet fans was a cute idea, but the image of Kermit with six-pack abs was a bit unsettling.
For some reason, Amphibia was deemed culturally significant enough to be added to the Smithsonian's collection.
From the Smithsonian:
Amphibia eau de toilette was launched in 1995. It was sold exclusively at Bloomindale's and was advertised as being "Pour homme, femme, et frog." The glass fragrance bottle is in its original packaging, which includes a cardboard box also containing a t-shirt with an image of Kermit the Frog lounging on his back and showing off his 6-pack abs.
Many cultural touchstones of my youth have vanished, and mean nothing now to new generations.
"Currier and Ives" is one such.
At one time this name meant "nostalgic popular culture invocations of the nineteenth century." But given that meaning, what kind of smells would you necessarily associate with it? Horse manure? Coal fires? Unwashed longjohns? Was that what was meant by "manly elegance?
The Sigma-Aldrich Corporation
sells a variety of scents
including: Pseudo Corpse I (that smells like a body less than 30 days old), Pseudo Corpse II (that mimics the dry-rot scent cadavers attain after a month), and Pseudo Drowned Victim.
The scents are intended to be used for training rescue dogs, but I suppose they could also be used to enhance a Halloween costume.
Their product literature offers the following info about training dogs to find a corpse:
Canine reaction to a body can vary widely. The general categories of behavior are:

1 . Enthusiasm - the dog does not hesitate to approach the body. It may attempt to elicit a response from or urinate on the victim.

2. Cautious Interest - the dog slows its search, may become nervous and raise its hackles, but with encouragement, will approach the victim.

3. Avoidance - the dog will not approach the scent source and may actually attempt to leave the area. This behavior may become evident some distance from the body as the dog enters the scent cone.
More info:
Discover magazine
Ford has collaborated with fragrance firm Olfiction to create a scent called "Mach-Eau" that smells like gasoline. Or, as they put it, the fragrance has "smoky and rubbery accents reminiscent of the petrol smell so many love." They've done this, they say, for the sake of owners of electric cars who miss the smell of gasoline.
However, it seems that Ford isn't actually selling this fragrance. So we have to take their word for it that they really did create it.
More info:
Ford Europe
,
CarScoops
Samsara the perfume was created by Jean Paul Guerlain in 1989, and it's
still for sale
. Here's Guerlain's
publicity blurb about the perfume
:
In Sanskrit, Samsara means the eternal cycle of life. It is an imaginary place, sacred and mysterious, where Orient and Occident meet. Samsara is the symbol of harmony, of absolute osmosis between a woman and her perfume. It is a spiritual voyage leading to serenity and inner contemplation. The bottle, in the sacred red of the Orient, echoes the figure of a Khmer dancer in the Musée Guimet in Paris, her hands folded in a gesture of offering, expressing plenitude and femininity. The stopper evokes the eye of Buddha. A tantalizing floral-oriental perfume, Samsara is a harmonious blend of all-natural essences, including jasmine, ylang ylang, sandalwood and tonka bean.
I'm no expert on Hindu-Buddhist religion, but I'm pretty sure that
Samsara
isn't supposed to be a good thing. My understanding is that it's the endless, repeating cycle of birth and death from which we're supposed to hope to awake. Kind of like the endless cycle that Bill Murray's character, in the movie
Groundhog Day
, finds himself trapped in. Which makes it odd to name a perfume after this.
Of course, I'm over-analyzing this. Guerlain probably a) didn't understand the concept, and b) wouldn't have cared anyway because he just figured the name sounded exotic.
Donald Spector received a patent for these in 1985
. They looked like small music discs. But instead of producing sound, they released an aromatic vapor when put in the 'player'.
I don't see what advantage an aroma disc would have over an incense candle (except, perhaps, for the lack of an open flame). Which, I assume, is why these are no longer around and incense candles are all over the place.
But Spector was successful enough to have his product featured on
The Tonight Show
with Johnny Carson: