Created by Swedish grocery chain Coop as a way to promote their campaign of lessening food waste. The logic here being to teach people that they shouldn't throw out their milk until it actually smells rotten. More info:
CNET
Very strange 1969 ad campaign for Bacchus after-shave. The premise is that instead of leaving a giant horse outside of Troy, the Greeks actually left a "towering bottle of Bacchus," and that this caused the Trojan women to become so wild with lust that the Trojan men no longer had time for fighting.
It then follows this up with the tagline: "The Romans conquered an empire with it. Go out and conquer yours."
But what do the Romans have to do with the Trojan horse? Rome didn't even exist at the time of the Trojan war. I guess there's a vague connection because the Romans believed they were descended from the Trojans, but even so the history seems hopelessly muddled.
Invented in 1996 by three California firefighters turned entrepreneurs. Their explanation of how they got the idea:
"We were coming out of a fire one night and we walked past this policeman who smelled like donuts. We were like, 'Wow, we love that smell.' And we started laughing that cops hang out in donut shops so much, they actually are starting to smell like donuts."
More info:
LA Times - May 3, 1996
Apparently, women who wore this perfume were inclined to hide behind vegetation--then presumably leap out upon their prey.
History and description of perfume here.
In the midst of the Bosnian War, two Serbian designers came out with "Serb" the cologne. I can't think of any other cologne inspired by a war.
For the man that wanted to smell like a train.
Travel in the best circles... go first class, arrive in style with Pullman, Dana's great new luxury fragrance for men!
Pullman puts you on the right track to an enlightening new experience in good grooming. Use it without reservation... Pullman's subtle scent underscores, never overpowers your masculine assurance. Board the Pullman train decisively with After Shave... Eau de Cologne... Talc... Deluxe bath soap... Shower soap on rope.
Someone has a bottle of this stuff for sale on eBay
, if you wanna try some 50-year-old fragrance. Only $180!
In 1974, the
public library in Upper Arlington, Ohio
added scratch-and-sniff scents to its card catalog. They called it the "Stick Your Nose in the Card Catalogue" program.
The idea was that the card in the catalog would have a scent, and then the book on the shelf would have a matching scent. So you could find your books by smell. There were about 60 scents in total, including apple, chocolate, garlic, lemon, roses, root beer, leather, pizza, orange, strawberry, candles, pine, cheddar cheese, clover, and smoke.
I was curious what became of the scented catalog, so I emailed the library and asked. The reply came just a few minutes later:
Unfortunately, the UA Library no longer has this catalog, and has not had a physical card catalog since around August 1989. We aren't sure what exactly happened to the scented catalog, but we guess that the cards eventually lost their scent over time, but remained part of the catalog until it was decommissioned.
And they also emailed me a news clipping about the catalog (in extended, below) from the local Upper Arlington paper.
More in extended >>
From Etat Libre d'Orange
. For women who actually want to smell like an ashtray.
Transparency in sophistication, just a trace of jasmine mingled with the so far neglected smell of a cigarette. Jasmin et Cigarette is the twilight zone, the banned, the addiction. She is an icon, the longed-for woman.
When you want your room to smell like Abraham Lincoln.
Other scents available include Theodore Roosevelt, Justin Trudeau, Ronald Reagan, Joe Biden, Vladimir Putin, and Rutherford B. Hayes.
Link:
Amazon.com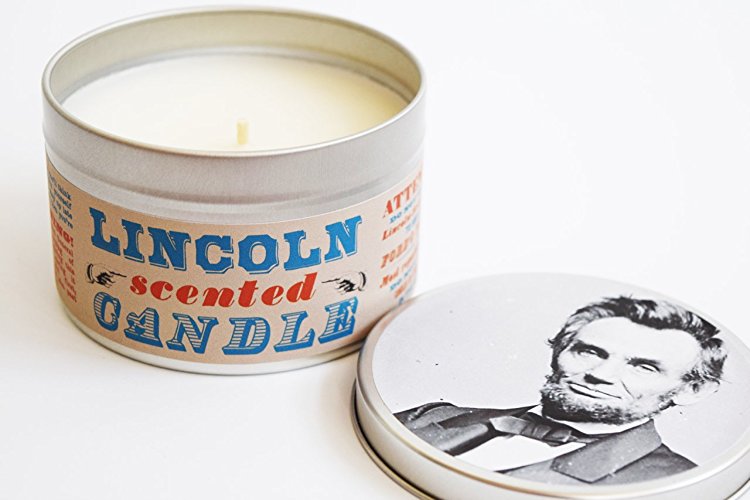 via
Worst Things For Sale