A 1943 AP story about a jeep that traveled around the Pacific tied to a submarine became the centerpiece of an ad for ice cream the following year. The somewhat tenuous connection between the two was that the submarine crew eventually sold the jeep to a warship in exchange for three gallons of ice cream.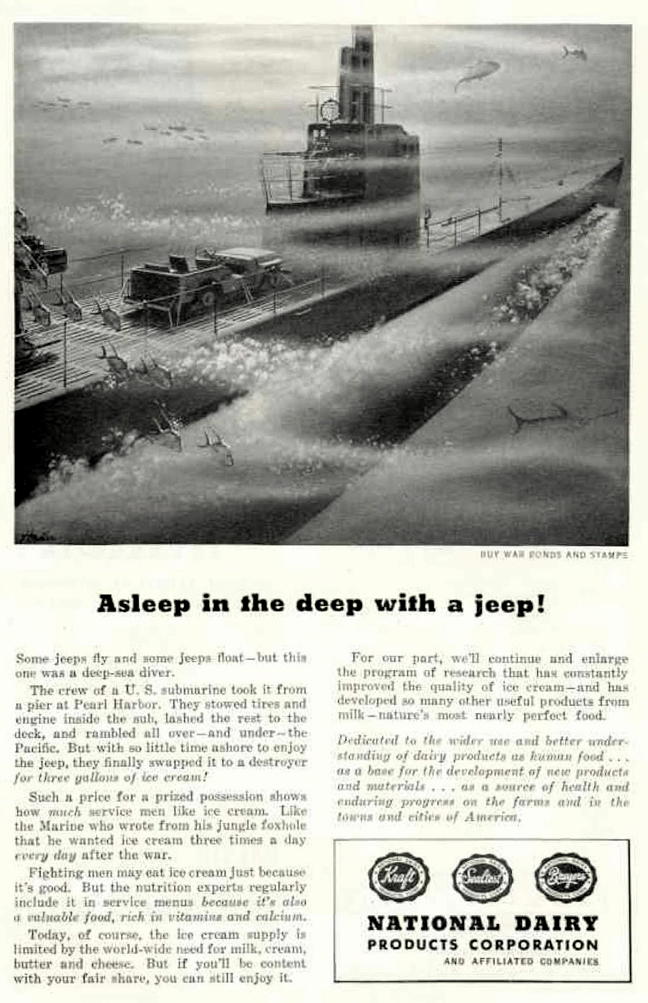 This campaign was kinda genius, because they never explained what brought these three or four or five or six "wild & crazy" women together. Were they a troupe of actresses? Bank robbers? Insane asylum escapees? Rogue fashion models? You could stare at the ads all day in wonderment.
Watching this great old Studebaker commercial, I was intrigued by the mention of a "Cyclops Eye Speedometer." It turns out that it was a barrel painted with the MPH numbers that revolved behind a lens to measure the speed. Highly imprecise, I would think, perhaps explaining its demise. Apparently, some Citroens used it too (last foto).
There's flunking your driving test... and then there's
really
flunking the test.
Dave Fambrough made headlines back in 1978 for turning cars into giant spiders. I'm not sure what's become of him since then.
According to NV Racing News
, as of 2015 one of Fambrough's spider cars could be seen on the roof of Scudder's Performance Racing garage in Sparks, Nevada.
May 1977:
Per her request, oil heiress Sandra Ilene West was buried dressed in a lace night gown, seated in her 1964 blue Ferrari "with the seat slanted comfortably".
More info:
Retro Hollywood
First attempt: OK. Second attempt: not so much. The way they are covering up the car with a tarp at the end does not bode well for the fate of the driver.
The relevant Wikipedia page.
Rolls-Royce debuted the Wraith Kryptos in mid-2020. It was a very exclusive car (only 50 of them were made) with a unique gimmick. The car was decorated throughout with an encrypted cipher that, when solved, would reveal a message.
To date, I don't believe that anyone has solved the puzzle, even though in December 2020
Rolls-Royce released a clue to help people along
.
Of course, only a very few people have access to the puzzle in the first place. Though I imagine that the kind of person wealthy enough to afford the car might also have enough money to hire a cryptographer to solve the puzzle.