In his book
Bobby on the Beat
, former London policeman Bob Dixon described the game of motorway (or traffic) snooker:
A practice that was occasionally talked about in police canteens was the game of snooker, not table snooker but "traffic snooker". This was a game specifically played by lads in the traffic division, the dreaded speed cops whose main work consisted of dealing with traffic accidents but who also reported motorists for speeding offences. The game the officers played consisted of scoring points, as in table snooker, the numbers depending on the colours of the cars they had reported for speeding during their shift — for example, a red car scored 1 point, a yellow 2 points, and so on, with a black one scoring the maximum 7 points. At the end of a shift, the traffic cars on the division would return to the police garage and the crews totted up their points to find the winner. I never heard what the prize was.
Over the years some drivers have filed complaints, claiming to have been victims of motorway snooker.
Of course, the official position of the British traffic police is that their officers would not engage in such frivolous games. But that even if they did, all the cars they stopped were speeding anyway.
More info:
BBC News
Pc Austin said that when he pulled over the car, Aziz, who wore dark glasses, was fumbling with the controls. When asked if he noticed anything about Aziz he replied: "I did — he didn't have any eyes."
A 1943 AP story about a jeep that traveled around the Pacific tied to a submarine became the centerpiece of an ad for ice cream the following year. The somewhat tenuous connection between the two was that the submarine crew eventually sold the jeep to a warship in exchange for three gallons of ice cream.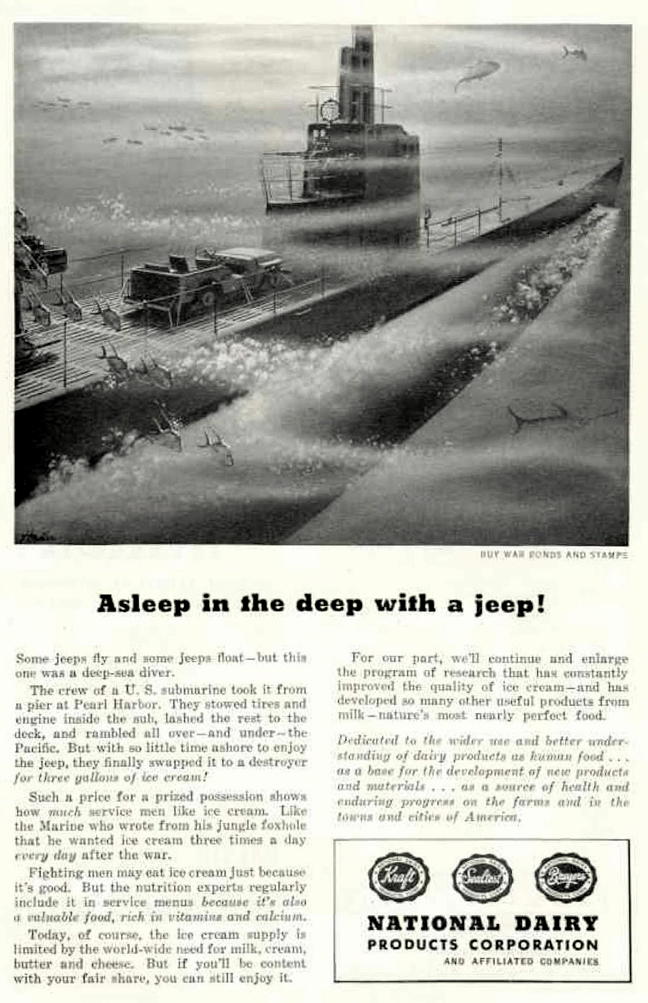 This campaign was kinda genius, because they never explained what brought these three or four or five or six "wild & crazy" women together. Were they a troupe of actresses? Bank robbers? Insane asylum escapees? Rogue fashion models? You could stare at the ads all day in wonderment.
Watching this great old Studebaker commercial, I was intrigued by the mention of a "Cyclops Eye Speedometer." It turns out that it was a barrel painted with the MPH numbers that revolved behind a lens to measure the speed. Highly imprecise, I would think, perhaps explaining its demise. Apparently, some Citroens used it too (last foto).
There's flunking your driving test... and then there's
really
flunking the test.
Dave Fambrough made headlines back in 1978 for turning cars into giant spiders. I'm not sure what's become of him since then.
According to NV Racing News
, as of 2015 one of Fambrough's spider cars could be seen on the roof of Scudder's Performance Racing garage in Sparks, Nevada.