Category:
Awards, Prizes, Competitions and Contests
According to wikipedia
, drive-through windows began appearing at banks in the early 1930s. By 1958, over 4000 women were working as drive-in tellers, and that's the year that the Mosler Safe Company sponsored the first nationwide "Miss Drive-In Teller" contest.
Contestants were judged on "personality, courtesy, and efficiency." And, of course, appearance. The winner got a two-week all-expense-paid trip for two to Havana, Cuba. Plus $500 in spending money. So it attracted quite a few contestants. In later years, winners went to places like Bermuda and Norway.
Marion Polk, a teller at Peoples National Bank in Rock Hill, South Carolina, became the first Miss Drive-In Teller. She must have been fairly proud of this because
it's mentioned in her obituary
. The contest continued to be held annually until 1972 (as far as I can tell) when Jacqueline Fleming became the final Miss Drive-In Teller.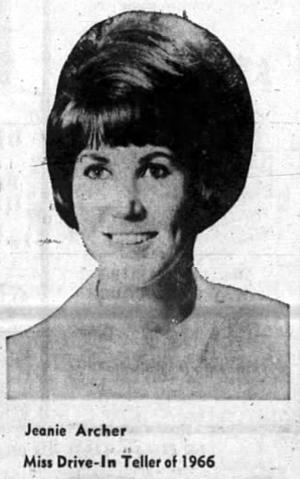 This contest for top female college student ("fifty percent beauty, fifty percent brains") appears to have begun in 1953:
Source:
ETSU Collegian
(Johnson City, Tennessee) 01 Apr 1955, Fri Page 5
The first photo below is from 1969, and I can't envision the contest surviving much beyond that revolutionary date.
Source:
The Aggielite
(Tishomingo, Oklahoma) 15 Mar 1955, Tue Page 1
It was once so popular, it was televised nationwide.
Source:
The Kingston Daily Freeman
(Kingston, New York) 10 Jun 1967, Sat Page 16
The
Miss Black America beauty contest
was launched in 1968 to protest the lack of black women in the Miss America pageant. There's nothing weird about that. But what is a bit odd is the crown that was introduced in the second year of the contest. It looks like miniature Christmas ornaments on sticks, or extraterrestrial antennae.
There must have been a reason for this unusual crown, but I haven't been able to find any info about it. Perhaps the contest organizers thought it looked more modern and space-age?
It was used for three years and then, in 1972, the contest reverted to a more traditional crown. Again, no explanation given that I can find.
In addition to winning the non-glamorous title of Miss Stainless Steel Wire, Claire Dennis was named Miss Photoflash of 1949. She managed to leverage the publicity from that award into a small role in the 1950 film
The Petty Girl
. After that, her career as a model/actress seems to have ended.
Source
I looked through an online newspaper archive to see if I could find out anything about those
"Miss Psywar" photos Paul posted two days ago
. I didn't. But I did come across another Miss Psywar.
Bonnie Halpin was chosen as "Miss Psy War of 1962" by the 349th Psychological Warfare Company.
Halpin, it turns out, is a minor celebrity. She had the distinction of being the very first Playboy bunny ever. She also appeared on the cover of the Oct 1962 issue of
Playboy
magazine. Unfortunately she died in 2004 at the relatively young age of 65.
More info about Halpin:
FindAGrave.com
Alas, no info on this contest seems to have survived.
Marvene Fischer won the title of Miss Wisconsin in 1948. The Armour food company then decided to name a brand of cheese 'Miss Wisconsin' in her honor. It simultaneously hired her to serve as the traveling ambassador for the brand. In this position, she became known as Miss Wisconsin Cheese.
She ended up working for nine years as Miss Wisconsin Cheese. During this time she reportedly traveled more than two million miles in 48 states, visited more than a thousand towns, and distributed over 15 tons of cheese samples in more than 8000 food stores.
Here are some more details about her job from the
Portage Daily Register
(Dec 21, 1953):
Miss Fischer's carefully planned visit to a town usually sets off a varied series of events, most of which are reported in the press and over radio and TV broadcasts.

She is greeted by mayors, governors, senators, congressmen, movie stars, chiefs of police, food editors, currently reigning local beauty queens, and other assorted celebrities.

Most of these meetings are highlighted by a formal presentation of a basket of cheese by Miss Fischer in exchange for a gift symbolic of the city being visited. She has received roses, posies, rhododendrons, wine, fruit, foam rubber pillows, cake, and Indian headdress, and any number of giant keys of the city. In St. Joseph, Mo., she was made a deputy sheriff. At the Rockingham Park race track, Miss Wisconsin Day was proclaimed in her honor. In San Francisco, she toured a submarine, and the event was officially publicized by the U.S. Navy.

Miss Fischer takes all this gracefully, in fact gives a continuous impression that it's all a lot of fun. Actually, a lot of good hard salesmanship is involved.

Miss Fischer does most of her traveling by air and prefers to travel alone. She says she has no need for a chaperone. "Why I have about 65,000 chaperones — all Armour employees," she says.

Glamour may be fleeting, figures Miss Fischer, but cheese is here to stay.
Unfortunately I haven't been able to find many details about what became of Marvene Fischer after her time as Miss Wisconsin Cheese. The only info I came across was a listing for a Marvene Fischer, age 94, living in Wisconsin. About the right age, and living in the right state — so I'm guessing it's her.
Some oddball beauty titles from Russia.
In 1990, 23-year-old Katya Mayorova was crowned 'Miss KGB'. It was part of an effort to put a softer face on the intelligence service. It doesn't seem that there was a competition to select the winner. Mayorova was simply selected by a secret process. As far as I know, she was the only one to ever hold the title.
You can find more info about Miss KGB at
Russia Beyond
.
And from a totally different part of the Russian security apparatus, many women's prisons in Russia now hold beauty pageants. The winners aren't called 'Miss Gulag,' but that was the title of a documentary about the pageants. More info from
Jean Trounstine, "Beauty Pageants in Prison Can Have Positive Effects," in At Issue: Beauty Pageants (2010).
The first prison beauty pageant in Siberia took place in 2000, the brainchild of an inmate. It began simply, with costumes created from everyday objects such as plastic bags and fake flowers. These days, the women work together for months before the pageant, which is hardly the competitive, individualistic event implied by the word "contest.". . .

As a woman who grew up in the sixties, I used to consider endorsing any sort of beauty contest inconceivable—but that was before I saw two short documentaries about the pageants at Camp UF-91/9, The Contest, produced by the Polish journalist Zygmunt Dzieciolowski, and Miss Gulag, produced by Neihausen-Yatskova and Vodar Films. They show the contenders taking the runway by storm, cheered on by their peers, in a parody of the stale rigidity and lack of sexuality of traditional pageants. . .

Beauty pageants are now widespread in Russian prisons. Make up, gifts for the unit, and credits toward early release are the prizes.
The Contest
documentary:
part 1
,
part 2
,
part 3
I could see 'Miss Truth Bomb' being the premise for a movie. A young up-and-coming actress is awarded that title, but then she can't stop herself from dropping truth bombs on everyone around her. Kind of like Jim Carrey's
Liar Liar
, but with a female lead.
Of course, no such thing happened to the real Miss Truth Bomb, Kathleen Hughes,
who enjoyed a long career in Hollywood
.