Art historian Susanne Meyer-Büser argues that a 1941 work by Piet Mondrian has been hung upside-down for the past 75 years. The work, made with colored adhesive tape, has traditionally been hung with the closely-spaced bands at the bottom. Meyer-Büser says that these should be at the top, "like a dark sky." A photo of Mondrian's studio from 1944 supports her interpretation.
However, there are no plans to turn the work around, due to its fragile condition.
I'll be adding this to my
Gallery of Art Hung Upside-Down
.
More info:
BBC
,
Town and Country
Future homes will be able to face in any direction—turned from hour to hour or season to season by your electricity. Electrically operated climate-conditioned extensions will permit "spring or summer terraces" all year round—enjoy swimming, winter fun and gardening all at once, if you wish.
I imagine a house like this might be possible to build nowadays, but the monthly electric bill would be a small fortune.
Related post:
The Winooski Dome
"Mary Ellen Sage is using a gadget called a fat distributor."
The image appeared in the
Oklahoma City Times
(June 5, 1972), accompanying an article titled "Medical Gimmicks, Magic Potions Trap the Unwary." Unfortunately the article didn't elaborate on how exactly the fat distributor was supposed to work, beyond what the caption said. But I suppose it's self-evident. You rolled it over your body, and it distributed the fat!
In 1975, Marvin Jenson received a patent (
No. 3,876,197
) for a circular boxing ring. As he noted in his patent, a circular ring is safer than a square one due to the lack of corners:
Many times during a boxing contest one of the contestants will be trapped in a corner and is unable to escape the ensuing onslaught of his opponent. This may result not only in a serious physical injury to the trapped fighter, but also detracts from the art and skills of the sport.
In a newspaper interview, Jenson further explained that the idea for the round boxing ring had occurred to him after watching
the 1961 fight between Benny Paret and Emile Griffith
, during which Paret got trapped in a corner and took such a beating that he fell into a coma and died.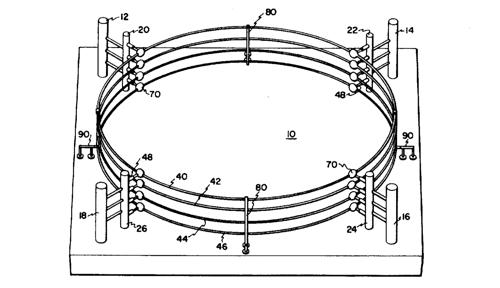 Jenson was hardly the first person to come up with the idea of a circular boxing ring. The idea has been around for a long time. In fact, way back when fighters used to compete in circles drawn on the ground, which is why boxing rings came to be referred to as 'rings' in the first place, rather than 'squares'.
So how did boxing rings end up being square and continue to be so?
As far as I can tell, it's mostly a matter of convenience. It's easier to string rope in a straight line rather than a circle.