1985:
Enrique Silberg had previously tried to change his name to God, but was denied on the grounds that it would be confusing and that he also needed a first name. Finally he convinced a judge to let him change his name to Ubiquitous Perpetuity God.
1996:
Ubiquitous Perpetuity God was sentenced to nine months in Marin County Jail for indecent exposure, a crime that he had 17 prior convictions for. He said that he exposed himself to women so that they "could have some type of awareness of God".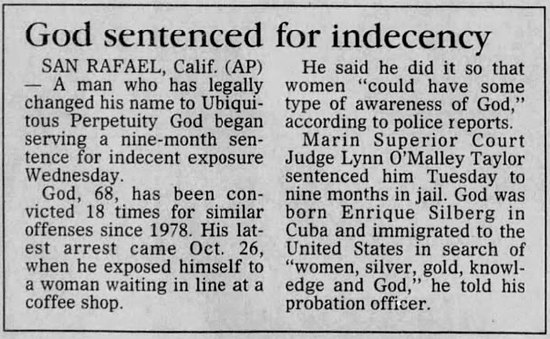 That endless red-carpet SFX is pretty impressive for the 1960s. Plus, an eight-track player!
1971:
Rhode Island legislator Bernard C. Gladstone proposed that every male "over the age of puberty" would be taxed $2 for every act of intercourse they engaged in. However, "only acts of sexual intercourse occurring in Rhode Island, either by residents or tourists, could be taxed."
Back in the nineteenth century, Alexander Robinson operated a photographic studio on the Isle of Man. In 1885 he applied for a British patent (British Patent Specification 15,376) for an unusual invention — a fake third leg, which he envisioned using as a prop in his studio.
From his patent application:
a light artificial leg made to any required size, bent or straight, or with adjustable joint or joints, and to be attached to the person so as to appear to be a third leg. The end next the body is provided with straps, and a joint close to the body or soft air cushion or both so as to fit it in any required position to the body. It must be dressed with trousers, knickerockers, stocking, sock, legging, shoe or boot to correspond with the dress of the wearer, and can be fitted with spurs or not as desired. It is preferaly made of papier-mâché, cork, tin, pasteboard or inflated rubber cloth. To enable two of the legs to rest clear of the ground I prefer to let the real leg at least, or both, to rest on fine wire suspended from above.
His invention makes more sense once you know that the Isle of Man's heraldic coat of arms consists of three legs. I imagine that tourists would come to his studio to get a photograph of themselves with three legs, just like the Isle of Man.
I don't know if Robinson was ever granted a patent for this. The British patent office, unlike the American one, is not fully searchable online. More info:
History of Photography journal
Most erotic candybar ad ever?
Why did the guy take cigarettes with him while scuba diving? And what exactly does the mermaid do with the cigarettes? Use them as jewelry?
I've driven through the small town of Gila Bend many times, because it's on the road between Phoenix and San Diego which I drive fairly often. But I only recently realized that it has a weird welcome sign: "Gila Bend welcomes you. Home of 1917 friendly people and 5 old crabs."
The 5 old crabs are listed: Earl Carpenter, Clyde Kreeger, Scott Smith, Peggy Perry, and Pat Lauderdale.
From Wikipedia:
Gila Bend enjoys a minor notability among tourists and aficionados of roadside attractions. Besides the quirky welcome sign, the town boasts several roadside sculptures and the Space Age Lodge motel and restaurant (opened in 1963), named for its "Space Age" themed architecture and decor.