1985:
Enrique Silberg had previously tried to change his name to God, but was denied on the grounds that it would be confusing and that he also needed a first name. Finally he convinced a judge to let him change his name to Ubiquitous Perpetuity God.
1996:
Ubiquitous Perpetuity God was sentenced to nine months in Marin County Jail for indecent exposure, a crime that he had 17 prior convictions for. He said that he exposed himself to women so that they "could have some type of awareness of God".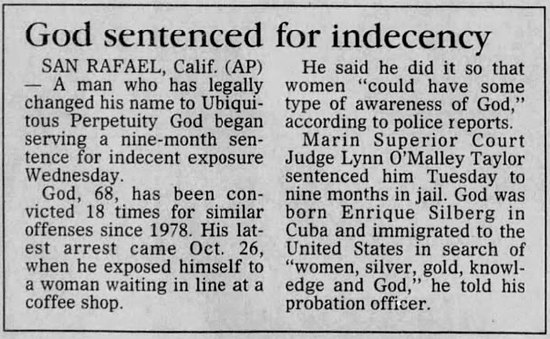 Looks like he's asking for a raise.
The illustrations inside the book (which you can read for free via
archive.org
) are equally odd.
It's happening in Boston.
Link to article in BOSTON GLOBE
, where a paywall might need to be circumvented.
A feature on last year's event:
On Aug 17, 1960, Betty Penrose's house in Phoenix was hit by lightning. Nine years later she sued God for damages — and won. Kinda. Sorta. Technically, what she won was the right to summon God to a trial which (assuming God would be a no-show) would have resulted in a default judgement against the deity.
Some additional context is necessary to understand Penrose's case.
Over in Sebastapol, California, singer Lou Gottlieb had been fighting the county government's attempt to shut down the hippie commune he had started on his Morning Star Ranch. As a legal maneuver to avoid paying the county's fines, Gottlieb deeded his land to God. Then he declared that the county could try collecting the fines from God.
This caused Phoenix attorney Russell Tansie, who was Penrose's employer, to realize that if God now legally owned property (the Morning Star Ranch), then God could be sued for damages. And that's how Penrose's suit emerged.
However, I don't think Penrose's case ever made it to trial because, back in California, a judge had ruled that God, being neither a "natural or artificial person," could not legally own Gottlieb's ranch. So Gottlieb was still the owner and had to pay the fines.
And if God didn't own the ranch, then Penrose's case became moot.
But if Penrose's case had proceeded, it was possible God wouldn't have been a no-show. San Quentin prisoner Paul Yerkes Bechtel claimed to be God. So he might have appeared in court. And Joseph Njue of Kenya had also offered to defend God.
This song establishes that the folklore about pregnant women demanding weird foodstuffs--pickles with ice cream, for instance--goes way back. Also, it has Embryo Jesus speaking from the womb.
The Cherry Tree Carol is a bit darker than most Christmas related songs. It is identified as a Kentucky mountain ballad on the record. In fact it is a much older song from the early 15th century. The song is quite lovely and presents an unusual variation on the story of Mary and Joseph.
This small book
gives details on a few miraculous incidents "authenticated" by the Catholic Church.
1985:
Six young Christians, carrying only "a Swiss army knife, adhesive bandages, cigarette lighters and three Bibles," set out to walk over one thousand miles across Australia's Nullarbor desert in order to "prove God exists." They were later joined by a 41-year-old man.
They did so "in defiance of police warnings that the walk was dangerous, and complaints of blasphemy from religious leaders."
They made it. So they avoided winning a Darwin Award, though going on a hike in a desert without water would definitely put anyone in the running for one.
This is not a religious concern that had previously appeared on my radar.
Read the whole article here.