On his website
, Hank Kunneman describes himself as the senior pastor of Lord of Hosts Church and founder of One Voice Ministries. He also notes that he occasionally performs "prophetic demonstrations including tongues and interpretation."
I guess that's what we're seeing in the video below. I wish the video had subtitles. At one point I could swear he's saying "prosciutto, prosciutto, prosciutto…"
May 1991:
many motorists claimed they could see the face of Jesus in a Pizza Hut billboard outside of Atlanta.
I do see a face, but it doesn't look anything like a Jesus face to me.
Created by British artist Andy Hazell circa 2010 for a New Year's parade in Newcastle. It's street legal and uses more than 4000 LEDs. He says, "I tried to imagine what Barbie and Ken would use for wedding transport."
More info:
andyhazell.co.uk
The fact that Hindus consider cows to be sacred has led to the odd situation in India in which millions of cows freely roam the streets, and all efforts to control their numbers are stymied by cow-rights groups.
That's an interesting topic (
more info here
), but the 1961 headline below implies an entirely different, and somewhat messier kind of problem.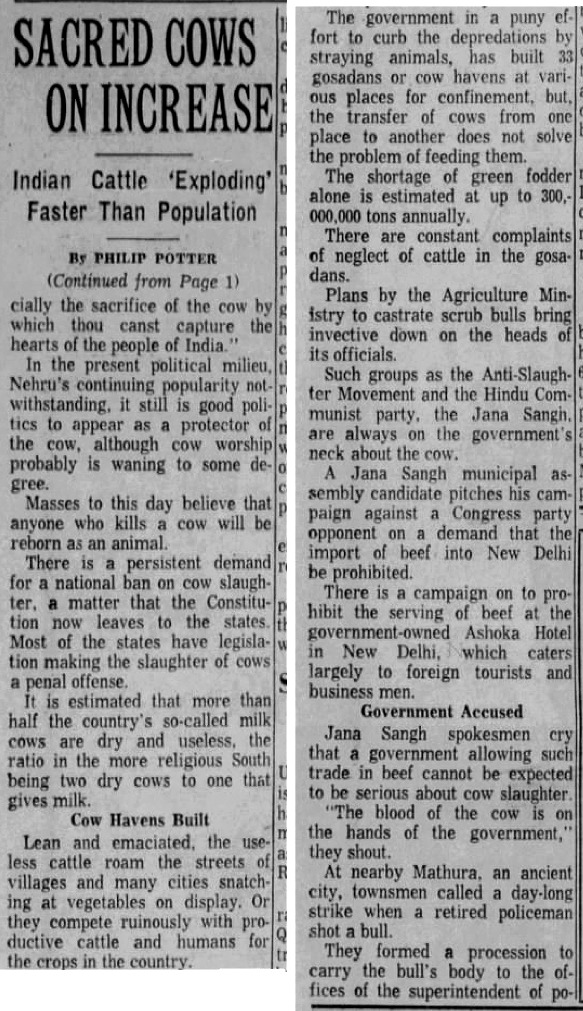 November 1969:
The fact that Sister Joann Malone of the
Order of Loreto
was protesting wasn't particularly big news, but the fact that she was wearing a miniskirt as she did so was front-page news.
Her superior, Sister Rose Maureen Sanders, head of the St. Louis province of the Sisters of Loreto, wasn't too happy about the fashion decision. From a follow-up article:
Sister Rose said she feels that Sister Joanne, from her earnings on speaking engagements, could have paid to purchase a longer skirt.
"I regretted the photo when I saw it in newspapers here and thought her wearing a miniskirt was ridiculous," said the provincial superior.
"It's an aberration on her part. Many, many sisters are wearing modern clothes but would not choose a miniskirt. Why do the newspapers print things like that?"
The laws of physics weren't going to stop him, but a bullet in the leg did.
Failed attempts to walk on water definitely are a recurring theme in weird news. See also:
When Yogi Rao failed to walk on water
A scriptural approach to a trim and attractive body… working with the Lord, you'll harness the POWER of your body's own computer system to make you eat the kinds of foods you should and in the right amounts.
For more details of Lovett's devil-fighting diet regimen, you can
borrow and read his 1977 book online for free via archive.org
.
It's one of the more perplexing questions in Christian theology.
A recent article in The Daily Beast
explains why, over the centuries, the issue has kept rearing its head:
Much of early Christian theological debate is taken up with the issue of how Jesus is both a god and a human being. Early on there were some early Christians who thought that Jesus only "seemed" to have a human body but in reality was a god. You can see why Christians who held this position thought Jesus never went to the bathroom. This position, which is known as Doceticism, would come to be rejected as heresy, but those who wanted to argue that Jesus was truly human have to explain how the combination of humanity and divinity works. While they are doing that they are also trying to avoid the idea that the divinity in Jesus is somehow defiled by or corrupted by all the disgusting aspects of human bodies. Excrement, in particular, was just the kind of disgusting thing that people wanted to avoid.
There's also a book, published in 2018, with that title (
amazon link
). I have no idea of its quality (never having read it), but sometimes a title alone can be worth the price of purchase. For instance, the book sounds perfect to include among the reading material in a guest bathroom.
Donald Drusky, of McKeesport, Pa. (which happens to be my mother's hometown) specifically wanted God "to grant him the guitar-playing skills of famous guitarists, along with resurrecting his mother and his pet pigeon."
Suing God, and perhaps even winning, would seem to be the easy part. Collecting payment is what's hard.
In Perth, Australia water mysteriously began flowing out of a gum tree on Easter weekend. Many suggested it must be some kind of divine message. Investigation by city workers uncovered a more mundane explanation: a broken water pipe underground.