1985:
Enrique Silberg had previously tried to change his name to God, but was denied on the grounds that it would be confusing and that he also needed a first name. Finally he convinced a judge to let him change his name to Ubiquitous Perpetuity God.
1996:
Ubiquitous Perpetuity God was sentenced to nine months in Marin County Jail for indecent exposure, a crime that he had 17 prior convictions for. He said that he exposed himself to women so that they "could have some type of awareness of God".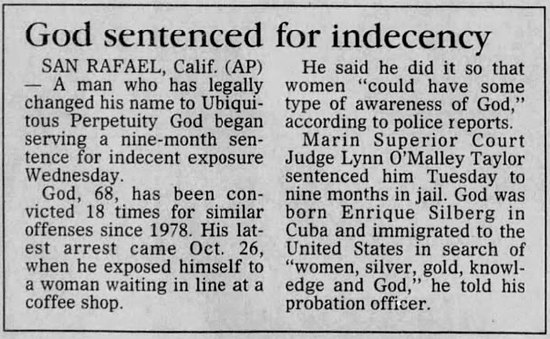 Philippe Delandtscheer may have preferred to steal aperitif, but that's not all he stole. He was later arrested for stealing meat from a supermarket.
This review by the famous Anthony Burgess (A CLOCKWORK ORANGE) alerted me to the existence of a fascinating book.
Turns out it's available at the Internet Archive.
The lexicon of thieves talk that Burgess mentions makes for fun reading.
Review source:
The Guardian
(London, Greater London, England) 19 Mar 1965, Fri Page 11
Source:
Chicago Tribune
(Chicago, Illinois) 17 Feb 1949, Thu Page 21
I'm aware of quite a few inventions designed to trap or incapacitate bank robbers. But the idea of allowing a bank teller to abruptly vanish is more novel.
Of course, this approach could only work if there was a single teller working, and hopefully no other customers in the bank.
I was curious whether this bank with the cashier trapdoor might still exist, but I had no luck finding its address. I did find that it was acquired by another bank in 1948. So it was probably demolished long ago.
Joshua Allen Stivers of Puyallup, WA recently
received a patent
for a "breakaway stethoscope." It works like a normal stethoscope, but breaks apart if someone tries to use it as a garrote to strangle a person:
Medical staff, such as doctors, nurses and technicians, are often required to deal with unruly and/or aggressive patients that may become violent and cause injury to themselves or others. Medical staff also often carry and wear a stethoscope while working and tend to rest the stethoscope around the neck and on the shoulders when not in use. Unfortunately, violent patients may see that as an opportunity to harm the doctor, nurse or technician by grabbing the stethoscope that is resting on the wearer's neck and strangle or injure the wearer and in some cases cause death. Thus, there is a need for a breakaway stethoscope that will separate into two or more pieces when forcefully pulled on or forcefully wrapped around a doctor's, nurse's, or technician's throat to prevent injury or death to the doctor, nurse or technician.
A quick google search reveals that stethoscopes become weapons disturbingly often. So it's kind of surprising that breakaway ones aren't already standard issue.
via
Jeff Steck
Inventor John Rinfret debuted his "Pug Anti-Bandit Bag" in 1963. His idea was that, if attacked, you could activate a spring that would forcefully eject all the contents from the bag. The attacker would be so shocked that he would run away. At least, that was the theory.
From what I can gather, Rinfret hoped to rent his anti-bandit bags to companies that used couriers to carry important documents or money. He definitely put a lot of work into promoting his invention. He even came out with a new and improved version of the bag the following year. But evidently few companies were interested in using his bag.
Possible reasons why: 1) a bandit might pick up the money instead of running away; or 2) what if the spring was activated by accident, spraying money everywhere?
Play along with current headlines!
The object of the game is to capture the Public Enemy. The player who brings a G-Man together with the Public Enemy wins the game. The game starts with one G-Man chasing the public enemy, but after 30 minutes a second can be brought into play.
More pix and info here.
Melvin Purvis at Wikipedia.