Why hasn't freestyle canoeing been made an olympic event yet?
The performance begins at around 1:20.
At the Sasquatch Winter Carnival in Saskatchewan, they annually elected a "Miss Sasquatch Queen." Laura Medland, below, was the 1969 winner. Note the Sasquatch patch she's wearing.
And there seems to have been a rival Miss Sasquatch contest: the Sasquatch queen pageant held at the Regina Inn. Dona Doan, below, won that title in 1969.
So, in 1969 there were two Sasquatch Queens in Saskatchewan.
The "Remuda" or horse show by all accounts featured a "western bathing beauty contest." But I can't locate a pic of the actual winner. However, these lovelies were in attendance, and certainly the giant hat qualifies this as one of our Weird Beauty Contests.
It's Anti-Freeze Week! Or, at least, it could have been if DuPont was still promoting this car-maintenance holiday. It usually fell sometime in mid to late October.
Here's a few of the young women on whom the title of "Miss Anti-Freeze" was bestowed.
In the late 1970s,
Farrah Fawcett
was, without a doubt, the most famous sex symbol in the world, thanks to her best-selling poster and role on
Charlie's Angels
. For a while, a Farrah craze swept the nation, inspiring a slew of lookalike contests. Below are some of the winners.
Mary Gallagher
In February 1977, Mary Gallagher beat out 280 other wannabe Farrahs in a nationwide lookalike contest held in Detroit. She subsequently became the best-known Farrah lookalike.
People magazine even ran a feature about her.
In her day job, Gallagher was a clerk for the UPS, but after winning the contest she signed up with a modeling agency and landed various paid appearances as a Farrah lookalike, such as a gig (below) at Rosella's furniture store in Greenville, Mississippi. (Dobbs was her married name.)
Shari Matichuk
More in extended >>
This is quite a distinction conferred by the 4-H congress of Chicago. I assume they examined every person in the USA before deciding.
Source.
Ever since 1993, a conspiracy has circulated online alleging that the German city of Bielefeld doesn't exist. Now the city is pushing back by offering a million euros to anyone who can definitively prove it doesn't exist.
Entries can be submitted in either German or English
, but the deadline is Sep. 4. So there's not much time left.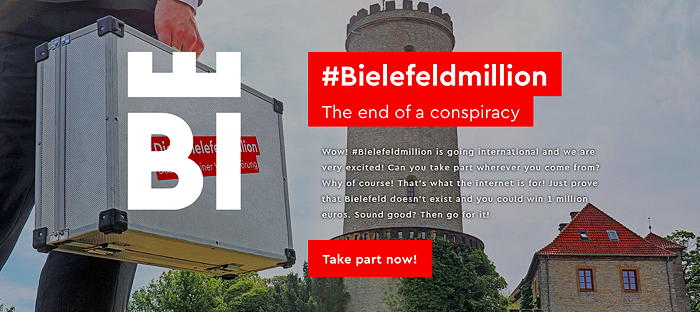 It seems to me that the contest has set an impossible task, because it's well known that a negative can never be proven. For instance, we can't definitively prove that the Loch Ness Monster doesn't exist. We can only say that we haven't found her yet.
But on the other hand, the opposite is equally true. It's impossible to definitively prove anything with absolute certainty. For instance, what if someone believes that Bielefeld exists because they've lived there their entire life? Well, that doesn't actually prove anything. As Bertrand Russell pointed out in his
five-minute hypothesis
, it's possible that the entire universe sprang into existence five minutes ago, complete with our memories of an older history. It may seem unlikely, but it's possible. So likewise, just because someone remembers living in Bielefeld, it's possible that their memories are false.
Which is to say that even if no one wins the million euros by proving that Bielefeld doesn't exist, that doesn't mean the city actually
does
exist. The existence of Bielefeld can never be definitively proven or disproven.
More info:
epoch times