In 1864, Eleanor Marshall was granted
Patent No. 43,321
for her "mammiform breast-protectors." From her patent:
Be it known that I, E.M. Marshall, of Hillsdale, Columbia county, in the State of New York, have invented, made, and applied to use a new and improved article for ladies' wear, which I term a "Mammiform and Protector"...

My improved mammiform and protector is formed of wire wound upon these formers, forming two springs, AA, connected together as shown, and being as similar as possible to the natural breasts. These springs AA may be separated and used singly when desired...

My improved mammiform and protector, being thus constructed, will be found to possess the following advantages: light, flexible, and covering the natural breasts without depressing them, and serving to protect them, and yet the springs of my mammiform and protector may be pressed together or onto the natural breasts, or in any other direction, and when relieved from such pressure resume their natural position and save the wearer the relaxing and debilitating effects of pads, answering all the purposes of a protector, and always presenting a natural appearance.
With springs like that, if a woman accidentally fell forward she'd bounce right back up.
Ian Allison of Santa Rosa received a
design patent
in 2002 for his "Santa Claus Foot." I assume the foot is supposed to be hung inside a fireplace — the patent description doesn't specify. Though having Santa's severed leg hung beside the tree might add some Christmas cheer.
Pity the poor inventor of the 1980s, who had a notion for something not supported by the clunky digital tech of that era. This elaborate device is
today just a free app.
Full patent here.
In 1909, Friedrich Wilhelm Emil Müller of Chicago
received a patent
for a hair tonic that, so he claimed, would cause hair "to grow on bald spots of the head." All you had to do was thoroughly rub it into the scalp with the tips of the fingers several times a day.
The tonic struck some at the patent office as sounding quite tasty. So it was served as an aperitif at the 1936 Thanksgiving-week banquet in Washington DC celebrating 100 years of the American patent system.
Joshua Allen Stivers of Puyallup, WA recently
received a patent
for a "breakaway stethoscope." It works like a normal stethoscope, but breaks apart if someone tries to use it as a garrote to strangle a person:
Medical staff, such as doctors, nurses and technicians, are often required to deal with unruly and/or aggressive patients that may become violent and cause injury to themselves or others. Medical staff also often carry and wear a stethoscope while working and tend to rest the stethoscope around the neck and on the shoulders when not in use. Unfortunately, violent patients may see that as an opportunity to harm the doctor, nurse or technician by grabbing the stethoscope that is resting on the wearer's neck and strangle or injure the wearer and in some cases cause death. Thus, there is a need for a breakaway stethoscope that will separate into two or more pieces when forcefully pulled on or forcefully wrapped around a doctor's, nurse's, or technician's throat to prevent injury or death to the doctor, nurse or technician.
A quick google search reveals that stethoscopes become weapons disturbingly often. So it's kind of surprising that breakaway ones aren't already standard issue.
via
Jeff Steck
In 1975, Marvin Jenson received a patent (
No. 3,876,197
) for a circular boxing ring. As he noted in his patent, a circular ring is safer than a square one due to the lack of corners:
Many times during a boxing contest one of the contestants will be trapped in a corner and is unable to escape the ensuing onslaught of his opponent. This may result not only in a serious physical injury to the trapped fighter, but also detracts from the art and skills of the sport.
In a newspaper interview, Jenson further explained that the idea for the round boxing ring had occurred to him after watching
the 1961 fight between Benny Paret and Emile Griffith
, during which Paret got trapped in a corner and took such a beating that he fell into a coma and died.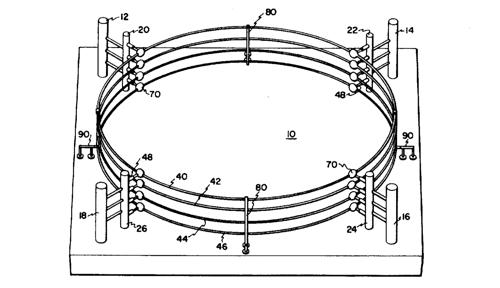 Jenson was hardly the first person to come up with the idea of a circular boxing ring. The idea has been around for a long time. In fact, way back when fighters used to compete in circles drawn on the ground, which is why boxing rings came to be referred to as 'rings' in the first place, rather than 'squares'.
So how did boxing rings end up being square and continue to be so?
As far as I can tell, it's mostly a matter of convenience. It's easier to string rope in a straight line rather than a circle.
Not only bucks, but bleats! The inventor's predilection for a goat figure definitely NOT Satanic!
Full patent here.
One of the minor annoyances of going to a theater is having your view blocked if someone in front of you gets up from their seat. Or having to stand from your seat to let someone get by.
Back in 1924, Louis Duprey patented a solution to this problem. He envisioned a theater in which guests would enter through a subchamber, get into their seats, and then be raised upwards by a hydraulic lift, through a trapdoor, into the theater itself. Anyone who wanted to leave early could simply lower themself back down, disturbing no one else.
It's an over-engineered solution to a minor problem, but I would happily pay extra, at least once, to experience a theater like this. Though I'd probably spend the entire time going up and down in my chair.
More info:
Patent No. 1,517,774
Related Posts:
Thomas Curtis Gray's horizontal theater
,
Theater in a Whale
,
Lloyd Brown's Globe Theater
via
New Scientist
Herbert Wettig's patent (
granted by the UK patent office in 1971 — GB1241156
) details how to hide a television camera in a light fixture for the purpose of "secretly recording the reading behaviour of a person unbeknowst to him."
Why would someone want to do this? Apparently for marketing research.
For example, advertisements were tested in this way to discover if they were noticed at all, how much attention they attracted in comparison with other advertisements, how great the spontaneous interest in the advertisement is, how the reader's gaze moves between the various elements of the advertisement, whether he reads the text as well, how long he looks at the advertisement.
Wettig noted that researchers had previously been doing this in specially designed test rooms. The advantage of his invention, he said, was that it was easily transportable and could be set up discreetly in many different places without arousing suspicion. I'm assuming he's talking about spying on library patrons, since libraries are the most obvious place where people spend a lot of time in public reading.
Full patent here.
POPULAR MECHANICS source.