Adding this to the 'vegetables' category, despite the controversy over whether tomatoes are fruits or vegetables.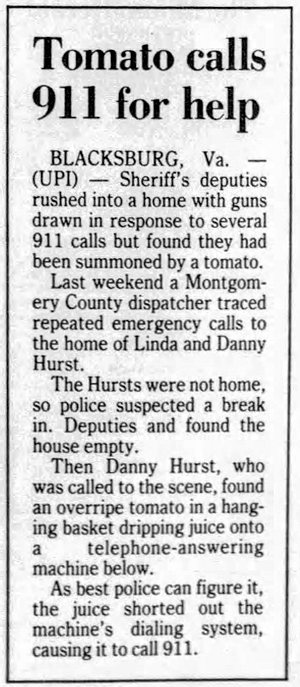 Henry Kissinger fulfilling his dream of being a weatherman.
Info:
Orlando Sentinel, May 15 1991
A fragrance for muppet fans was a cute idea, but the image of Kermit with six-pack abs was a bit unsettling.
For some reason, Amphibia was deemed culturally significant enough to be added to the Smithsonian's collection.
From the Smithsonian:
Amphibia eau de toilette was launched in 1995. It was sold exclusively at Bloomindale's and was advertised as being "Pour homme, femme, et frog." The glass fragrance bottle is in its original packaging, which includes a cardboard box also containing a t-shirt with an image of Kermit the Frog lounging on his back and showing off his 6-pack abs.
Can you guess why Bad Frog Beer was banned in New York, Ohio, Pennsylvania, New Jersey, and North Carolina? The answer is below in extended.
More in extended >>
Jan 1995:
Raymond Cuthbert warned an employee at Nolan's Pharmacy that he would be back in half an hour to rob the store. Sure enough, he returned a half hour later with a friend who was carrying a concealed weapon. The two were arrested by the waiting police.
Perhaps Raymond had in mind
the law proposed in Texas in 1973
that would have required criminals to give their victims advance notice before committing a crime.
1990:
Customers of a laundromat in Anchorage, Alaska frequently complained that the slot machine in the establishment never paid out any money, even if a winning combination came up, and one of them eventually called the police about it.
The police initially agreed that it seemed like theft to never pay out winnings, so they confiscated the slot machine. But then the owner of the laundromat explained that the machine was deliberately fixed to not pay off, because gambling was illegal in Alaska. Furthermore, a small sign next to the machine said that it was "For Amusement Only". Perhaps, he conceded, the sign was not prominent enough, but it was there nevertheless.
Upon hearing this, the police decided the slot machine was legal and let the owner take it back.
Another car-plane hybrid that never made it into production.
Article here.
1993:
Under pressure from his superiors to stop carrying his ventriloquist dummy with him while on patrol, San Francisco Police Officer Bob Geary decided to take the matter to the voters. He formed the "Committee to Save Puppet Officer Brendan O'Smarty" and succeeded in putting the issue on the ballot.
The voters decided by a narrow margin of 51% to 49% to allow him to continue patrolling with Brendan O'Smarty.
This turns out not to be the first puppet officer we've posted about. Just a few months ago, Paul posted about
puppet officer Jerry McSafety
. I wonder how many more puppet officers there are?
More info:
wikipedia
,
alchetron
1990s production of psychedelic trip with soundtrack.
The article dates from 1997 (
The Daily Herald
Chicago, Illinois 21 Aug 1997, Thu Page 97), but
an actual scientific paper from the same people was posted in 2014.
If any WU-vie can cite more recent reasearch, please do so!