This reminds me of the old joke about how to drink fewer glasses of wine a day — get a bigger glass.
"It's wacky, but it works!"
A 1943 AP story about a jeep that traveled around the Pacific tied to a submarine became the centerpiece of an ad for ice cream the following year. The somewhat tenuous connection between the two was that the submarine crew eventually sold the jeep to a warship in exchange for three gallons of ice cream.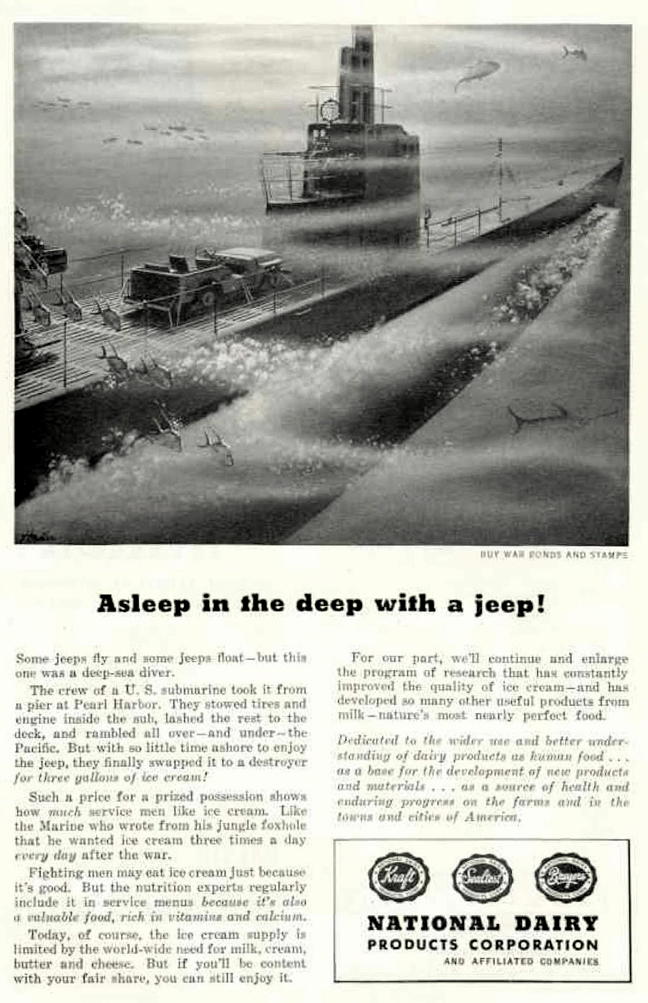 This campaign was kinda genius, because they never explained what brought these three or four or five or six "wild & crazy" women together. Were they a troupe of actresses? Bank robbers? Insane asylum escapees? Rogue fashion models? You could stare at the ads all day in wonderment.
You will of course detest the word "krinkles" by the end of this commercial, especially since it's pronounced "kuh-rinkles."
Are you tired of screens at the gas pumps that flash ads? Or perhaps screens on buses and taxis that display same? You can perhaps blame Elias Atherton Lyon,
who patented such a notion in 1910.
Not sure how pajamas could cause or cure bow-leggedness...
Source.