Despite a Federal history of discouraging DIY explosives handbooks, the
OFFICE of SURFACE MINING RECLAMATION and ENFORCEMENT
is happy to host their own explosives guidebook online.
Read it here.
In the late 1970s, crematoriums began to report that, on occasion, bodies would violently explode while being burned, often causing structural damage. The problem was soon traced to pacemakers that were turning corpses into bombs. Awareness of the problem has lessened the frequency of the explosions, but they do still occur.
An article in the
Journal of the Royal Society of Medicine (July 2002)
offers some background info:
The first reported case of a pacemaker explosion during cremation was in 1976. The body of a 70-year-old man was cremated at 800 °C. After 5 minutes, four explosions occurred in rapid succession with a final explosion a few minutes later. In the wall of the cremator was a finger-sized hole half an inch deep. Among the cremated remains, there were five discs 'resembling the ends of rifle cartridges', a short length of wire and a metal plate. The device was identified as a zinc/mercuric oxide pacemaker. These pacemakers explode on cremation because of the rapid formation of hydrogen gas which bursts the pacemaker casing...

Though these explosions are infrequent, in some crematoria there is more than one explosion per year. Pacemaker explosions can damage the cremator, breaking doors or brickwork. The noise of an explosion may cause distress. Sometimes, pacemaker remains are found. Injury to staff is fortunately rare.
The fact that Hindus consider cows to be sacred has led to the odd situation in India in which millions of cows freely roam the streets, and all efforts to control their numbers are stymied by cow-rights groups.
That's an interesting topic (
more info here
), but the 1961 headline below implies an entirely different, and somewhat messier kind of problem.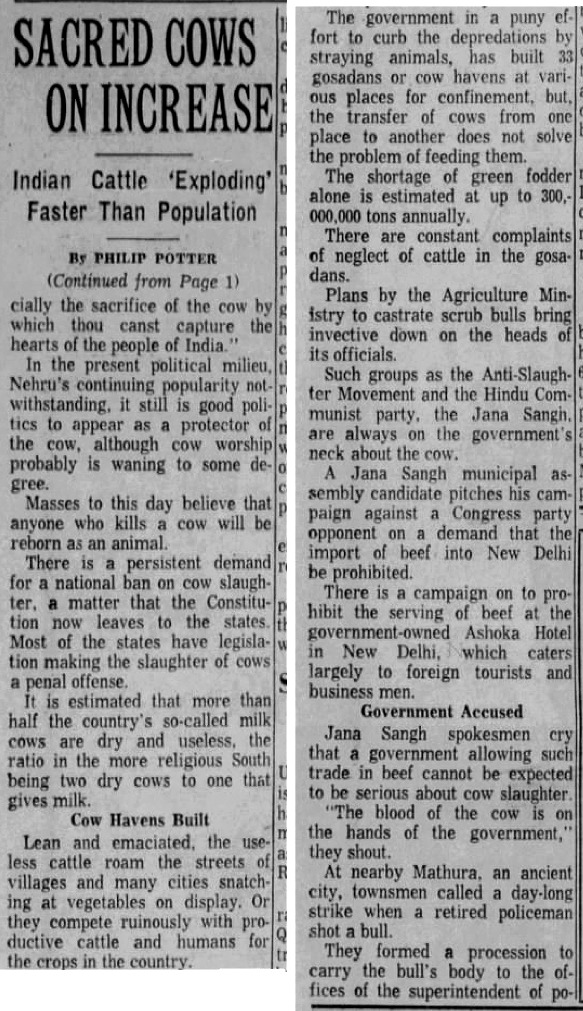 This happened in 1973, but it seems that cans of dog food explode somewhat frequently (see
here
and
here
). So perhaps this is a 'no longer weird' phenomenon.
Original is here.
In Port Charlotte, Florida, a lightning strike ignited methane in the sewer system, which then caused a toilet inside a house to explode. The plumber who later came to investigate noted: "This is probably the first time in history something like this has happened."
Well, maybe it's the first time lightning has caused a toilet to explode (I'm not sure... can't think of another example offhand), but it's definitely not the first time a toilet has randomly exploded. That's a recurring weird-news phenomenon. Other instances we've posted about
here
,
here
, and
here
.
More info:
Wash Post
Project A119, also known as A Study of Lunar Research Flights, was a top-secret plan developed in 1958 by the United States Air Force. The aim of the project was to detonate a nuclear bomb on the Moon, which would help in answering some of the mysteries in planetary astronomy and astrogeology. If the explosive device detonated on the surface, not in a lunar crater, the flash of explosive light would have been faintly visible to people on Earth with their naked eye, a show of force resulting in a possible boosting of domestic morale in the capabilities of the United States, a boost that was needed after the Soviet Union took an early lead in the Space Race and was also working on a similar project.

The project was never carried out, being cancelled primarily out of a fear of a negative public reaction, with the potential militarization of space that it would also have signified, and because a Moon landing would undoubtedly be a more popular achievement in the eyes of the American and international public alike. A similar project by the Soviet Union also never came to fruition.
Wikipedia page here.
May all WU-vies have a fun and safe holiday!
Another danger you need to worry about if you go to the beach: random, unexplained beach explosions.
Kathleen Danise, 60, was sitting in a chair on Salty Brine Beach in New Jersey, minding her own business, when suddenly the sand beneath her erupted, throwing her, as if shot out of a cannon, 10 feet into the air. She landed on the rocks of a jetty. Luckily she didn't die, but she did suffer a concussion and fracture two ribs.
Investigators are, so far, at a loss to explain what caused the explosion. They can't find any man-made device that would have done it. Was it a freak build-up of methane gas in the sand? Who knows! But plenty of conspiracy theories are already circulating online.
Danise, meanwhile, has vowed she isn't returning to the beach until the cause of the blast is determined.
More info:
nbc4i.com
,
wfsb.com
.
Spontaneously exploding chickens startle German farmer.
Farmer Reports Hens Explode With Loud Bang
LUNEBERG, Germany, Nov 17 (UP) — An excited farmer told police today that some of his chickens "exploded with a loud bang while running across the barnyard."
An investigation showed that the chickens ate bits of carbide left behind by allied soldiers during fall maneuvers, later drank some water and the resulting gas blew them to bits.