In 1981, Warren Woodford of Atlanta, Georgia
was granted a patent (No. 4,260,517)
for a method of producing the "aroma of cocaine". From the patent:
The present invention relates to a method and product for providing the aroma of cocaine and so called "street cocaine" to the olfactory senses using readily available, non-controlled substances...

Olfactory conditioning by brain trigger stimulus has recently found application in law enforcement agencies. In some instances, narcotics officers are permitted to light a marijuana cigarette during their training in order to allow them to later react to the characteristic aroma of marijuana smoke. Similarly, officers may be exposed to the aroma of cocaine so as to familiarize them with its distinctive aromatic smell...

Due to the legally controlled nature of such substances as cocaine and marijuana, it is usually not possible to freely disseminate samples of such substances to everyone who might wish to become acquainted with the aromas of these substances. Drug familiarization programs have as a result been limited by the availability of the drugs themselves.

It is therefore desirable to find alternative sources for the aroma of certain controlled substances.
I'm surprised this was never turned into a perfume.
By the mid-1980s, works by Willem de Kooning were fetching over a million dollars. So when James Garcia and Joseph Lada found a three-hole outhouse seat stored in their basement that apparently had been painted by de Kooning, they figured they had a potential masterpiece on their hands. De Kooning's wife confirmed he had painted the toilet seat "very fast" for a croquet party in 1954. He had been trying to make the wood look like marble.
The sale raised the question: was this really art? Some said no. Others, such as de Kooning's friend John MacWhinnie, argued that, "It's a youthful, exuberant example of the painter at the height of his abstract expressionism... In spite of itself, it became art, simply out of a choice the de Kooning made."
It ended up selling for $50.
More info:
Baltimore Sun
AKA Cerebrex. Invented by
Dr. Yoshiro NaKaMats
. It was essentially a lounger chair that was supposed to improve brain function in only 30 minutes. Details from the
Arizona Republic
(Sep 12, 1986):
NaKaMats unveiled the chair this summer [1986] and plans to mass-produce and lease the recliners for about 14,900 yen, or $93 a month.
Meanwhile, customers can use it only in his sun-flooded "oyasumidokoro," or sleeping place, a nearly empty room a few floors below his laboratory, where white-coated assistants bustle around prototypes of industrial robots in various stages of development.
The inventor explains how the chair works, sort of.
"It activates your alpha brain waves by emitting ultra-high frequency electronic pulses, which in turn increase the flow of blood to the head, through the chair's pillow and foot rest," he said.
You can check out a (non-embeddable) video about Cerebrex on Vimeo.
Source.
On July 26, 1985, the Taste of Texas restaurant in Houston buried a chicken fried steak and put up a tombstone for it, which remains there to this day.
It reminds me of
the grave of Blinky the frozen chicken
in L.A.
via
Click2houston
Worms wiggle. This can make it hard for fishermen to impale them on a hook. But in 1989, Loren Lukehart of Boise, Idaho offered a solution. He received a patent (
No. 4,800,666
) for a method of "dewiggling" earthworms.
His invention was essentially a rectangular box full of sand. From his patent:
To dewiggle a worm, the fisherman has to simply set the worm in the rectangular container on top of the sharp grained sand. During the worm's natural locomotion process, the sand becomes partially imbedded in the earthworm and causes an immediate reaction wherein the earthworm completely relaxes. The earthworm is then effectively dewiggled and ready to be impaled onto the fishing hook.

Once the sand coated earthworm is immersed in water, the sand rinses free and the earthworm resume its normal wiggly character.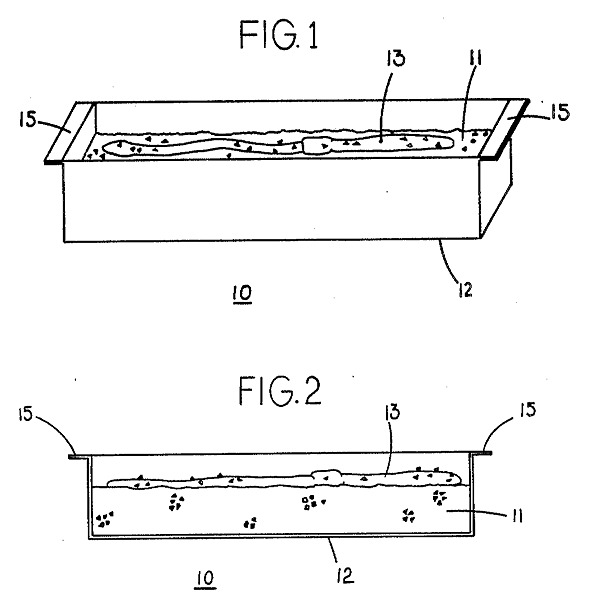 Lasted for 6 episodes,
according to Wikipedia.
The Environ Personal Retreat, sold by the Environ Corporation in the early 1980s, was designed to be a stress-free, self-improvement chamber. It offered programs such as "Relax and Affirm," "You and Food: New Scenarios," and "Self-Motivation for Winners." It came with a hefty price tag, $9000, but it was marketed at businesses, with the idea that they could de-stress and motivate their employees. Details from the
LA Times
- Nov 17, 1982:
The oval computerized enclosure is just big enough for one person, who enters through a sliding door and sits in an orthopedically designed body lounge equipped with oscillating massage, biofeedback pulse monitor and adjustable footrest.

Seated inside this exotic lounger, the user chooses one of 36 taped 20-minute human-potential programs, and the machine goes into action.

Ionized, filtered air is piped in, along with a pleasing natural scent. And while the taped verbal and music program plays, colored lights change in time with the text. If the user is listening to a business talk on self-motivation, for example, the capsule is bathed in stimulating orange and red lights. On the other hand, if the program deals with relaxation or stress reduction, the lighting is in soothing hues of green and blue.
This is a show that could bring the nation together again.
Wikipedia page.
Learn how to acugenics yourself here.