Skunk Guard was a solution of skunk spray packaged in small glass vials. Ray Hanson and Jack Scaff started selling this stuff in the 1980s with the idea that it could be used as anti-rape perfume. If a woman feared she was about to be raped, she could break open a vial and smear herself with skunk scent, making herself smell so bad that the rapist, hopefully, would go away. As Scaff explained, "The idea is to make the woman so repulsive the attacker runs away."
If the attacker didn't run away he would end up smelling awful also, making it easier for the police to identify him.
Skunk Guard never sold well. I'm guessing most women wanted a form of defense that was more proactive than just making themselves stink.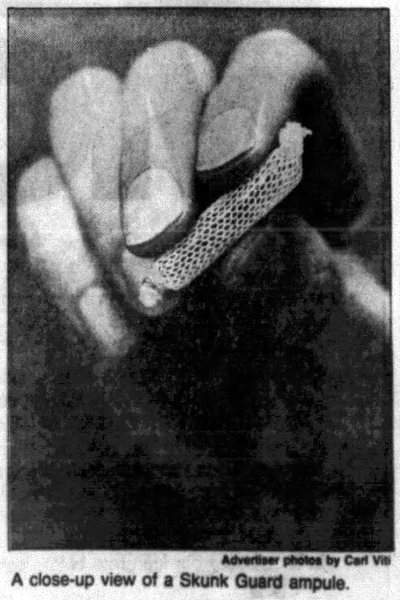 Which world-famous actress, still living but at the height of her career in the 70s and 80s, is seen here in these three childhood shots?
The answer is here
and
also here.
Also after the jump.
More in extended >>
Dr. Arthur Lintgen had an unusual talent. By looking at the grooves on a vinyl record, he could identify what the recording was. Within limits. It had to be classical music (no rock 'n' roll), preferably from the time of Beethoven up to the present. And it had to be a complete recording. Not an excerpt. But within those parameters, he was pretty much flawless.
You can see him in action in the clip below.
Some more info from the
Pittsburgh Post-Gazette
(Aug 5, 1980):
Is it possible for a man to look at the grooves of a long-playing record and tell you what the music is?

Ridiculous.

My editor broke out in laughter. Colleagues howled with scorn. I just smirked a little.

Laugh no more, lest Arthur B. Lintgen M.D. make you chew on your ridicule and swallow every smirk. Lintgen indeed possesses this astonishing talent. Its value, granted, is dubious in terms of mankind's future — nothing like a cure for cancer or a peace formula for Palestinians.

But if you cherish astonishment for its own sake, then watch Lintgen first as he fondles a record, holding it perpendicularly at nose level, frowning at its surface, and then as he looks up smiling brightly: "Why, yes. This is a favorite of mine, the Rachmaninoff Second Symphony."

...

[Lintgen] shies away from the pressures of a betting situation, preferring to keep his "eccentric hobby" an affair for friends and family. He is also quick to point out that his prowess is not universal, and that there are ground rules and limitations to what he can do.

First, the music must date from the time of Beethoven up through the present, the avant-garde excluded. Lintgen cannot precisely identify music he does not know or has no sympathy for. Secondly, no solo instruments or chamber music — where groove patterns, he says, fluctuate too widely to be read. Thirdly, he must know if the recording is a complete work with a fixed number of movements. No excerpts, please.

What then follows seems to be a combination of musical and technical erudition, some inspired deductive reasoning, and something else I am at a loss to isolate — perhaps a gift not unlike the sense of perfect pitch possessed by many gifted musicians.

The Haydn Symphony, No. 100 is outside Lintgen's prescribed ground rules (too early), but we asked him to look at it anyway. The process was illuminating.

• The four bands on the record surface suggested to him the four movements of the classical symphony. This was reinforced by the patterns on band three which indicated to him the A-B-A minuet form of this genre.

• The mirror-like ⅜-inch beginning the side told him "slow, quiet introduction" for which Haydn symphonies are noted. Grooves reveal to Lintgen nothing about pitch, but they do seem to tell him a great deal about volume, timbre, and movements. "Haydn," he determined finally. "I don't know which one."
Feb 1982:
David Grundman of Phoeniz, Arizona decided to go cactus hunting with a shotgun, but a cactus fought back.
David M. Grundman of 3932 W. Kaler Drive reportedly fired at least two rifled slugs from a 16-gauge shotgun at a 26- to 27-foot saguaro and started to shout, "Timber!"

He only had enough time to say "Tim —" before a 23-foot section of the cactus fell and crushed him.
Grundman's death was the inspiration for the song "Saguaro" by the Austin Lounge Lizards.
The 1986 play "Going to the Dogs" is the only play ever to have featured an all-dog cast. You can watch most of it on YouTube, if you can tolerate watching barking dogs. Parts 1-3 below, but there's 7 parts in total.
More info:
wikipedia
In 1987, a wild moose fell in love with what zoologists refer to as a "biologically inappropriate object". His love interest was a cow named Jessica who lived on the Vermont farm of Larry Carrara.
For over two months the moose displayed courtship behavior towards Jessica. He followed her all around, would rest his head on her back, or would push hay toward her as a food offering.
Over 75,000 sightseers came out to Carrara's farm to witness this interspecies romance.
Finally, after 76 days, rutting season came to an end and the moose lost interest in Jessica and wandered back into the wild.
The romance between the moose and Jessica inspired the book
A Moose for Jessica
, written by Pat Wakefield with photographs by Larry Carrara.
It's available on Amazon
, or
you can read it for free at archive.org
.
More info:
wikipedia
,
New England Living
I posted a month ago about
a case from 1965 in which a car dealer advertised, and then had to sell, a new Pontiac sedan for "1,395 bananas."
Turns out this isn't the only time a merchant has run into trouble using the word 'bananas' as slang for 'dollars.'
In 1986, the discount electronics chain Silo ran a TV ad offering a new stereo system for only "299 bananas." Thirty-five people showed up with the appropriate number of bananas, expecting to get a stereo. The store gave 33 of them stereos, and credited the other two for the cost of the bananas.
For more info,
check out this article on the Priceonomics blog
. It notes that Silo ended up stuck with around 11,000 bananas that they had to get rid of:
Silo's Seattle manager donated his cut of the bananas (10,000) to Woodland Park Zoo, but found that the demand there was limited: the zoo only needed 1,000 of them per week for its elephants, monkeys, gorillas, and hippos, and was unable to feed them uncontrolled amounts of any particular food. The vast majority of the fruits were, in turn, passed along to local food banks.
Myrtle Young
worked as a potato chip inspector at the Seyfert Potato Chip plant in Fort Wayne, Indiana. During the course of her job, she would occasionally notice potato chips that resembled something, such as an animal or a celebrity. She began to take these chips home to show her granddaughter, and soon she had amassed quite a collection.
When the media became aware of her collection it led to numerous appearances on talk shows, including a 1987 appearance on the
Tonight Show
with Johnny Carson.
TV Guide named this as the funniest moment ever on television.
I don't know if it's the funniest ever, but it's definitely amusing. The noteworthy part occurs about a minute in.
The scene was later parodied in a 1993 episode of the Simpson's,
'Selma's Choice,'
in which Great Aunt Gladys bequeathes to Marge, via video will, her collection of potato chips that look like celebrities. As the video will is playing, Homer is seen eating the chips. Unfortunately I haven't been able to find a clip of this scene.
Update:
Paul managed to get some screenshots of Homer and the potato chips!
These 1987 TV ads for Doxidan laxative, featuring the 'Doxidan Cowboy,' seem to inspire both love and hate.
A lot of people on YouTube remember them fondly
, but in newspapers from the time they were often cited as being among the most annoying commercials on TV.
The singer was Skeeter Starke.
He has a YouTube channel.
via
History's Dumpster