Will hitchhikers get more rides if they stare at oncoming drivers or if they look away?
A 1974 study published in the Journal of Applied Social Psychology
attempted to answer this question:
A field experiment was conducted in which a single male, a single female, or a male-female couple attempted to hitch rides at four different traffic locations, under conditions in which the hitchhikers either stared at or looked away from oncoming drivers...
In the stare conditions, E stared at the driver of the target vehicle and attempted to fixate on the driver's gaze and maintain this gaze as long as possible until the driver either stopped his vehicle or drove on. In the comparison conditions, E looked anywhere else but at the driver. Thus, on some trials E looked in the general direction of the car; on other trials E looked at his feet, the road, the sky, etc. Es were specifically instructed to neither smile nor frown, and to maintain a casual (neither rigid nor slouching) body postural orientation while soliciting rides.
The two hitchhikers were described as, "both 20 years of age and both dressed in bluejeans and dark coats. The male had short, curly blond hair, and the female, straight, shoulder length blond hair. Both could be described as neat, collegiate, attractive in physical appearance, and of an appropriate age to be hitchhiking."
Staring is often interpreted as a threat. So the researchers anticipated that staring at oncoming drivers might result in fewer rides. But the opposite turned out to be true. Which is a useful tip to know if you ever need to hitchhike. But what really helped get a lot of rides was being a single female. From the study:
it seems that the effect of attempted eye contact and sex of hitchhikers were such that a staring female got the most rides and a nonstaring male the least, with a staring male and a nonstaring female in between.

Contrary to popular belief and hitchhiking folklore , it was no easier for a male-female couple to hitch a ride than a single male, and a mixed sex couple was less successful at soliciting rides than a single female hitchhiker. Although the generality of this conclusion is limited by the fact that it is based upon results obtained by one male and one female E, it is probably the case that couples are less successful hitching rides because of space limitations in the cars they approach. That is, it is more likely that the driver will have room for one additional passenger than that he will have room for two or more additional passengers in his car.
Incidentally, the experimenters never actually ever got in a car with anyone: "After a motorist stopped to pick up one of the hitchhikers, he was politely thanked and given a printed description of the nature of the experiment. No driver expressed any discomfort when he learned that the hitchhiker did not actually want a ride."
In 1962, East German researchers conducted a bizarre medical experiment in an attempt to find out if fear could cure cancer. They inoculated some "mice, rabbits, rats, and cocks" with cancer cells. Then they put these animals into a cage which they lowered "into a zoo-like enclosure where 30 ravenous African polecats paced for food. The polecats would leap upon the little cage, shrieking and clawing at their hoped-for prey." This terror experience was repeated every two hours for several days.
The result: the cancer cells grew more slowly in the terrorized animals.
Of course, this begs the question, what it is about fear that would fight cancer? Was it the elevated adrenalin levels? Or was there some other biochemical change that caused the effect?
Unfortunately, I can't find any other details about this unusual experiment except for the brief news report below. I'm assuming there was never a human version of the experiment. Though one never knows, given some of the other stuff that researchers got up to behind the Iron Curtain.
In Oct 2013, the chewing gum company Beldent gathered five sets of identical twins. In each set, one twin was instructed to chew gum while the other sat motionless. Visitors to the Buenos Aires Museum of Contemporary Art were then asked questions about the twins.
Their answers indicated that 73 percent of people had a more favorable impression of the gum chewing twins. Beldent claimed that this disproved the "chewing gum stigma."
Though I disagree. I think gum chewing does turn off some people. What the experiment showed was that there's an even greater stigma attached to being expressionless, showing no emotion at all
I just added
a top 10 list of strange self-experiments
to the site.
This is more material that I wrote a while ago, but which no longer has a home. So I'm relocating it permanently to WU.
Like a lot of people during the great depression, William Bird of Jacksonville, Vermont had fallen on hard times. He was out of work, heavily in debt, and facing eviction. He feared he would soon be unable to feed his wife and three children. So Bird came up with a plan. He would sell himself to science.
He announced his offer in November 1936 by sending a letter to the local press. It read, in part:
I'm sick and tired of being in debt and without a job. Everything seems to have failed. There's no work to speak of. I'm in debt $400. Food is running low. The fire in our kitchen stove is going out. My wife and three children need clothes to keep them warm during the winter. I've got to keep them together. There seems to be only one hope. I'd like to sell myself for $2500…

If there is some doctor or group of doctors or scientists who'll advance me $2500, I'll agree to pay it back in two years. I have to sort of sell or mortgage myself because that's the only security I can put up.

Now, if I failed to pay back the money when the time was up, I'd let them do anything they want with me. I'd let them try and kind of experiment on me.
Soon he sweetened the offer by specifying that it would be all right with him if he didn't survive the experimentation process. Naturally, his wife was opposed to the whole idea.
The media spread his unusual offer nationwide. Reporters noted that he was a prime physical specimen — six feet tall, 175 pounds, and a sturdy workman of good habits. In other words, excellent guinea pig material.
An anonymous Texan took sympathy on Bird and sent him $10. However, the scientific community wasn't tempted. No doctors took him up on his offer.
Although Bird didn't manage to sell himself as a human guinea pig, his story nevertheless had a happy ending. Within days of making his appeal, Bird was given a job on a construction project. He said, "I don't know who was responsible for giving me work, but I sure appreciate it." But he also noted that, despite now having a job, his offer still stood. He was still willing to sell himself to science, should some doctor ever want to take him up on it.
During World War II, millions of men served their country by fighting in the military. Hundreds of thousands of others worked in hospitals or factories. And thirty-two men did their part by wearing lice-infested underwear.
Origin of the Experiment
It began with the recognition of the serious public-health problem posed by body lice (
Pediculus humanis corporis
). Being infested by these tiny insects is not only unpleasant, but also potentially deadly, since they're carriers of typhus. During World War II, medical authorities feared that the spread of lice among civilian refugees could trigger a widespread typhus epidemic, leading to millions of deaths, as had happened in World War I.
In an attempt to prevent this, the Rockefeller Foundation, in collaboration with the federal government, funded the creation in 1942 of a Louse Lab whose purpose was to study the biology of the louse and to find an effective means of preventing infestation. The Lab, located in New York City, was headed by Dr. William A. Davis, a public health researcher, and Charles M. Wheeler, an entomologist.
The first task for the Louse Lab was to obtain a supply of lice. They achieved this by collecting lice off a patient in the alcoholic ward of Bellevue Hospital. Then they kept the lice alive by allowing them to feed on the arms of medical students (who had volunteered for the job). In this way, the lab soon had a colony of thousands of lice. They determined that the lice were free of disease since the med students didn't get sick.
Next they had to find human hosts willing to serve as subjects in experiments involving infestation in real-world conditions. For this they initially turned to homeless people living in the surrounding city, whom they paid $7 each in return for agreeing first to be infected by lice and next to test experimental anti-louse powders. Unfortunately, the homeless people proved to be uncooperative subjects who often didn't follow the instructions given to them. Frustrated, Davis and Wheeler began to search for other, more reliable subjects.
Conscientious Objectors
Eventually Davis and Wheeler hit upon conscientious objectors (COs) as potential guinea pigs. The Selective Training and Service Act of 1940 allowed young men with religious objections to fighting to serve their country in alternative, nonviolent ways. At first they were put to work domestically at jobs such as building roads, harvesting timber, and fighting forest fires. But in 1942, inspired by the example of the British government, it occurred to U.S. officials that these young men were also a potential pool of experimental subjects for research, and they began to be made available to scientists for this purpose.
In theory, the COs were always given a choice about whether or not to serve as guinea pigs. In practice, it wasn't that simple. Controversy lingers about how voluntary their choice really was since their options were rather limited: be a guinea pig for science, or do back-breaking manual labor. But for their part, the COs have reported that they were often eager to volunteer for experiments. Sensitive to accusations that they were cowardly and unpatriotic, serving as a test subject offered the young men a chance to do something that seemed more heroic than manual labor.
Eventually COs participated in a wide variety of experiments, but Davis and Wheeler were the very first researchers to use American COs as experimental subjects. And they planned to infest these volunteers with lice.
More in extended >>
Circa 1793, a Mr. Powyss of Lancashire apparently decided to conduct an unusual psychological experiment by paying a man to live in his basement, in complete solitude, for seven years.
Information about this experiment is hard to find. A brief news item appeared about it in 1797:
A news story 30 years later reported that the subject of the experiment had emerged after seven years apparently no worse for wear. Or, at least, he had "absolutely accomplished it":
Given the lack of info, I suspect that the entire story might be an urban legend — one of those fake news stories that often made their way into early magazines and newspapers. However, the story has inspired author Alix Nathan to use fiction to fill in the blanks... imagining what might have happened in her recent novel
The Warlow Experiment
.
As reported by the Guardian:
Nathan tried to discover more about Powyss and the outcome of his experiment, but without success. Nothing of either remained. Instead she turned to fiction, writing a pair of short stories that imagined the peculiar undertaking, the first from Powyss's point of view, "An Experiment: Above", and then, in "An Experiment: Below", from the solitary subterranean perspective of his confined subject... Despite this, Powyss and his story continued to nag at Nathan; she could not shake the sense that it "deserved fuller consideration". The result is
The Warlow Experiment
[
amazon link
].
Weird science:
How long does a severed head remain conscious? In 1905, Dr Gabriel Beaurieux used the opportunity of the execution of the criminal Henri Languille by guillotine to attempt to find out. From a contemporary newspaper account of the scene:
When the head had rolled away from the scaffold and was lying in a pail, Dr. Beaurieux, head physician at the city hospital, caught it with both hands, raised it up in the air, and exclaimed in commanding voice:
"Languille! Languille!"
Terrible stillness for a moment. And, look! The dead head actually obeys! The eyelids open, and two eyes, abundant with life, glare questioning at Dr. Beaurieux—and then the lids close.
But the doctor has no mercy—he is experimenting. And once more he commands:
"Languille!"
Again the eyelids open, and two soulless eyes attempt to see, to find a point in the space. A conscious struggle really is proceeding, until the lids again close. But for the third time Dr. Beaurieux raises the head up in the air:
"Languille!"
This time in vain. The experiment had lasted thirty seconds, and now the question is:
Has the reflecting movement released other functions of the brain? Did Languille know that they called him, and that he had better awaken and answer? Gruesome it were, if he really had answered, for instance repeated his "Goodbye, you beautiful life!"
John Seney, an engineer at the Du Pont laboratory in Seaford, Delaware, had an ambitious plan (which he called 'Project Daedalus') to study buzzards and thereby figure out a way to allow a man to fly by flapping his arms — with the help of 36-foot wings strapped to them.
Seney's project received quite a bit of media attention for several years in the mid-1960s, but I can't find any report indicating that he ever got to the stage of a test flight.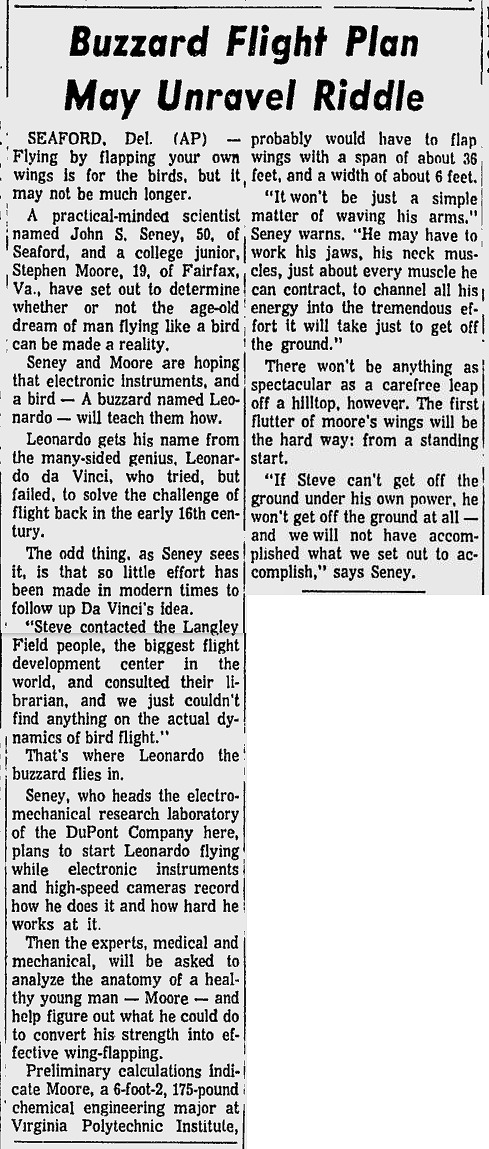 In 1973, Professor Robert Gunn
advanced this theory.
Twenty years later, he was still pursuing the idea, as you can see in
the scientific paper at the link.
To reappraise a prior study of hangover signs and psychosocial factors among a sample of current drinkers, we excluded a subgroup termed Sobers, who report "never" being "tipsy, high or drunk." The non-sober current drinkers then formed the sample for this report (N = 1104). About 23% of this group reported no hangover signs regardless of their intake level or gender, and the rest showed no sex differences for any of 8 hangover signs reported. Using multiple regression, including ethanol, age and weight, it was found that psychosocial variables contributed independently in predicting to hangover for both men and women in this order: (1) guilt about drinking; (2) neuroticism; (3) angry or (4) depressed when high/drunk and (5) negative life events. For men only, ethanol intake was also significant; for women only, being younger and reporting first being high/drunk at a relatively earlier age were also predictors of the Hangover Sign Index (HSI). These multiple predictors accounted for 5-10 times more of the hangover variance than alcohol use alone: for men, R = 0.43, R2 = 19%; and for women, R = 0.46, R2 = 21%. The findings suggest that hangover signs are a function of age, sex, ethanol level and psychosocial factors.