Ever since 1993, a conspiracy has circulated online alleging that the German city of Bielefeld doesn't exist. Now the city is pushing back by offering a million euros to anyone who can definitively prove it doesn't exist.
Entries can be submitted in either German or English
, but the deadline is Sep. 4. So there's not much time left.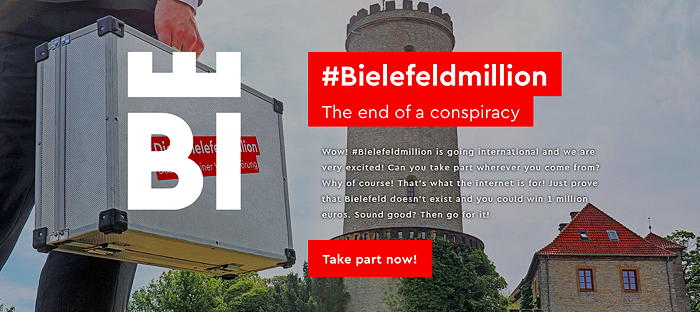 It seems to me that the contest has set an impossible task, because it's well known that a negative can never be proven. For instance, we can't definitively prove that the Loch Ness Monster doesn't exist. We can only say that we haven't found her yet.
But on the other hand, the opposite is equally true. It's impossible to definitively prove anything with absolute certainty. For instance, what if someone believes that Bielefeld exists because they've lived there their entire life? Well, that doesn't actually prove anything. As Bertrand Russell pointed out in his
five-minute hypothesis
, it's possible that the entire universe sprang into existence five minutes ago, complete with our memories of an older history. It may seem unlikely, but it's possible. So likewise, just because someone remembers living in Bielefeld, it's possible that their memories are false.
Which is to say that even if no one wins the million euros by proving that Bielefeld doesn't exist, that doesn't mean the city actually
does
exist. The existence of Bielefeld can never be definitively proven or disproven.
More info:
epoch times
Here's what's really weird
about this show
: a poet,
Ogden Nash
, and an author,
Ilka Chase
, were not considered too highbrow for a game show, and were recognized by the mass audience. Try that today!
Of course, having
Dagmar on the show
did not hurt.
The other parts of this episode also on YouTube.
Every year since 1917 the folks up in Nenana, Alaska have been
placing bets on when the ice in the Tanana River will break up
. They place a tripod out on the frozen river in February, and when the tripod moves downstream far enough to break the cord attached to it, the river ice is officially considered broken up.
You can place bets by mail, and could win as much as $300,000 (depending on how many people enter the contest). Proceeds go to charity. $2.50 per guess.
Details at
NenanaIceClassic.com
The past winning times:
A few of the holders of the "Miss Popcorn" title. It seems the title must have been discontinued after Miss Popcorn of 1952 generated a bit of bad press.
From
Sleeping Dogs Don't Lay: Practical Advice For The Grammatically Challenged
by Richard Lederer and Richard Dowis
The vacuous expression you know has been spreading (in speech, though not, thank heaven, in writing) like the most virulent cancer for decades… But it was left to Barney Oldfield, an eighty-seven-year-old retired air force colonel, to launch a vigorous campaign against you know. In 1997 Colonel Oldfield, a Nebraskan, offered a $1,000 scholarship to the Nebraska student who submitted a tape recording of a radio or television broadcast with the most you knows in fifteen minutes.
The first year's winner was thirteen-year-old Dalton Hartman, who submitted a tape with forty-one you knows in four minutes, thirty-eight seconds. The next year, a fifth grader named Jason Rich took the prize. His tape, a twelve-minute interview with a basketball coach, had sixty-four you knows...
Colonel Oldfield has made arrangement in his estate for continuation of the contest.
Oldfield
died in 2003
. I can't find any evidence that the scholarship did continue after his death.
This LA Times article
has more info about his somewhat eccentric philanthropy.
One to add to our ongoing theme of weird beauty contests: the Alternative Miss World contest. It started in 1972 and has been held every few years in London since then.
A documentary was made of the 1978 contest
(video clip below). More info:
BBC News
Since I posted a few days ago about
eggplants that looked like Richard Nixon
, I thought it only fitting to also note that his wife, Patricia, had her own food thing going on. In 1970, she was named Macaroni Woman of the Year by the National Macaroni Institute. She also had her portrait painted out of macaroni by the artist Don Wheeler.